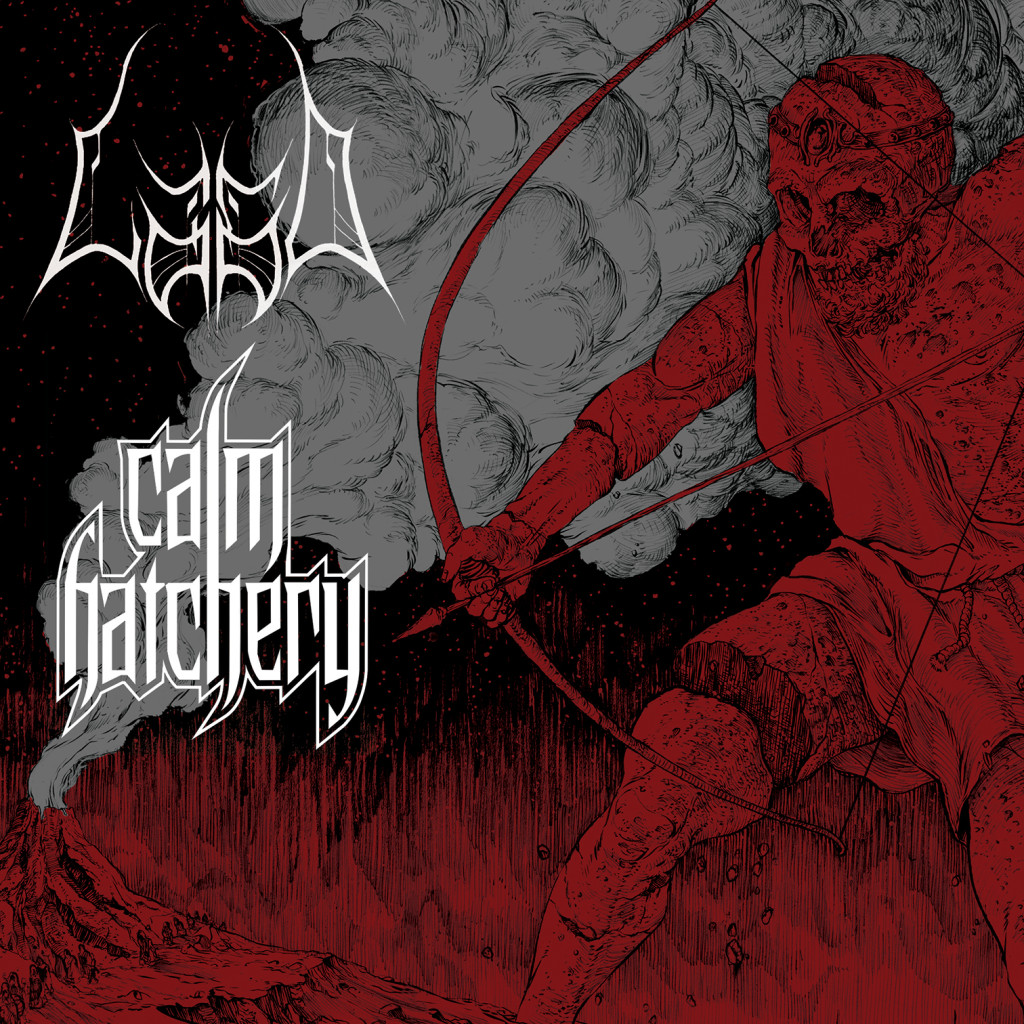 Poland's Sefmadegod Records and US-based Battleground Records have joined forces to release the upcoming split 7″ from LAGO and CALM HATCHERY, two top-tier upcoming acts within the international death metal scene.
Following a pair of demos, Arizona's LAGO erupted into the scene with their Tyranny debut LP through Battleground Records in 2014, an album that showed the band delivering a ferocious brew of classic but modernized death metal, surrounded in a blackened fog, wholly bearing an oppressive atmosphere. The record received acclaim from a wide array of respected media outlets and fans alike. Following some lineup restructuring and honing of their deadly craft, LAGO — guitarist/vocalist Cole Jacobsen, bassist/vocalist Garrett Thomas, lead guitarist Gus Barr, and drummer Neil Koch — returns with a revamped and refreshed attack, presenting the dense "Dominion" leading off the new split 7″. It's apparent that LAGO's songcraft has only magnified since their prior outing on the annihilating anthem, which was recorded, mixed and mastered by Jack Fliegler (Singularity) and Thomas Holt.
Having released three tumultuous albums, one through Via Nocturna and two through Selfmadegod Records, in addition to a demo and an independent EP to date, Polish death metal assassins CALM HATCHERY overthrow the B-side of this split with a vital slab of decimation, "Distant Pulsation." Continuing to revitalize their brutality with each release, this trio unloads a shredding style of classic, brutal death metal wrought with bursts of blazing technicality and cutting-edge grindcore-influenced tactics. CALM HATCHERY drummer Radoslaw Szczepanski (MG 42) recorded the pummeling percussion for "Distant Pulsation" at famed Hertz Studio (Behemoth, Vader, Decapitated), after which the band self-produced the damage created by guitarist/bassist Piotr Hauzer (Huzar) and vocalist Marcin Szczepanski (Szczepan), and had the final track mixed and mastered by Filip Halucha at Heinrich House Studio.
The LAGO/CALM HATCHERY split 7″ will see release on December 2nd; all preorder/mailorder copies will come with an additional bonus track from LAGO – a furious, brand new song titled "Catacombs And Oceans," which was recorded by Ryan Butler at Arcane Digital Recording (Exhumed, Phobia, Landmine Marathon) and mixed and mastered by Ken Sorceron (Abigail Williams).
US preorders are live at Battleground Records HERE and European preorders at Selfmadegod Records HERE.
LAGO/CALM HATCHERY Split 7″ Track Listing:
1. LAGO "Dominion"
2. CALM HATCHERY "Distant Pulsation"
https://www.facebook.com/calmhatchery
http://www.facebook.com/LagoMetal
http://www.selfmadegod.com
http://www.facebook.com/selfmadegod
http://www.facebook.com/battlegroundrecords
http://battlegroundrecords.bigcartel.com