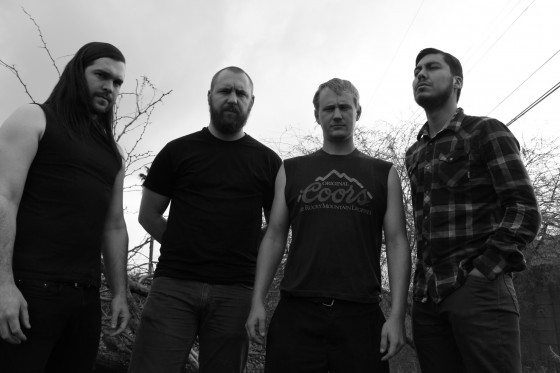 Battleground Records has brought Phoenix, Arizona-based death metal collective, LAGO, into their expanding label roster for the release of the band's upcoming debut album late in the 2014 Summer months.
Heavily influenced by the past, yet with eyes set firmly on the future, LAGO cites Morbid Angel, Decapitated, Aeon and Emperor as influences. The band was founded in January 2010 by guitarist and vocalist Cole Jacobsen, drummer Shawn Reiterman, and lead guitarist Manuel Dominguez. Upon completing the lineup with bassist and backing vocalist Garrett Thomas, the band released their first EP, Marianas, on Pale Horse Records to critical acclaim in November 2010. Changes to the lineup occurred throughout 2011 and early 2012, beginning with the departure of Manuel Dominguez. After a brief search for a replacement member, the band recruited Andrew Breshears of fellow Phoenix band Excessive Bleeding into the fold. Upon Shawn Reiterman leaving the group, LAGO briefly brought in Six Million Dead skinsman Helbert Trejo, and once he departed, the band welcomed Brian Miller, formerly of Deadspawn, into the family. Having since released a two-song demo in December 2012, and after welcoming Manuel Domminguez back into the fold in October of 2013, the band is set to release their debut full-length, entitled Tyranny, through Battleground Records.
Recorded in the Fall of 2013 by Ryan Butler at Arcane Digital Recording (Exhumed, Phobia, Landmine Marathon) and mastered in March 2014 by Dave Shirk at Sonorous Mastering (Incantation, Exhumed, Today is the Day), Tyranny executes forty minutes of primal, pummeling death metal with a dissonant black metal edge through eight destructive tracks. While the LAGO name is still virtually new to the majority of the extreme metal scene, the impending album is a cleverly-executed maelstrom of prime death which will surely elevate the band to the next level as it hits the public this Summer.
Tucson, Arizona's Battleground Records will release Tyranny on digipak CD and digital delivery on September 16th, 2014, while Swedish label Blood Harvest Records will be handling the vinyl edition.
Audio, artwork and additional info on Tyranny as well as tour dates from LAGO will be relayed in the coming weeks.
https://www.facebook.com/LagoMetal
http://www.lagometal.bandcamp.com
http://www.lagometal.bigcartel.com
https://www.facebook.com/battlegroundrecords
http://www.earsplitdistro.com