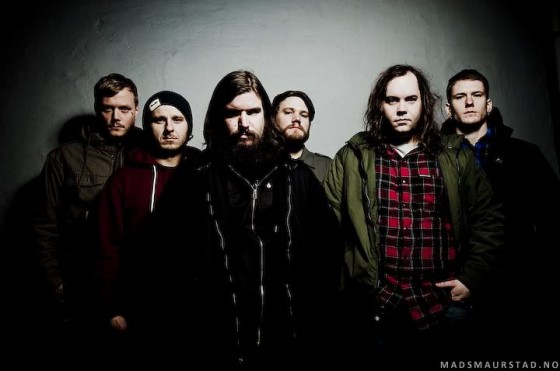 Today Noisecreep premieres the "Ordsmedar av Rang" video from Norwegian newcomers KVELERTAK.
"Ordsmedar av Rang" comes off the band's self-titled, debut full-length unleashed in North America via The End Records on March 15. Originally released in Europe last June via Indie Recordings, the record continues to reap praise from critics and fans alike for its unique blend of punk, black metal, classic rock and blues elements.
Commented the band in a collective statement: "The video was shot in our hometown Stavanger at Folken in December last year. 'Ordsmedar av Rang' is a song about how difficult it is to write lyrics, basically."
To check out the video, point your browser HERE.
Produced by Kurt Ballou and mixed by Alan Douches with artwork by John Baizley and guest appearances by Hoest (Taake), Andreas Tylden (JR Ewing and Altaar), Ivar Nikolaisen (Silver), and Ryan McKenney (Trap Them), Kvelertak was awarded #1 status in the category of Best Heavy Metal releases for the month of March by About.com who applauded the band saying, "Kvelertak lives up to expectations, and is one of those CDs you can put on repeat and enjoy all day long." Added popular Canadian metal site, Hellbound, in a 9.5/10 review: "…the erudite and unstoppable three-axe riff barrage and leather razor strop vocals of Erlend Hjelvik make this a release that will fire up the polemics machine." Kerrang! Magazine named KVELERTAK "the best Norwegian band since A-Ha," while Popmatters noted: "Rock 'n' roll, metal, and punk all collide to form an absolutely raucous first album that's loud, confrontational, largely indecipherable, and most of all, huge, huge fun." Long Island Press agreed: "Kvelertak the album abounds with such richness, openness, joy and hedonism. It somehow captures an entire history in its 49 minutes. It is timeless and multitudinous, but so urgent and immediate that it could not have existed in any other instant except this one."
KVELERTAK:
Marvin Nygaard – Bass
Bjarte Lund Rolland – Guitars
Vidar Landa – Guitars
Erlend Hjelvik – Vocals
Kjetil Gjermundrød – Drums
Maciek Ofstad – Guitars
http://www.myspace.com/kvelertak
http://www.facebook.com/kvelerface
http://www.theendrecords.com
http://indierec.net