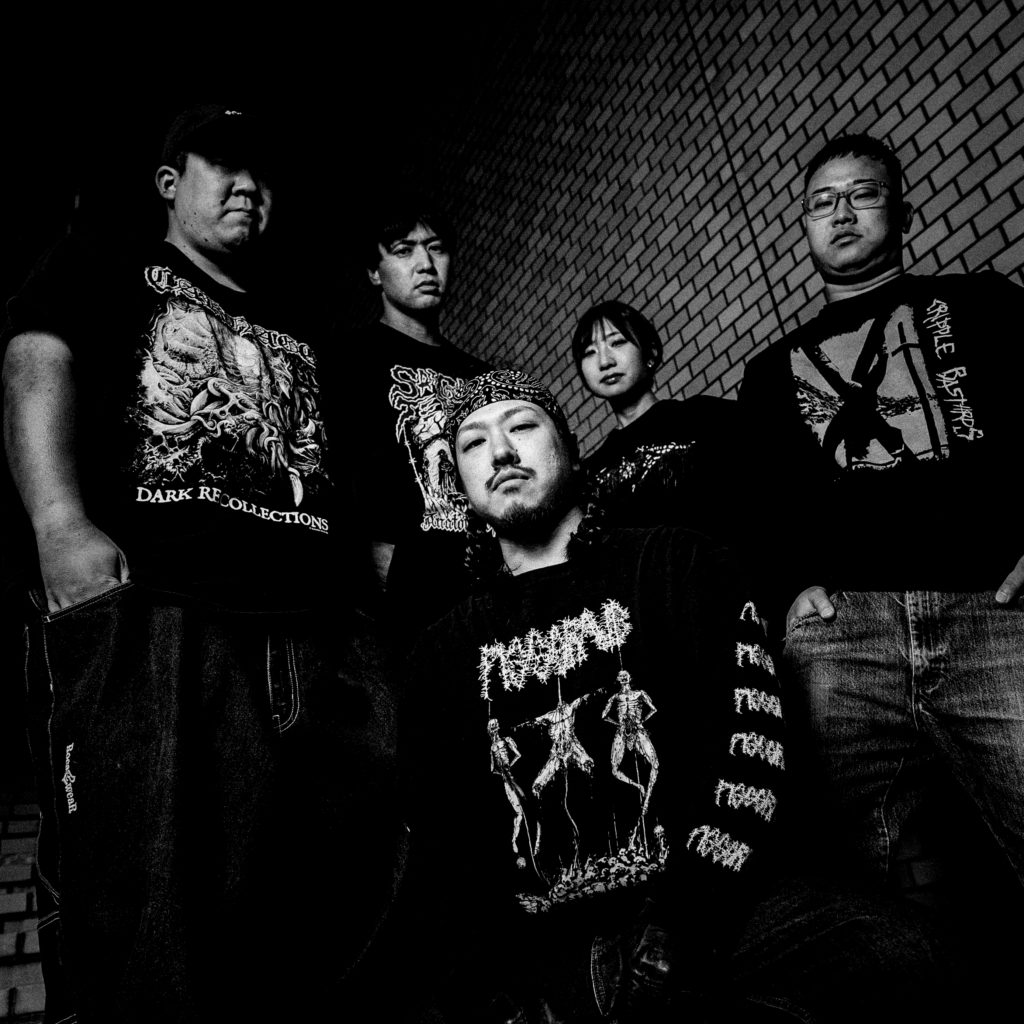 photos by Seijiro Nishimi
While currently still embarked on their Untopia European Domination Tour, Tokyo, Japan-based metallic hardcore outfit KRUELTY has just announced their return to North America this Summer on the North American Incisions Tour 2023.
Formed in 2017, KRUELTY has become one of the most notable artists to find that sweet spot where heavy beatdown hardcore and '90s American/Scandinavian death/doom metal meet. This devastating amalgamation becomes the blueprint of brutality and slam the band unleashes. With KRUELTY, you will hear the ultimate convergence of some of the most punishing death metal riffs and savage breakdowns influenced by Japanese and '90s East Coast hardcore bands.
With their second LP, Untopia, KRUELTY offers an album even more massive in scope and ultimately heavier than their prior output. The seven-song record was produced by Taylor Young at The Pit Studios (Nails, Xibalba, Section H8), mastered by Brad Boatright at Audiosiege (Obituary, Terminal Nation, Mindforce), and features artwork by Norwegian artist Sindre Foss Skancke.
KRUELTY has been touring the planet mercilessly for the past several months in support of their acclaimed LP, Untopia, out now worldwide on Profound Lore Records. The band has already completed tours of New Zealand, Australia, and Japan, and is currently on the last week of their massive Untopia European Domination Tour 2023, running through May 7th. From June 21st through 25th, the band will embark on the Untopia SEA Tour with shows across Southeast Asia.
KRUELTY now confirms their return to the US and Canada on the month-long North American Incisions Tour 2023. Running from July 11th through August 13th, the tour will see KRUELTY and Vomit forth supplying direct support for Sanguisugabogg, with additional support from Deterioration, Gates To Hell, and Deadbody on select dates throughout the routing.
See all confirmed tour dates below and watch for updates as the band continues their world domination in support of Untopia.
Find KRUELTY's Untopia through Profound Lore Records on LP, CD, CS, and digital formats. Place orders HERE and watch the "Harder Than Before" video HERE.
KRUELTY Untopia European Domination w/ Gates To Hell [remaining dates]:
5/03/2023 Klub Pod Minogą – Poznan, PL
5/04/2023 Gerber 3 – Weimar, DE
5/05/2023 Kulturzentrum dasHaus – Ludwigshafen, DE
5/06/2023 Rocas – Luxembourg, LU
5/07/2023 Baroeg – Rotterdam, NL
KRUELTY Untopia SEA Tour:
6/21/2023 – Medan, Indonesia
6/22/2023 – Singapore
6/23/2023 – Kuala Lumpur, Malaysia w/ Saigan Terror
6/24/2023 – Manilla, Philippines w/ Saigan Terror
6/25/2023 – Bangkok, Thailand w/ Saigan Terror
KRUELTY North American Incisions Tour w/ Sanguisugabogg, Vomit Forth, Deterioration *, Deadbody ^:
7/11/2023 Preserving Underground – Pittsburgh, PA *
7/12/2023 The Foundry – Cleveland, OH *
7/13/2023 Legends Bar & Venue – Cincinnati, OH *
7/14/2023 Portal – Louisville, KY *
7/15/2023 The End – Nashville, TN *
7/16/2023 Red Flag – St. Louis. MO *
7/18/2023 Wildwood – Iowa City, IA
7/19/2023 The Aquarium – Fargo, ND
7/20/2023 Park Theatre – Winnipeg, MB
7/21/2023 Black Cat Tavern – Saskatoon, SK
7/22/2023 Starlite Temple – Edmonton, AB
7/23/2023 Dickens – Calgary, AB
7/25/2023 The District Bar – Spokane, WA
7/27/2023 The Holland Project – Reno, NV
7/28/2023 Full Circle Brewery – Fresno, CA
7/29/2023 Cornerstone – Berkeley, CA
7/31/2023 Eagle Aerie Hall – Las Vegas, NV
8/03/2023 Chelser's Live – Baton Rouge, LA
8/04/2023 The Handlebar – Pensacola, FL
8/05/2023 The Conduit – Orlando, FL
8/06/2023 1904 Music Hall – Jacksonville, FL
8/08/2023 New Brookland Tavern – Columbia, SC
8/09/2023 Motorco Music Hall – Durham, NC
8/10/2023 House Of Independents – Asbury Park, NJ ^
8/11/2023 Amityville Music Hall – Amityville, NY ^
8/12/2023 Webster Underground – Hartford, CT ^
8/13/2023 Empire Underground – Albany, NY ^
"Japan has a long, proud history of making some of the most gut-rippingly intense punk, metal, and hardcore in existence, and the Tokyo band KRUELTY have carved out a place within that tradition. KRUELTY make the heaviest version of hardcore imaginable, pulling influence from beatdown and death metal to make something truly disgusting." – Stereogum
"…more than the mix of genres, it's the relentless fury that catches you first. Brain-numbing slam-by-numbers or mere circle pit-fodder breakdown sausage factory, it certainly ain't." – Decibel Magazine
"Death metal and hardcore are romantically entwined these days, but KRUELTY do things a little differently with their take on that common crossover… It's basically full-on metal, with just a teensy bit of hardcore bite." – Revolver Magazine
"KRUELTY treats their stylistic combination like a contest to see how much punishment they can derive from each genre they take from. Like the legends of metallic hardcore, they thoughtfully take elements from both ends of the spectrum that best help them serve up a healthy dose of adrenaline. To that effect, these guys continue to set a standard for the Japanese underground with Untopia." – Metal Injection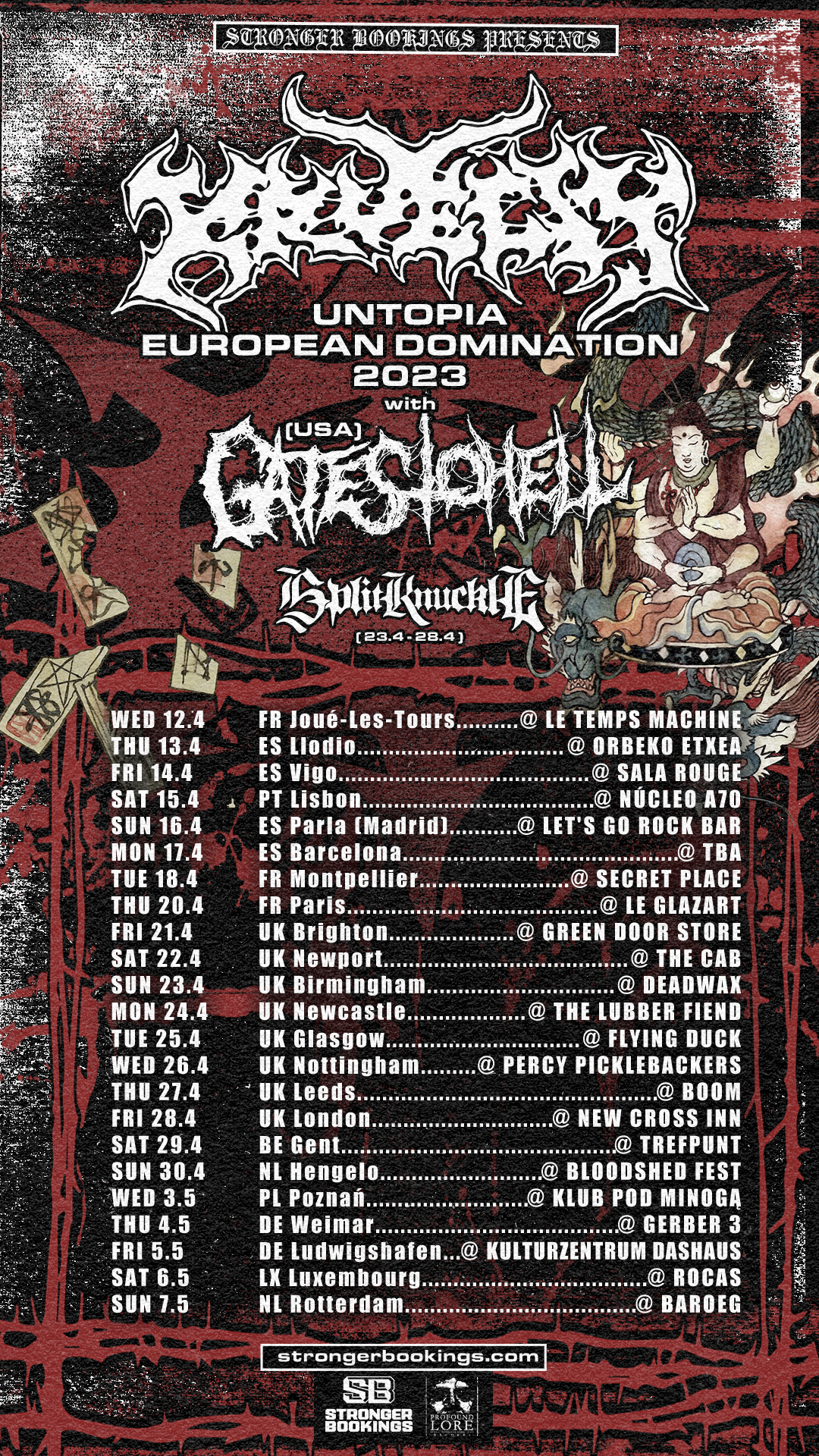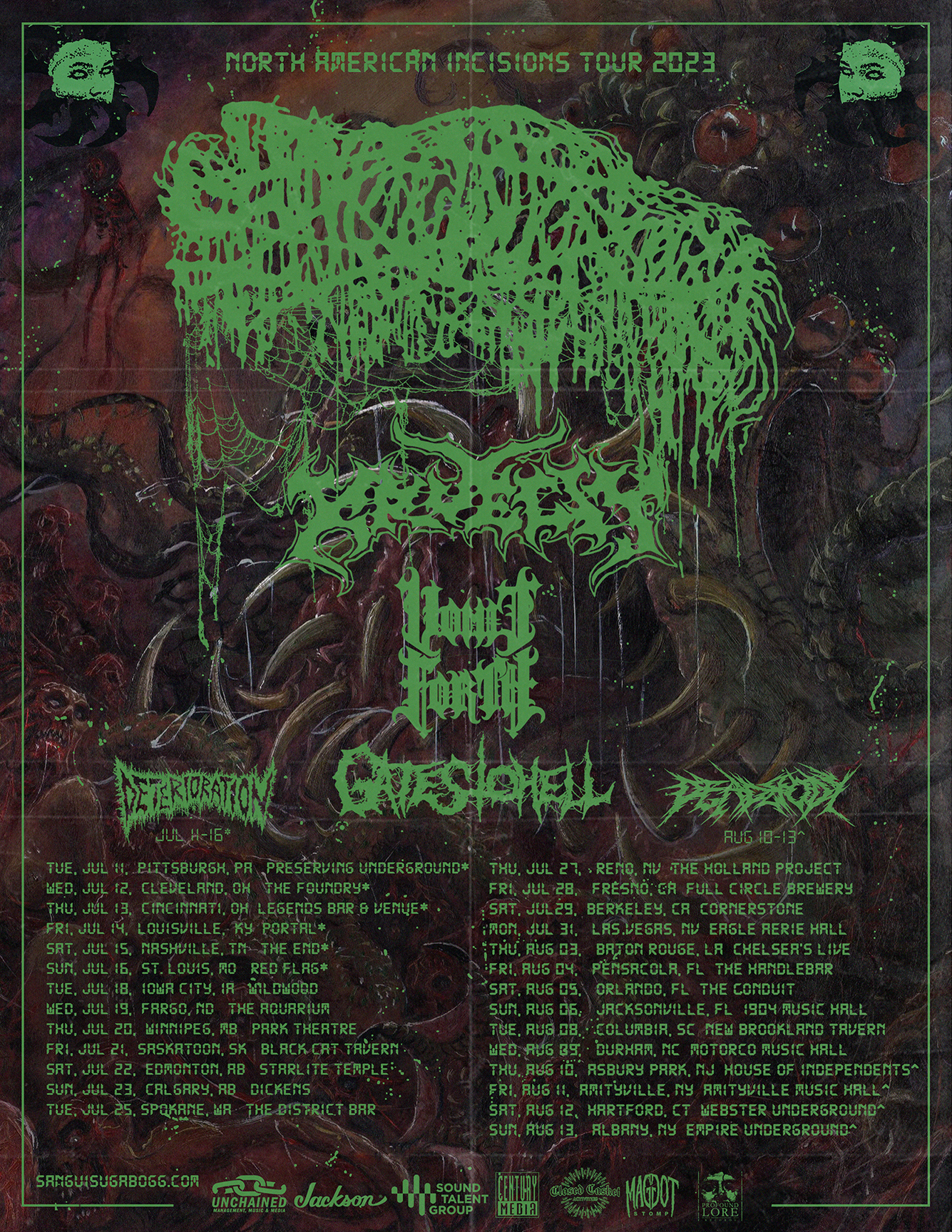 https://kruelty666.bandcamp.com
https://www.instagram.com/krueltyjphc
https://twitter.com/krueltyjphc
https://profoundlorerecords.com
https://www.profoundlorerecords.bandcamp.com
https://www.instagram.com/profoundlorerecords
https://twitter.com/profound_lore
https://www.facebook.com/profoundlorerecords