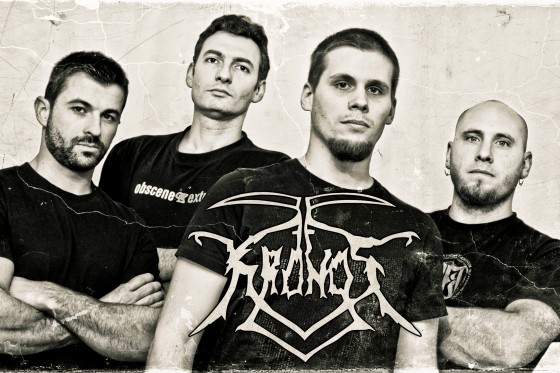 Featuring continuous textual references to the gods of ancient civilizations, French battering ensemble, KRONOS, has been bludgeoning ears with a heightened level of dynamics accomplished by only by a select number of bands for over fifteen years. It's a point that rings mercilessly clear on their newest full-length, Arisen New Era, set for worldwide deployment this week via Unique Leader Records.
Recorded, mixed and mastered by David Potvin at Dome Studios (Lyzanxia, Arcania, Under The Abyss etc.) in (appropriately) Angers, France, the nine-track Arisen New Era is a smoldering display of technical death metal barbarity adorned in the distinctive cover art of Pierre Alain (Withering Soul, Silentlie, Cyrax etc.) all centered on a bloody battle between the gods of Olympus and the Titans.
Garnering critical hails from media outlets globally, Metal Injection gushed of first single, "Klymenos Underwrath" alone, "…think the bludgeoning groove of Benighted dipped in the Ancient Roman melodies of Son Of Aurelius. It strikes the perfect balance between God of War-style sonic violence and epic melodies, and serves as the perfect backdrop for the Greek Mythology themes which permeate KRONOS' music." Elsewhere the overall sentiment echoes. Metal Observer commends, "a vigorous return to form for these mad Frenchmen," and an album, "that should send waves amongst the tech death community." In a 9/10 score Distorted Sound names Arisen New Era, "undoubtedly one of the best albums to be released in 2015," furthering championing the record for, "beholding everything you want and more in a death metal album." Wonderbox Metal concurs, calling Arisen New Era, "a brutal death metal masterclass," with, "enough modern verve to be cutting edge but enough components of classic death metal to have longevity and depth. Couple that with the insane blasting brutality that the band do so well and I'm sold completely." Dead Rhetoric gave the record an 8/10 rating commending KRONOS', "fiendish mix of pace and punishment," and adding,"Arisen New Era is bound to give you an incredible death metal speed-fix. There's something about the sheer intensity of it, while maintaining a sense of listenability that a less veteran band might not be able to pull off," while Infernal Masquerade gushes, "we are completely blown away by their very traditional death metal core and how they manage to make it more brutal and even technical at points without sounding like anybody else. If you are in the market for clean brutal death metal, it can't get any better than Arisen New Era."
Following teasers from Decibel Magazine and No Clean Singing, today the ear-bleeders at Heavy Blog Is Heavy spit forth KRONOS' Arisen New Era in its barbaric entirety issuing of the offering, "these guys are the real deal when it comes to brutal death metal. Displaying a technical prowess and penchant for immaculately crafted riffs that rival some of the biggest players in the scene, KRONOS stand out a bit more thanks to a rich obsession with Greek mythology, a theme which permeates every part of their music, from the battle-rallying lyrics to the blood-spilling riffs. They've armed themselves appropriately over their near twenty-year career as a band, with three full-length albums already in their scabbard, and Heavy Blog is beyond delighted to premiere KRONOS' first album in eight years."
Go to battle with Arisen New Era, courtesy of Heavy Blog Is Heavy, at THIS LOCATION.
A name derived from the Greek god of time, Kronos (or Cronus), father of Zeus, KRONOS was forged in 1994 in a small town in the Northeastern province of Alsace-Lorraine and quickly established a name for themselves based solely on their musical unity of harmony and violence. On their fourth full-length KRONOS continues to uphold their signature brand of meticulously arranged and conceptually stirring brutality.
Arisen New Era will be released via Unique Leader Records on July 24th, 2015. Preorders are available at THIS LOCATION. For digital orders, go HERE.
http://www.facebook.com/KRONOS
http://www.uniqueleader.com
http://www.facebook.com/UniqueLeaderRecords
http://www.twitter.com/UniqueLeaderRec
http://www.youtube.com/uniqueleaderrecords