[photos by Asbjørn Sand]
Danish multi-instrumentalist KRISTIAN HARTING presents his third solo full-length release, The Fumes. The artist's most expansive avant-alternative/folk-inspired material to date, the record is being pressed for January release through his allies at Exile On Mainstream. The cover art, track listing, details, and a brief teaser for The Fumes have been posted.
Both of KRISTIAN HARTING's prior solo albums, 2014's Float and 2015's Summer Of Crush – which were both released through Exile On Mainstream – were entirely written, recorded, performed, and produced by the artist at his own studio. His third LP, The Fumes marks a somewhat departure from this approach. The album was recorded and produced by HARTING and Lars Lundholm (On Trial, Oresund Space Collective, Hanne Boel, Papir) at Black Tornado Studios and Room 21 in Copenhagen and mastered by Nikolaj Vinten (Coldplay). Additionally, The Fumes features guest musicians, including bass from Jakob Falgren (Trentemøller), keys by Jesper Bo Hansen (Glenn Hughes), drums by Mads Beldring Hansen, and backing vocals by singer/songwriter Nana Schwartzlose.
Experience the first brief foretaste of KRISTIAN HARTING's The Fumes through a brief RIGHT HERE.
The Fumes will see release on January 24th, Exile On Mainstream's first release of 2020. The album will be released digitally and on LP with CD bundled within; no actual CD pressing. Watch for full audio and videos from the album, preorders, and more to be posted in the weeks ahead.
KRISTIAN HARTING will tour across Europe in the spring months of 2020 alongside Exile On Mainstream alumni Darsombra, and much more. Watch for dates to post early in the new year.
KRISTIAN HARTING reveals about this approach to the album, "I set out to create a simple, dark, melancholic, and beautiful indie pop/rock album with short 'straight to the juice' songs. I had the Beatles' Rubber Soul-era ideal. Cut the fancy sound imagery and emphasize the songs, the vocals, and lyrics. I brought in musicians for the recordings, and most of the songs are recorded live in the studio with drums and bass."
He continues, "I wrote these songs in a period of touring a lot on my own, while working in various shitty day-to-day jobs when at home to pay the bills. Lyric-wise the songs reflect my loneliness on the road and disillusion with the music industry and the modern labor market. Writing these songs, I was constantly fighting the feeling of being the outsider and not really welcome in the world. A feeling of being dehumanized by society, chewed, and spat out. The fumes are the easy thrills that help us make it through the day in the consumeristic circus of money and status, power and pleasure. It's the short-term happiness by quick shots of endorphins that blur how the circus is devouring humans and nature and isolate us from each other while pretending the opposite. It's the feeling of knowing we are heading for disaster and all we can do is to abuse and ignore ourselves to enjoy the ride. I don't do well in this circus, and I have a very hard time seeing a way out of it. It was a lot on my mind writing these songs and the album resonates these thoughts. For me it's a very angry record, but I'm not sure everybody will hear it as such."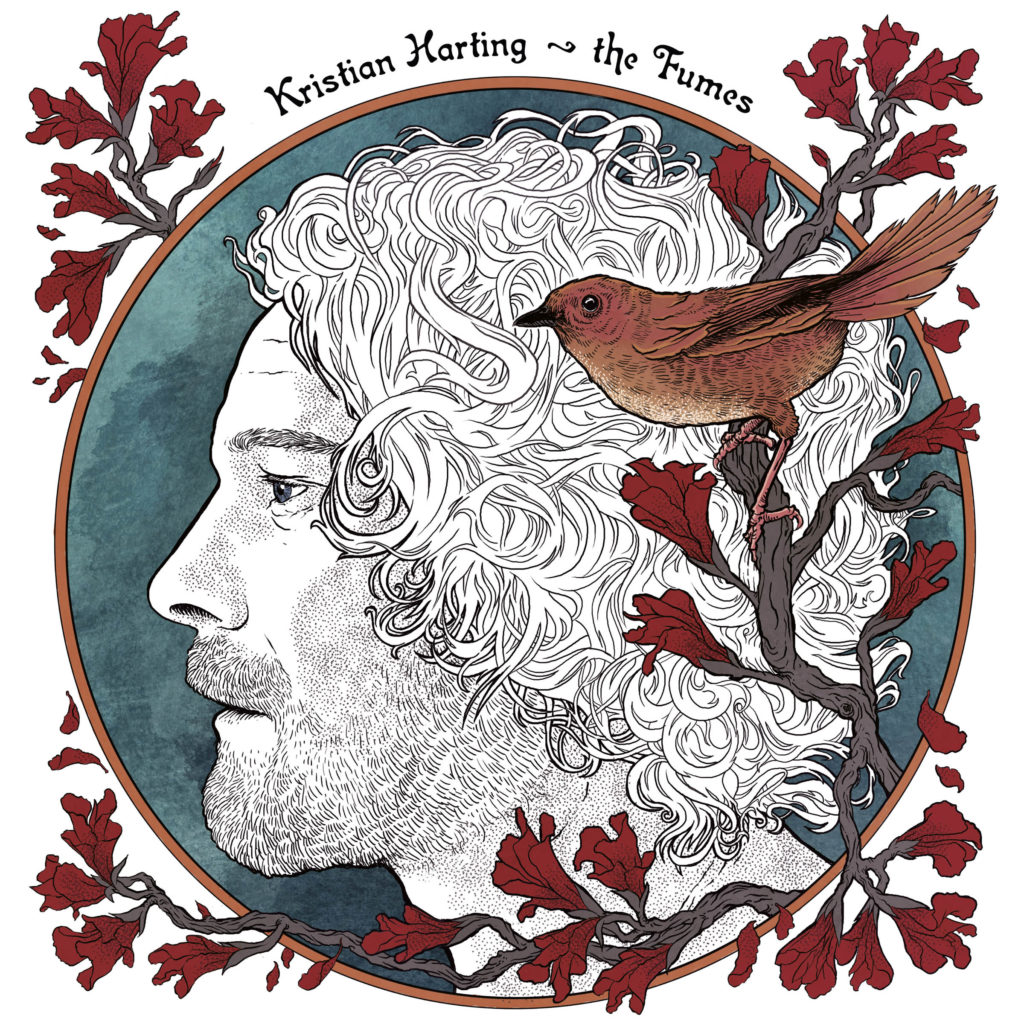 The Fumes Track Listing:
1. Falling
2. Rat In The Room
3. Clueless
4. Houses Of The Holy
5. Miracles
6. The Exhaust
7. Violins
8. Weightless
9. Fool For Change
10. Mother And Daughter
11. The Fumes
KRISTIAN HARTING started as a kid playing in thrash metal bands including Avoid, featured on the sampler Fuck You We're From Denmark, released in 1992 on Progress Records. Soon after, he got into songwriting and alternative noisy pop, and formed bands Dr. Berg, Solskaer, and Tomato, working with musicians such as Jacob Krogholt (Rising, Bjoerst, Withering Surface), Mick Grondahl (Jeff Buckley, Beth Orthon), and Jesper Bo Hansen (Anne Linnet, Ida Gaard), as well as producers Kim Hüttel (Sort Sol, The Sandmen) and Magnus Groth (Sort Sol, Kira and the Kindred Spirits), resulting in four EP's, two nearly finished albums and touring around Denmark.
In 2004 he formed DreamJockey with Mads Beldring and Jakob Falgren and released two albums. Since then, KRISTIAN HARTING has been playing solo concerts, taking him to the United States, England, and Germany. He has also been playing bass in bands Siku and The Yes Wave, and has composed for film and installation art.
https://kristianharting.dk
http://www.facebook.com/kristian.harting
http://www.mainstreamrecords.de