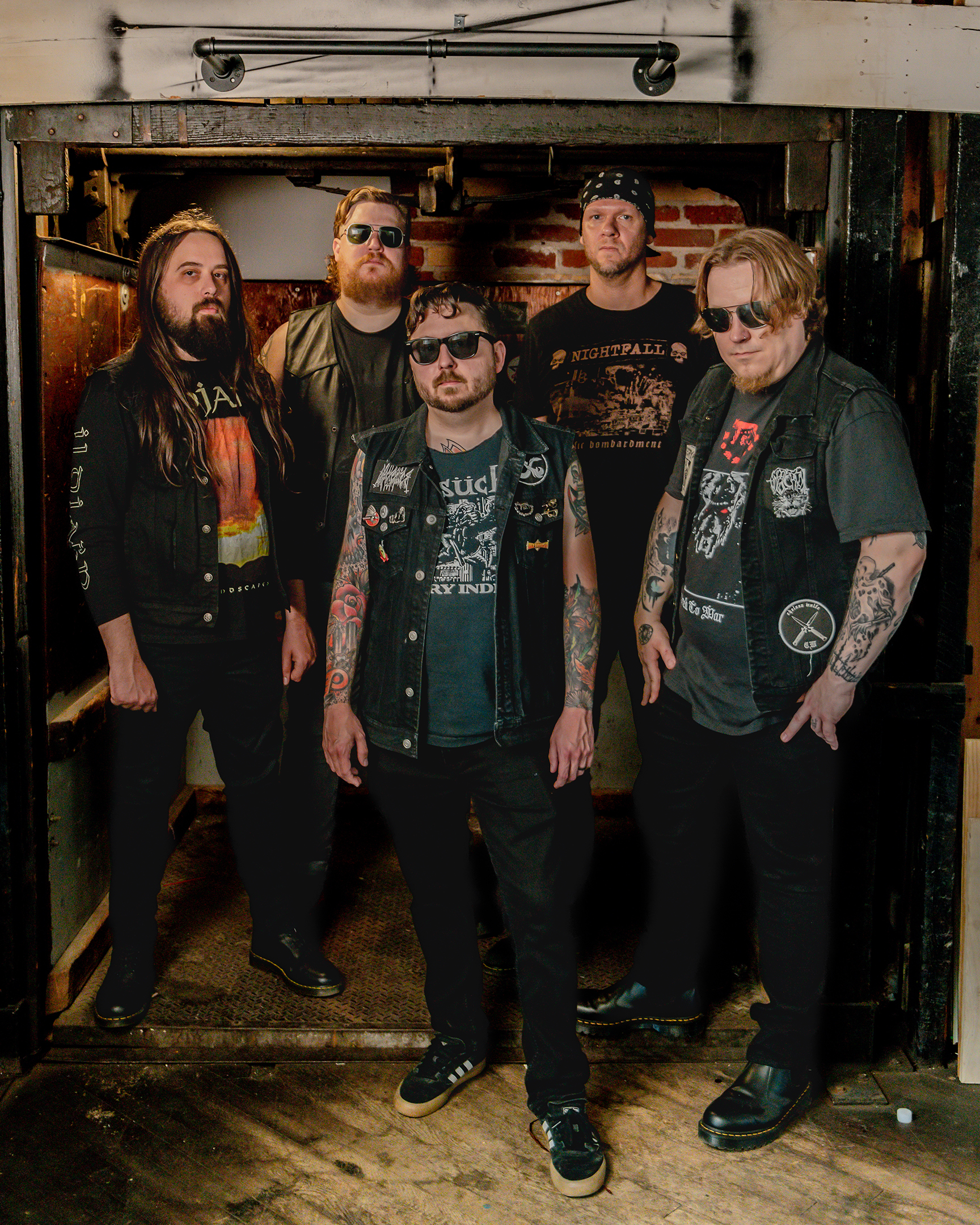 photo by Kassandra Carmona
"…a great – and maybe timeless – black metal record." – Decibel Magazine
Ruiner, the acclaimed new LP from time-honored Philadelphia black metal collective, KRIEG, is now streaming in its entirety ahead of its official release this Friday on Profound Lore Records.
KRIEG's Ruiner is the first full-length from the long-running and iconic cult since 2014's Transient and is a despondent expression that captures the classic band complexion which has solidified the band as a vanguard and pioneer of US black metal. Although Ruiner is the band's first full-length album in nine years, KRIEG has continued to remain active leading up to its long-awaited release through various splits, collaborations, and EPs. This all culminated in that moment for Ruiner to ultimately manifest itself.
Ruiner is unrepentant and remorseless black metal in the reflective manner KRIEG and mastermind N. Jameson have always been known for.  Most notably that of the savage and unhinged aura present in the triarchy of classic KRIEG works, namely Destruction Ritual (2001), The Black House (2004), and Blue Miasma, (2006) while maintaining that harsh, sorrowful, and cold-blooded melancholic aura. Merciless, despondent black metal psychosis destined to leave one desolate.
Ruiner was recorded and mixed by guitarist A. Poole, mastered by Dan Lowndes (Resonance Sound), and completed with artwork by Rob Sheyder.
Jameson writes, "Ruiner is the completion of a thematic trilogy starting with The Isolationist, a journey of the many faces of the self in various forms of despair and decay leading finally to acceptance. The most spiritually difficult step of the journey, yet somehow the easiest subconscious leap to make. This is the authentic personal definition of what KRIEG and black metal stand for in my world and I hope others find something of value in it."
KRIEG's entire Ruiner is now streaming at YouTube RIGHT HERE.
Ruiner will be released on LP, CD, and all digital platforms this Friday, October 13th. Find preorders, presaves, merch, and the "No Gardens Grow Here" video HERE.
In support of Ruiner, KRIEG has booked a short run of Northeastern US shows hitting New York City, Providence, and Philadelphia November 10th through 12th. See the confirmed shows below and stand by for updates to post over the weeks ahead.
KRIEG Ruiner Weekend:
11/10/2023 The Kingsland – Brooklyn, NY w/ Cathedrals In The Night, Forest Thrall, Satanism
11/11/2023 Dusk – Providence, RI w/ One Master, Black Sorcery, Stress Angel
11/12/2023 Kung Fu Necktie – Philadelphia, PA w/ Bastard Cross, Cathedrals In The Night
"…Ruiner is KRIEG's magnum opus, something that looks beyond the scope of the era, context, and history, and simply presents itself as a great – and maybe timeless – black metal record." – Decibel Magazine
"On Ruiner, KRIEG impressively stirs a profound sense of despondency with melodious black metal that's succinct and purposeful. There are no intricate instrumental webs… There's a sadomasochistic beauty to Ruiner…" – Blabbermouth
"The music is grim and mean, the vocals incinerating, the drumming stripped-down and feral, but as the blistering and blazing riffing rises and falls it seems to channel beleaguered and desperate moods too, a feeling that comes through even more strongly when the lead guitar rings and wails. It's angry music, but an anger born from frustration and loss, and not much hope for a brighter day to come." – No Clean Singing
"Ruiner, the forthcoming record by KRIEG, is guaranteed to delight black metal fans when it unleashes its wrath… this leading USBM outfit remains as lethal as ever." – MetalSucks
"Rejoice! The mighty KRIEG is back… when I think about what I want to hear from black metal, that's what KRIEG delivers on Ruiner." – Invisible Oranges
"What charms me most on Ruiner is the hypnotic – sometimes subcutaneous – psychosis that characterizes songs… Ruiner may sound ruthless at times, but KRIEG's devilish strength on this album is certainly also in the slower work. 90/100" (translated) – Addergebroed
https://kriegofficial.bandcamp.com
https://www.facebook.com/officialkrieg
https://profoundlorerecords.com
https://www.profoundlorerecords.bandcamp.com
https://www.instagram.com/profoundlorerecords
https://twitter.com/profound_lore
https://www.facebook.com/profoundlorerecords