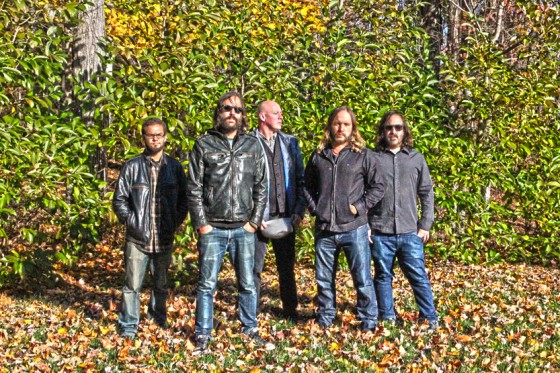 "Every band has 'that' song on an album," says KINGS DESTROY vocalist Steve Murphy thoughtfully of "Mythomania," the latest single to come off the band's soon-to-be-unleashed, self-titled full-length.
"It's the song that you poured your heart and soul into for months. The song where the vocal line simmers in your skull refusing to reveal itself until you are completely frustrated by it. The song where the drums are not obvious or continually being perfected until the last minute. 'Mythomania' is that song on this album. Conservatively, we spent six months working this song out. It was constantly being revised," he continues. "We had multiple discussions about scrapping it. It was a war within a war of creation. This is not a song that was borne out of a few beers and bong hits. It's a song that reaches from the soul. The lyrics are a metaphor for the growing gap between the haves and have nots in the world. The transition from quiet to aggressive is one of the best on the album as a whole and it's also a reflection of the band's singular personality. Mellow to chaos, life hurtling towards death, external peace masking internal gnarling anger. Challenge yourself, take the 'Mythomania' ride. The voice cracking at the end is both the voice of total victory and agonizing defeat. Can you hear it?"
The epic tune is currently streaming courtesy of riff-raging super portal, The Obelisk, who dubs Kings Destroy as a whole, "the best thing they've done up to now," furthering, "The songs are memorable and well defined, but feed into an overarching flow that's executed confidently no matter how far out it goes, and the translation of what KINGS DESTROY do live is an accomplishment unto itself."
Sample "Mythomania" as well as The Obelisk's deep investigation of the record at THIS LOCATION.
And if you missed it, check out the Big Apple-centric "Mr. O" still streaming at MetalSucks at THIS LOCATION as well as "W2," still available at Noisey for your auditory pleasures at THIS LOCATION.
KINGS DESTROY feature within their ranks guitarists Carl Porcaro and Chris Skowronski of Killing Time, vocalist Steve Murphy of Uppercut, drummer Rob Sefcik formerly of The Begotten, Uppercut, Fur and Electric Frankenstein and bassist Aaron Bumpus. The follow-up to last year's lauded A Time Of Hunting long player, King's Destroy was produced and mixed by Sanford Parker (Twilight, Voivod, Eyehategod, Yob etc.) at Studio G in Brooklyn, New York mastered by Collin Jordan (Eyehategod, Indian, Wovenhand, Voivod etc.) at The Boiler Room in Chicago, Illinois, and delivers seven, soulful, lead-footed rock hymns that uplift as much as they crush. With their third album in four years, KINGS DESTROY leaves their hardcore-laden stamp on noise rock and doom. After sharing stages with Pentagram, Winter, Saint Vitus, Church of Misery, Yob, Pallbearer, Vista Chino, Orange Goblin, Trouble, Acid King, Corrosion Of Conformity and so many others, the five-piece stands tall with their defining statement. KINGS DESTROY gets its moniker from an infamous graffiti gang from the Bronx circa late '70s/early '80s. The band members met in this vicinity and were heavily involved in the New York Hardcore scene of the late '80s that merged hardcore music, metal, graffiti and hip hop…all distinct forms united in the underground.
Kings Destroy will be released on LP, CD and digitally on May 5th, 2015 via War Crime Recordings. CD preorders are currently available HERE. For vinyl preorders go HERE. Digital preorders are also available . Order via Amazon HERE or iTunes HERE and receive an immediate download of "Mr. O."
http://www.facebook.com/KingsDestroy
http://www.kingsdestroy.com
http://www.facebook.com/WarCrimeRecordings