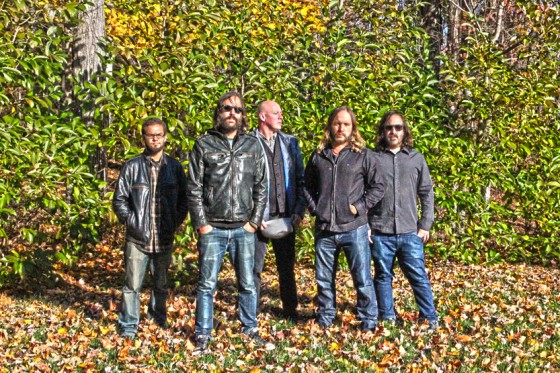 Today, Big Apple-based stoner rock/doom rock goliaths, KINGS DESTROY – who feature within their groove-laden ranks guitarists Carl Porcaro and Chris Skowronski from Killing Time, vocalist Steve Murphy from Uppercut, drummer Rob Sefcik formerly of The Begotten, Uppercut, Fur and Electric Frankenstein and bassist Aaron Bumpus – officially unveil their self-titled new long player via War Crime Recordings.
Captured and mixed by Sanford Parker (Twilight, Voivod, Eyehategod, Yob etc.) at Studio G and mastered by Collin Jordan (Eyehategod, Indian, Wovenhand, Voivod etc.) at The Boiler Room, Kings Destroy sears with seven, soul-infused, lead-footed rock hymns. With their third album in four years, KINGS DESTROY leaves their hardcore-laden stamp on noise rock and doom.
Crowned, "rewarding, occasionally challenging, but always of high quality," by Maximum Volume Music, "a brutal masterpiece," in a perfect 5/5 rating by Skulls 'N' Bones, and "the best thing they've done up to now," by The Obelisk who further gushes, "The songs are memorable and well defined, but feed into an overarching flow that's executed confidently no matter how far out it goes, and the translation of what KINGS DESTROY do live is an accomplishment unto itself," Kings Destroy is a true defining statement from a band intent on crafting sounds that are at once heavy, moving and meaningful.
In celebration of its release and following teasers from The Obelisk, MetalSucks and Noisey, today Revolver Magazine offers up Kings Destroy in full for public appreciation.
"In an age where music is created in the box and listened to from the cloud we present our self-titled third album as tangible a thing as we could make it," says KINGS DESTROY vocalist Steve Murphy thoughtfully. "We recorded this live. Five musicians standing in a room together playing through amps that have tubes in them, on drums that were not aided by any magical electronics, through microphones and a voice that was not altered in any way. Does it have flaws because of it? Fuck yes. The flaws represent us, both strengths and weaknesses. Nothing a bottle of Bourbon or two couldn't smooth over. This album is a straight up representation of the KINGS DESTROY personality. Equally as likely to scoff at the present, make fun of the past and long for the future taking on any and all obstacles in our path."
Hear Kings Destroy in its walloping entirety at THIS LOCATION.
New York area residents (or anyone down for a drive) can catch KINGS DESTROY live TONIGHT at Saint Vitus with additional onstage invasions to be announced soon.
KINGS DESTROY:
5/05/2015 Saint Vitus – Brooklyn, NY w/ Elder, Apostle Of Solitude, Clamfight [info]
KINGS DESTROY gets its moniker from an infamous graffiti gang from the Bronx circa late '70s/early '80s. The band members met in this vicinity and were heavily involved in the New York Hardcore scene of the late '80s that merged hardcore music, metal, graffiti and hip hop…all distinct forms united in the underground.
King Destroy
is out NOW on LP, CD and digitally via War Crime Recordings. CD orders are currently available
HERE
. For vinyl orders go
HERE
. Digital orders are also available via Amazon
HERE
or iTunes
HERE
.
"The band's… self-titled album… sounds like it came from that era, when New York was a grimy and dangerous place, walls with spray-painted tags and art outnumbered clean ones, and the brightest colors anyone wore were shit brown and navy blue." – MetalSucks
"It's a great album. Heavy, yes. Doom? Yes, with a dose of the best of the '90s. I'm a fan of the '90s," he further elaborates, "so that is meant as a compliment. But what is best about KINGS DESTROY is that they write good songs. Helmet meets early Queens Of The Stone Age meets Kyuss/Unida, roughly. [Steve] Murphy's vocals are strong and really steps up what is already killer. Great production, tones, performances." – Mike Scheidt, YOB
"KINGS DESTROY is some heavy shit. I can feel the emotion. I can tell Murphy has got some serious pain; he's singing from his balls." — Bobby Liebling, Pentagram
http://www.facebook.com/KingsDestroy
http://www.kingsdestroy.com
http://www.facebook.com/WarCrimeRecordings