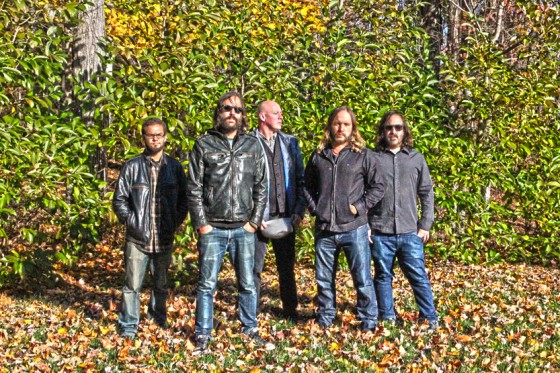 Today, Brooklyn stoner rock/doom collective, KINGS DESTROY, are pleased to unveil, "W2," the first single from their forthcoming new, self-titled full-length.
Elaborates guitarist Chris Skowronski: "'W2' is a song about how the institutions and interests that control our country — the government, corporations, the media — have used fear, misdirection, and outright lies to keep us in a perpetual state of fear. In turn, this fear allows them to exploit us and keep us from doing anything to change the status quo. In the song, a man approaches an oracle and asks to be told about a time when man was more honest, noble, and stood for something real. The oracle doesn't answer the searcher's question, but rather 'turns his gaze and stares into the void,' suggesting that there is no hope to change the current trajectory.
"The tone then shifts and features a paraphrase of a quote from the Irish labor activist James Larkin: 'The great appear great, on our knees. Get up and stand up. Let us rise.' [Vocalist] Steve [Murphy] actually added this line, and it brings a bit of hope to the proceedings. Larkin spoke frequently about the oppressed needing to stand up for themselves against their oppressors. However, the line that follows proclaims, 'modern man victorious/suffocation glorious,' which is about as unhopeful as it gets. I guess I was feeling pretty pessimistic that day. I think it's cool that the song includes both of those sentiments, as even on our darkest days, we need to feel that we can do something to change what we don't like about our country or our world.
"The title is short for Whittler II. 'The Whittler' is a song from our first album that touches on some similar themes, and the character of the Whittler is the oracle in this song."
"W2" is currently available for public enjoyment via Noisey at THIS LOCATION.
Kings Destroy will be released via War Crime Recordings on May 5th, 2015. The follow-up to last year's critically-adored A Time Of Hunting full-length was produced and mixed by Sanford Parker (Twilight, Voivod, Eyehategod, Yob etc.) at Studio G in Brooklyn, New York mastered by Collin Jordan (Eyehategod, Indian, Wovenhand, Voivod etc.) at The Boiler Room in Chicago, Illinois and delivers seven, lead-footed doom rock hymns. With their third album in four years, KINGS DESTROY leaves their hardcore-born stamp on noise rock and doom. After sharing stages with Pentagram, Winter, Saint Vitus, Church of Misery, Yob, Pallbearer, Vista Chino, Orange Goblin, Trouble, Acid King, Corrosion Of Conformity and so many others, the five-piece stand tall with their defining statement.
KINGS DESTROY is the name of an infamous graffiti gang from the Bronx circa late '70s/early '80s. The band members met in this vicinity and were heavily involved in the New York Hardcore scene of the late '80s that merged hardcore music, metal, graffiti and hip hop…all distinct forms united in the underground.
The band unites musicians from many of the genres' most prolific bands. Hailing from the Greenpoint section of Brooklyn, KINGS DESTROY features guitarists Carl Porcaro and Chris Skowronski from legendary, 100K album selling Killing Time, vocalist Steve Murphy from Uppercut, drummer Rob Sefcik formerly of The Begotten, Uppercut, Fur and Electric Frankenstein and bassist Aaron Bumpus. Applauded for channeling "…Sabbath's grooves, Sleep's foggy haze, and Yob's oppressive thunder," by The Village Voice, KING DESTROY's distinct sonic brew is both crushing and cathartic.
Kings Destroy will be released on LP, CD and digitally on May 5th, 2015 via War Crime Recordings. CD preorders are currently available HERE. For vinyl preorders go HERE.
"…a literal who's-who of the New York underground stoner doom scene." – Decibel
http://www.facebook.com/KingsDestroy
http://www.kingsdestroy.com
http://www.facebook.com/WarCrimeRecordings