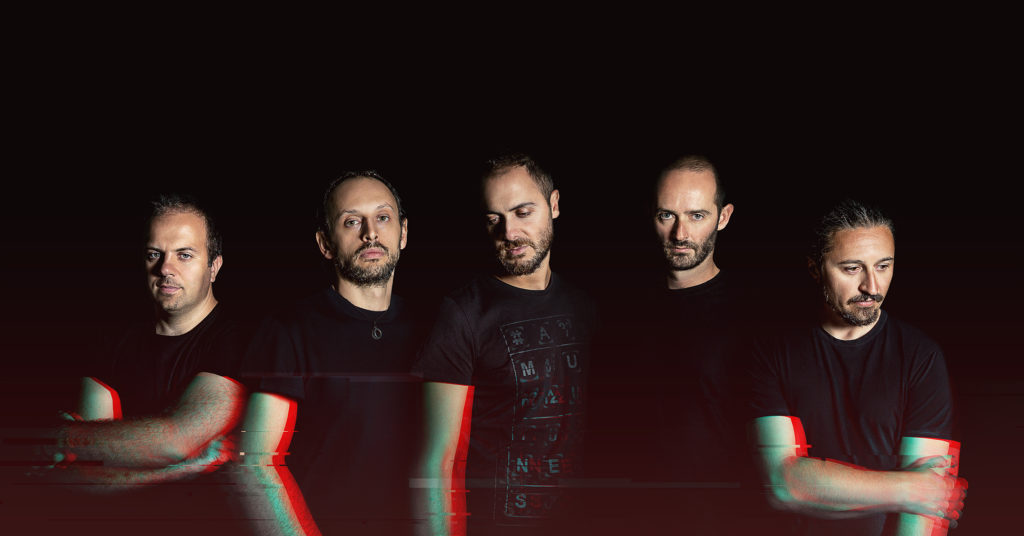 Italian modern prog rock/metal outfit KINGCROW presents the title track and first single from their impending The Persistence LP, set for worldwide release in September through Sensory Records. The album will be released in conjunction with the band's European tour supporting Pain Of Salvation.
KINGCROW's upcoming third album for Sensory Records, The Persistence closes a three-year gap since their acclaimed Eidos album. Describing KINGCROW today is quite a difficult task, but one could state that the influence of different kinds of music; progressive rock, alternative rock, ambient music, metal, and more are all present in the band's songs. With each release, they take a step further away from their original roots and is regarded today as one of the most exciting bands that Italy has to offer. Recorded at Sound Under Pressure, The Persistence was produced by KINGCROW's Diego and Thundra Cafolla, mixed by Giampiero Ulacco, and completed with the photography and design of Devilnax, all the same as the album's predecessor.
Diego Cafolla issues with the release of the album's title track, "'The Persistence' is one of the first songs I've written for the record. I was determined to have an unusual rhythm as the back bone of the song and worked on it several hours with Thundra before we nailed it. We think it's something somehow unusual for us and shows something new while still sounding like KINGCROW. Why we did choose it as the first single? Simple, it's the longest track on the record."
Stream KINGCROW's "The Persistence" at THIS LOCATION.
The Persistence will be released on CD, 2xLP, and digital formats worldwide on September 7th via Sensory Records. The vinyl version features three bonus tracks recorded at ProgPower USA have a new mastering by Alan Douches on the D-side. Stand by for audio samples, preorders, and more info on the album to be issued shortly. Fans of Steven Wilson, Riverside, and Dream Theater, this is required listening.
The release of The Persistence is tied in conjunction to KINGCROW's support slot for Pain Of Salvation, which will run from August 31st through September 20th.
KINGCROW w/ Pain Of Salvation:
8/31/2018 Columbia-Theater – Berlin, DE
9/01/2018 Progresja – Warsaw, PL
9/02/2018 Studio – Krakow, PL
9/04/2018 MMC – Bratislava, SK
9/05/2018 A38 – Budapest, HU
9/07/2018 Colos-Saal – Aschaffenburg, DE
9/09/2018 Markthalle – Hamburg, DE
9/10/2018 Zeche – Bochum, DE
9/12/2018 Academy Club – Manchester, UK
9/13/2018 Islington Assembly Hall – London, UK
9/14/2018 Muziekgieterij – Maastricht, NL
9/15/2018 Melkweg – Amsterdam, NL
9/17/2018 Z-7 – Pratteln, CH
9/18/2018 L'Empreinte – Savigny-le-Temple, FR
9/19/2018 Ninkasi Kao – Lyon, FR
9/20/2018 La Laiterie – Strasbourg, FR
KINGCROW's Diego Cafolla offers of The Persistence, "With the last record, Eidos, we finished what we call the 'life trilogy' which included Phlegethon, In Crescendo, and Eidos, and when we started talking about the new chapter everyone agreed we needed somehow to step a bit outside of our confort zone and refresh our sound. With that in mind, I started to write a lot of music, which ended up being three hours of music more or less, trying different things until I came up with a couple of songs that sounded interesting and fresh to us and showcased the 'X factor' of the new record. 'Everything Goes' and 'Devil's Got A Picture' were the first two written. These early songs sounded different from what we did in the past but still somehow sounding like us, with a kind of a dark ambient, more modern vibe mixed with a heavier rock attitude. Devilnax was also determined to have a different cover style for the album, and after nights spent listening to the demos and discussing the lyrical content, for the first time all by vocalist Diego Marchesi, he came up with that very powerful image that fits beautifully with the main vibe of The Persistence."
http://www.kingcrow.it
https://www.facebook.com/Kingcrowband
http://twitter.com/kingcrowband
http://www.youtube.com/user/THUNDREX
http://www.lasersedgegroup.com
http://www.facebook.com/TheLasersEdge
http://www.twitter.com/thelasersedge