Australia's bastard sons of grind KING PARROT will kick off their North American tour this weekend!
KING PARROT last ventured across the pond back in 2018 and has been toiling away in Australia until the right moment to invade again. Having unleashed their latest EP, Holed Up In The Lair, during the Covid era, the band is ready to hit the road and do what they do best: Demolish stages as only KING PARROT knows how!
Not only will they appear at festivals like Full Terror Assault and RPM Fest, they'll also play alongside metal legends Pantera and Lamb Of God at five massive shows on the East Coast as well as six shows with stoner giants Weedeater and a slew of headlining dates around the rest of the US and Canada. Support will be provided Filth Is Eternal and labelmates Spirit In The Room on select dates.
Tickets are on sale now at: www.kingparrot.net. See all confirmed dates below.
Watch a recent episode of Co Co Bananas podcast where KING PARROT vocalist Matt Young talks about the upcoming run at THIS LOCATION.
KING PARROT:
8/26/2023 Poor Boys – New Orleans, LA
8/27/2023 Moseys – Panama City, FL
8/28/2023 Nice Guys – Cape Coral, FL
8/29/2023 Tribbles – Piedmont, SC
8/30/2023 Snug Harbor – Charlotte, NC w/ Weedeater
8/31/2023 Black Cat – Washington, DC w/ Weedeater
9/01/2023 The Meadows – Brooklyn, NY w/ Weedeater
9/02/2023 RPM Fest – Montague, MA w/ Weedeater
9/03/2023 Mohawk Place – Buffalo, NY w/ Weedeater
9/04/2023 Sanctuary – Detroit, MI w/ Weedeater
9/05/2023 House Of Targ – Ottawa, ON
9/06/2023 Piranha Bar – Montreal, QC
9/07/2023 Waterfront Music Pavilion – Bangor, ME w/ Pantera, Lamb Of God
9/08/2023 Bank Of New Hampshire Pavilion – Gilford, NH w/ Pantera, Lamb Of God
9/09/2023 Full Terror Assault – Cave In Rock, IL
9/11/2023 Hangar 1819 – Greensboro, NC w/ Weedeater
9/12/2023 Ameris Bank Amphitheatre – Alpharetta, GA w/ Pantera, Lamb Of God
9/13/2023 The Camel – Richmond, VA
9/14/2023 Veterans United Amphitheatre – Virginia Beach, VA w/ Pantera, Lamb Of God
9/15/2023 Jiffy Lube Live – Bristow, VA w/ Pantera, Lamb Of God
9/16/2023 Hop Springs – Murfreesboro, TN
9/17/2023 Bottleneck – Lawrence, KS
9/18/2023 Turf Club – St Paul, MN
9/19/2023 Lost Lake – Denver, CO
9/21/2023 Cobalt – Vancouver, BC w/ Filth Is Eternal
9/22/2023 Substation – Seattle, WA w/ Filth Is Eternal, Spirit In The Room
9/23/2023 Star Theatre – Portland, OR w/ Filth Is Eternal, Spirit In The Room
9/24/2023 Rickshaw Stop – San Francisco, CA w/ Filth Is Eternal, Spirit In The Room
9/25/2023 The Echo – Los Angeles, CA w/ Filth Is Eternal, Spirit In The Room
9/26/2023 Soda Bar – San Diego, CA w/ Filth Is Eternal, Spirit In The Room
9/27/2023 Nile Underground – Mesa, AZ w/ Filth Is Eternal, Spirit In The Room
9/28/2023 Rockhouse – El Paso, TX
9/29/2023 Black Magic – Houston, TX
9/30/2023 Come And Take It Live – Austin, TX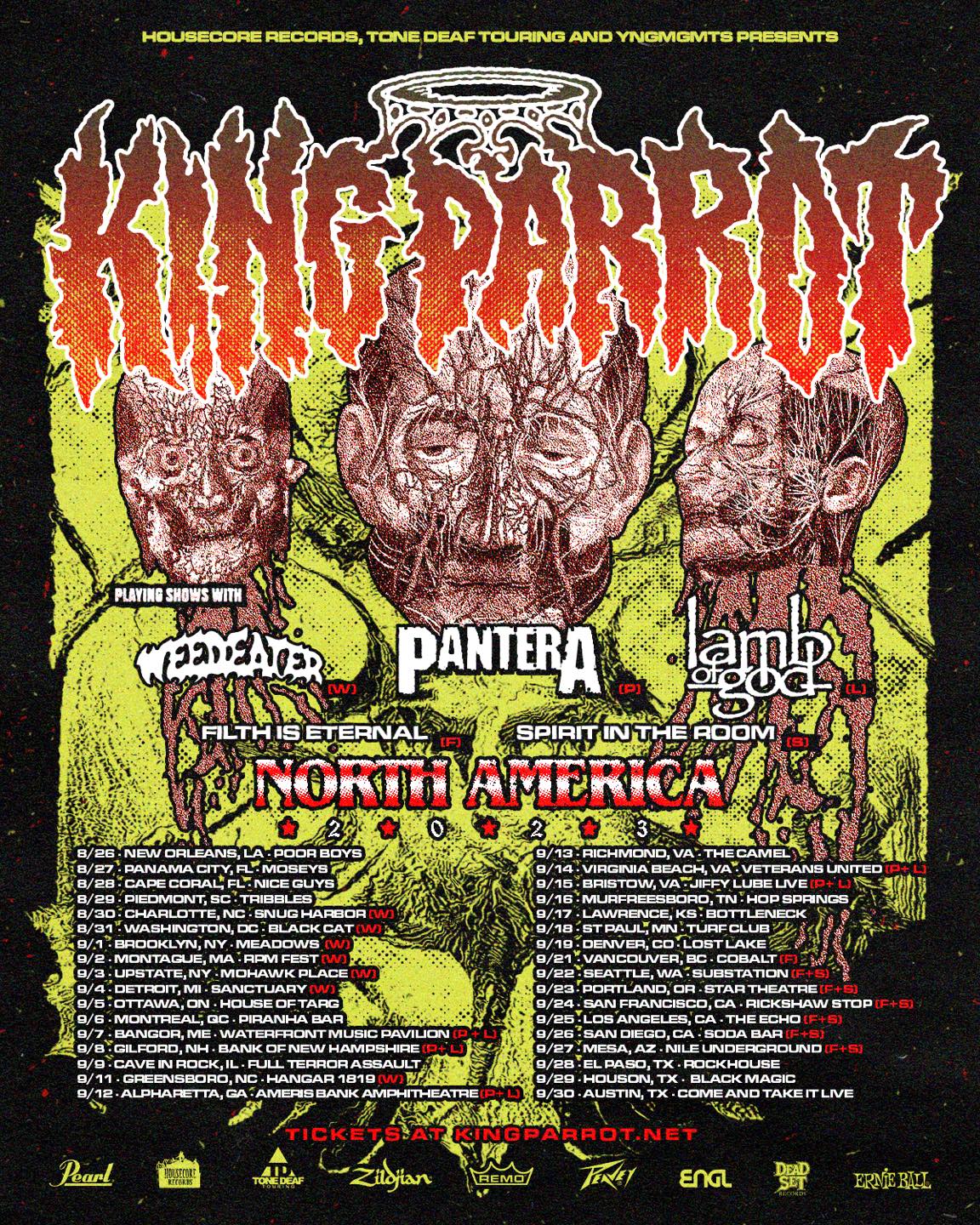 http://www.kingparrot.net
http://www.facebook.com/kingparrotband
http://www.instagram.com/kingparrotband
http://twitter.com/kingparrotband
https://housecorerecords.com
https://www.facebook.com/housecorerecords
https://www.instagram.com/housecorerecords