Australia's unhinged extreme metal villains KING PARROT return with their third and finest long player to date in the form of Ugly Produce.
Set for release in North America on September 22nd via Housecore Records, Ugly Produce is a ten-track feast of distinctively punishing and powerful anthems. Recorded at the infamous Goatsound Studios in Melbourne, Australia and produced by Blood Duster's Jason Fuller, this is no walk in the park on a sunny Sunday afternoon. Ugly Produce is a twisted, cantankerous ride through an outback graveyard, high on PCP, wreaking of animal feculence.
The record mixes the raw fury of debut album Bite Your Head Off and mashes it with the twisted sophistication of their ARIA-nominated follow-up Dead Set. "Ugly Produce reaches new heights in abrasive songwriting and serves up an odious pile of repulsive flavors you wouldn't want to find on your local fruit and vegetable shelves," issues vocalist Matt "Youngy" Young. "It's a repugnant harvest of gnarled and nasty grind, death metal, thrash, and punk rock and it's more caustic than ever."
View KING PARROT's video single for "Ten Pounds Of Shit In A Five Pound Bag" below:
Ugly Produce will see release on CD, digital, and vinyl formats. Preorders are currently available at the official KING PARROT website HERE. Digital preorders — which come with an instant download of "Ten Pounds Of Shit In A Five Pound Bag" — are available via Apple Music HERE and iTunes HERE.
Ugly Produce Track Listing:
1. Entrapment
2. Piss Wreck
3. Disgrace Yourself
4. All Hail The Grub
5. Ten Pounds Of Shit In A Five Pound Bag
6. Scattered
7. Now It Stokes Frenzy
8. Numb Skull
9. Die Before You Die
10. Spookin' The Animals
Never the band to shy away from their roots and the scene that gave birth to them, KING PARROT is forever on a mission to take this depraved, insidious wrecking machine to audiences around the globe. Their unique, over-the-top sound is ever prevalent and honed further on Ugly Produce while remaining true to the fundamental ideals the band started with: angst, aggression, absurdity, and antics.
In conjunction with the release of Ugly Produce, KING PARROT will return to the US supporting Housecore labelmates Superjoint along with DevilDriver. Additional support will be provided by Cane Hill and Child Bite (also on Housecore Records). The tour will run from September 23rd to October 20th with KING PARROT performing through October 14th. See confirmed dates below.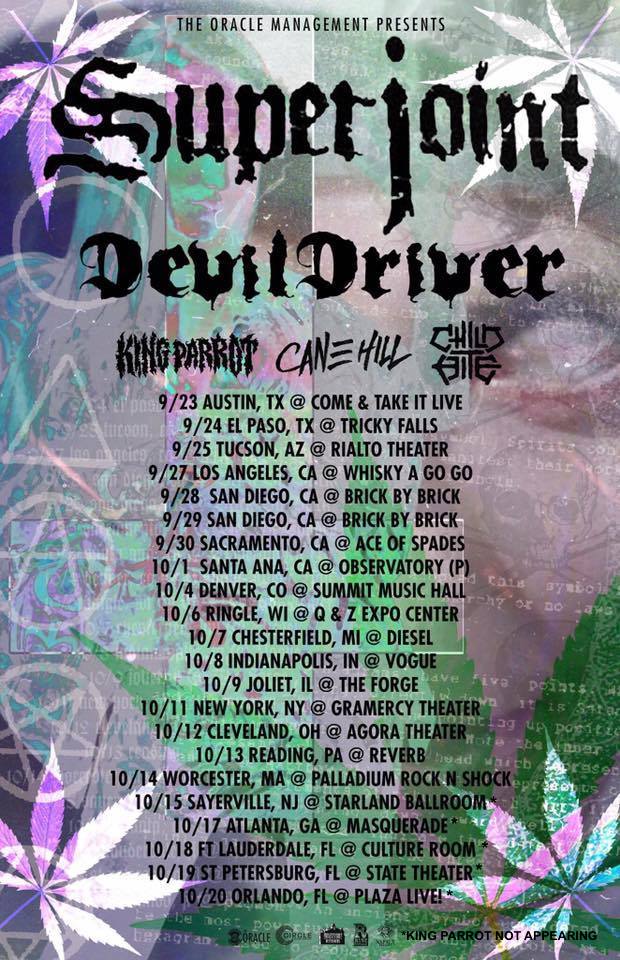 KING PARROT w/ Superjoint, DevilDriver, Cane Hill, Child Bite:
9/23/2017 Come & Take It Live – Austin, TX
9/24/2017 Tricky Falls – El Paso, TX
9/25/2017 Rialto Theater – Tucson, AZ
9/27/2017 The Whisky – Los Angeles, CA
9/28/2017 Brick By Brick – San Diego, CA
9/29/2017 Brick By Brick – San Diego, CA
9/30/2017 Ace of Spades – Sacramento, CA
10/01/2017 Observatory – Santa Ana, CA
10/04/2017 Summit Music Hall – Denver, CO
10/06/2017 Q & Z Expo Center – Ringle, WI
10/07/2017 Diesel – Chesterfield, MI
10/08/2017 Vogue – Indianapolis, IN
10/09/2017 The Forge – Joliet, IL
10/11/2017 Gramercy Theater – New York, NY
10/12/2017 Agora Theater – Cleveland, OH
10/13/2017 Reverb – Reading, PA
10/14/2017 Palladium – Worcester, MA @ Rock N Shock
KING PARROT has evolved into a fully-fledged touring and creative force barely stopping for a breath since their inception on the international metal scene in 2013. Following tour after tour with the likes of Soulfly, Obituary, Down, Cattle Decapitation, Exodus, Superjoint, Voivod, and their own headlining tours in Australia, KING PARROT has become hardened road warriors possessing a rare and deep hunger for the raucous and off-the-wall live shows they've become revered for. These outings fuel the creative drive within the band to compose only the most angst-driven and vile expressions to ensure maximum involvement from audiences that lap up every frantic beat, chainsaw riff, and psychotic scream. Ugly Produce is a testament to the blood, sweat, and tears poured into everything KING PARROT does.
http://www.kingparrot.net
http://www.facebook.com/kingparrotband
http://www.facebook.com/housecorerecords
http://www.thehousecorerecords.com
http://www.thehousecorestore.com