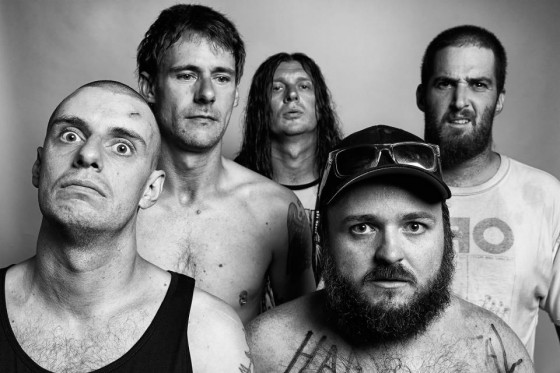 Currently on a conquest to shred the collective ears of North America, the thrash grind hooligans in Australia's KING PARROT recently dropped by Housecore Records during their tour stop in New Orleans last week. The band systematically leveled Siberia following a chat with metal legends Philip H. Anselmo and Mike IX Williams about touring, new records, guitar lessons, and burning holes in the ground in the swamps of Louisiana! View the footage below!
KING PARROT are only approaching the half-way mark of their live invasion and have a plethora of shows coming up all around the US and Canada. Additionally, the band will be returning to California by popular demand after laying waste to venues with Cattle Decapitation earlier this month.
KING PARROT Live Assaults 2014 [remaining dates]:
w/ Vattnet Viskar, Vaporizer
3/28/2014 Good Weekend – Allentown, PA *
3/29/2014 Ralph's – Worcester, MA
3/30/2014 Saint Vitus Bar – Brooklyn, NY
3/31/2014 Nectars – Burlington, VA
w/ Vattnet Viskar
4/1/2014 The Cabaret Playhouse – Montreal, QB *
4/02/2014 Bug Jar – Rochester, NY
4/03/2014 Hard Luck – Toronto, ON
4/4/2014 Ruby Tuesday – Columbus, OH *
4/5/2014 The Smiling Moose – Pittsburgh, PA *
4/08/2014 Reggies – Chicago, IL
4/09/2014 Triple Rock – Minneapolis, MN
4/10/2014 Replay Lounge – Lawrence, KS
4/11/2014 Marquis Theater – Denver, CO
4/12/2014 Burt's Tiki Lounge – Salt Lake City, UT
4/13/2014 The Shredder – Boise, ID
4/14/2014 Electric Owl – Vancouver, BC
4/15/2014 El Corazon – Seattle, WA
4/16/2014 Rotture – Portland, OR
4/17/2014 Thee Parkside – San Francisco, CA
4/18/2014 The Satellite – Los Angeles, CA *
4/19/2014 Franks Place – Fresno, CA *
4/20/2014 Soda Bar – San Diego, CA
*Newly added…
Among Australia's most lethal and extreme new bands, KING PARROT is touring in support of their Bite Your Head Off full-length released via Candlelight Records last year. Produced by Jason Fuller (Blood Duster, Dern Rutlidge) and Adam Calaitzis (Damaged, Abramelin), the record manages to capture the raw intensity of their live shows, defying genres with a cross section attack of thrash, grind, punk and hardcore.
"A nice little cross-up of musical ability and amusing visuals (the videos for 'Dead End' and 'Shit On The Liver' are quality viewing), KING PARROT should be able to find their place in a relatively stale and average grind scene. And frankly, thaty's what grind needs: A shot in the arm, a mix-up, and some well-intended goofiness… this should do it. 8.5/10″ – Dead Rhetoric
"Every track on Bite Your Head Off is a brutal showing of absolute speed, power and destruction…" – The Metalithic
"I've never felt so personally threatened by a record before" – Hysteria Magazine
"…a must for any fans of Australian metal or extreme metal 4/5" – Sputnik Music
"…a calculated piece of extreme art, with strong musicianship and a production job skilfully left just on the right side of raw and dirty…" – Beat.com
"…its ceaseless brutality will do much more than just rip your head off… from start to finish it tears you limb from limb 9/10" – Ghost Cult
"Whether it's 'Dead End,' the shortest, meanest track on the album, or 'Cold Steel Probe,' an infectious onslaught of multi-leveled grind that has no qualms about dragging coffins or simply setting them afire, KING PARROT's Bite Your Head Off is a no-brainer, comfortably taking a seat next to other 2012 entries like Strong Intention's Razorblade Express, Mulletcorpse's Disinfect, and Kess'khtak's Nurturing Conditions For Rupture. Killer stuff." – Metal Observer
http://www.facebook.com/kingparrotband
KING PARROT on YouTube
http://www.candlelightrecordsusa.com