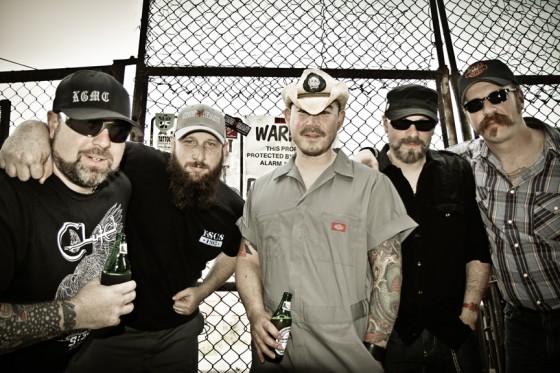 Northern Virginia-based doom-rock outfit KING GIANT are currently in the final mixing and mastering stages for their upcoming sophomore full-length, Dismal Hollow, currently being slated for release by Autumn 2011.
In March of this year, the five members of KING GIANT entered legendary Inner Ear Studios (Minor Threat, Fugazi, Avail, Jawbox, etc.) to take their thunderous doom-bred Southern rock to the next level on their sophomore full-length; the follow-up to their acclaimed debut album, Southern Darkness. The band have just released a trailer built around the creation of the new album, showcasing some killer footage of what is in store. Check out the newly completed preview of what's to come right here:
KING GIANT have also recently signed with 313 Artist Management — home of Hour Of 13, Pristina, Cortez, When The Deadbolt Breaks and more — so expect to hear more widespread news and live action from the band in the coming months as more live ventures are booked and the album nears completion.
The band have also raised a Kickstarter project to incorporate fans into the support and creation of their next video, to be filmed later this year. Check out that promo here.
Complete info on the forthcoming KING GIANT album will come to light in the weeks ahead, but this much is certain; the record is guaranteed to be one of the most groove-heavy, doom-fueled albums of the whole year.
To get hip with KING GIANT's current debut album, Southern Darkness, or for any other info on the band, contact Earsplit PR. Otherwise, just sit back and wait for us to smash you in the face with the new album in the months ahead…
http://www.kinggiant.com
http://www.facebook.com/kinggiantband
http://www.myspace.com/kinggiant