Due to an injury to one of the band members Virginia doom rockers KING GIANT have been unable to tour in support of their praised sophomore LP Dismal Hollow this year.
While regretfully the band cannot take the new album's anthems to the highways of America at the present time, in lieu of touring, KING GIANT has opted to begin constructing new material for their upcoming third full-length release. Talks have also started between the band and Kevin Barker, who produced and directed several of the band's previous videos, to begin work on another upcoming visual narrative based on another anthem from Dismal Hollow. Further details will be unveiled in the weeks ahead.
KING GIANT's thunderous Dismal Hollow can still be streamed in its entirety via THE OBELISK and the "Appomattox " video at RUE MORGUE. Interviews with KING GIANT are available worldwide anytime in any format via Earsplit.
Released in January — a split release between KING GIANT's band-operated imprint Graveyard Hill Records and The Path Less Traveled Records — Dismal Hollow was recorded at Inner Ear Studio (Minor Threat, Fugazi, Avail, Jawbox, Dave Grohl) Dismal Hollow flows with nearly fifty minutes of KING GIANT's homage-laden southern doom metal portrayed at its finest yet. The album is out now on digipak CD, deluxe digital download and 180-gram gatefold LP available in swamp green with bone swirl, and bone with gold haze color schemes.
"…a southern doom/rock lover's pleasure coated bed sheets; the crème de la crème of wet riff dreams. These guys have effectively taken their songwriting tactics to the next level and delivered an album that's striking from track to track." – Hellride Music
"…tales of bootlegging, abject alcoholism and spousal abuse with murderous retribution. This is real life. 9.2/10" – Metal Injection
"Fans of metal and hard rock will find this collection, consisting of eight King Giant tracks, just about bulletproof. 9/10" – Blistering
"There are eight irresistible rock masterpieces on this release. This album is almost perfect in every detail. 9.5/10" – Doommantia
"The Virginia quintet has a righteous boner for folk, and uses the rich tapestry of the American Civil War, backwoods lore, and all kinds of Americana miscellanea to source the lyrical inspiration that binds Dismal Hollow in one narrative thread. 8/10" – Decibel
"Where Dismal Hollow reaches its peak is with the innate ability to make each song worthy of acclaim on its own… 4/5" – About.com
"…odes to boozing, bloodshed, and one of the finest bits of instrumental doom in recent memory." – No Clean Singing
"Wrecking ball riffs come wrapped in a down home doom that makes the album's eight songs sound like a moonshine'd Danzig dragging a bloated corpse through the dirt and dry leaves." – Broken Beard
"Here's hoping that the tales of Appalachian decadence and discontent found on Dismal Hollow will turn King Giant into troubadours for all the world to hear…" – Heavy Planet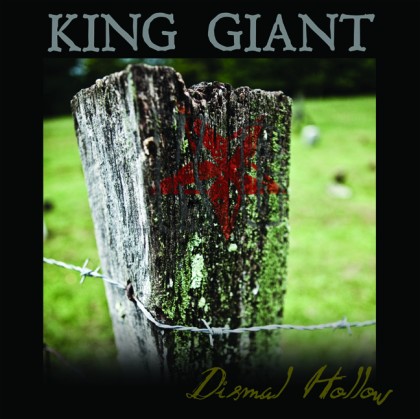 http://www.kinggiant.com
http://www.facebook.com/kinggiantband
http://www.myspace.com/kinggiant
http://www.kinggiant.bandcamp.com