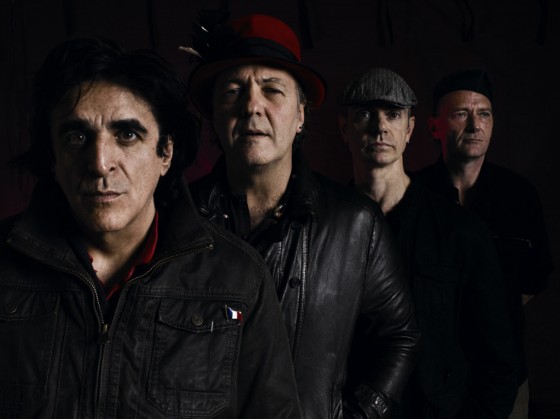 October 30, 2012 sees the release of KILLING JOKE's new album, MMXII, on Spinefarm Records.
2012 is the perfect year for KILLING JOKE to be releasing an album that is as dense and dark as the surrounding swirls of madness in the world. At a time when the news is on fast-forward and the planet seems to be descending into lunacy, who better than KILLING JOKE to reflect such a sentiment?
When their original lineup of Jaz Coleman, Geordie, Youth and Big Paul reconvened in 2008 after working together intermittently, that strange voodoo once again filled the room. Individually, they have a power, but together they have something sulphurous and strong that few bands can match. KILLING JOKE are not an average band with an average agenda; they lock the door and let the ritual commence, and MMXII is the result.
MMXII's 11 tracks are an avalanche of sound — empowering whilst jolting you awake. They are as fascinating as chatting with Coleman, as he talks of future humans living forever but with no emotions, and of the Age Of Aquarius and the cycles of time, the shift in the earth's electro-magnetic field, the end of extreme capitalism, the Arab Spring and how his trips to Cairo to record music have added to his belief that when Cairo falls everywhere else follows… MMXII is possibly KILLING JOKE's best album ever; a dense and multi-layered work. The songs are great washes of sound – a death disco with huge slabs of guitar that soundtracks these dangerous times. It's an end-of-time album that somehow finds moments of optimism in the downward swirl of the planet. Finding hope in the apocalypse, this album just could be their masterpiece.
The album's key is the end of times, an age of flux, a shift in consciousness. Coleman comments: "I can't see the point contemplating extreme life extinction — it's good for nothing. It's nihilism in the absolute even considering it."
This kind of thinking sets the tone for this powerful record, with 2012 and the state of flux the key issue. "It's in many different calendars – the great unveiling, the sky and the earth coming together. It's a significant date. Everything is speeding up. It's not just our minds shrinking. We are heading towards the Eschaton and no-one really knows what's going to happen."
The album reflects this dark vision, but Coleman sees the great change in a more positive light — the dawning of the Age Of Aquarius. "All the remote viewers I know, myself included, cannot penetrate beyond. This year is about getting our collective dreams in order, restoring the biosphere, the idea of well-being as opposed to economic growth, the idea of partnership and co-creation with fellow human beings, moving away from national boundaries and more towards what Schiller and Beethoven were saying in some of their work."
The album's themes are political, anti-capitalist and forward-looking. "If we can concentrate on what it can be, the dream of clean streams, of re-forestation, of permaculture, of disengaging all the banks — identifying all the majority shareholders of the top 100 corporations and dismantling them. If we start dreaming of a fairer system and defining what an elite should be — an intellectual powerhouse and not international bankers."
MMXII Track Listing:
1. Pole Shift
2. Fema Camp
3. Rapture
4. Colony Collapse
5. Corporate Elect
6. In Cythera
7. Primobile
8. Glitch
9. Trance
10. On All Hallow's Eve
KILLING JOKE is Jaz Coleman, Geordie Walker, Youth and Paul Ferguson. More dispatches to follow shortly – You have been warned.