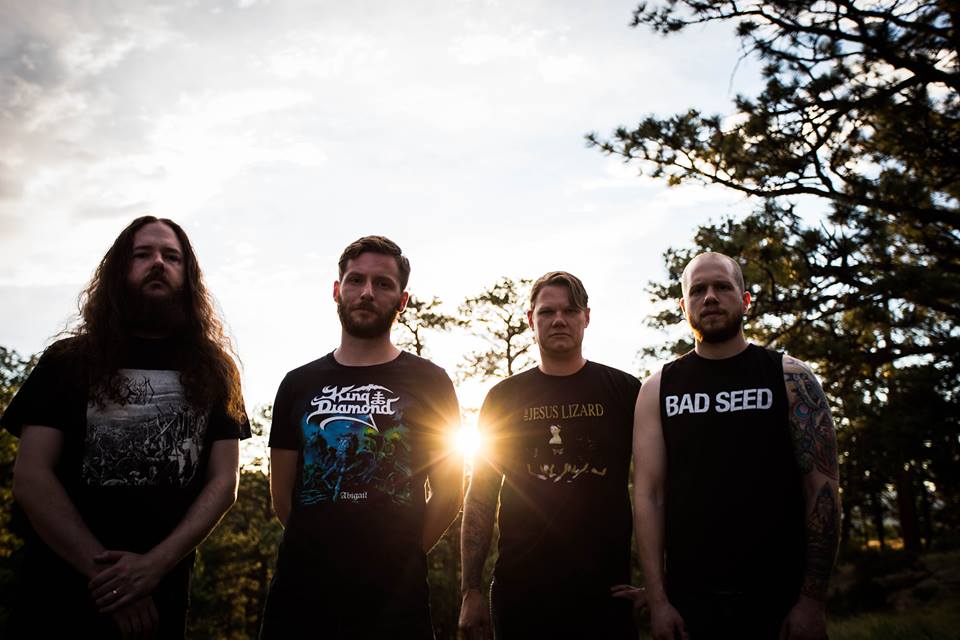 [photo by Alvino Salcedo]
Denver's KHEMMIS has been confirmed to take part in the 2018 installment of Decibel Magazine's annual tour, joining Enslaved, Wolves In The Throne Room, and Myrkur.
KHEMMIS' second LP, Hunted, was released through 20 Buck Spin in October of 2016. Using the same team as their lauded Absolution debut, Hunted was recorded at Flatline Audio with Dave Otero (Cobalt, Nightbringer, Cephalic Carnage) and features artwork by Sam Turner (3 Inches Of Blood, Black Breath, TRVE Brewing). Following the 2016 release of Hunted – which was praised by doom and metal critics and fans worldwide, including taking the crown as Decibel Magazine's #1 Album Of 2016 – early this year KHEMMIS toured the US with Oathbreaker, followed by a set at Decibel's Beer And Metal Fest, and later in the year at the massive Psycho Las Vegas in support of the album.
As 2018 approaches, and KHEMMIS meticulously crafts the material for their follow-up to Hunted, the band has been confirmed to take place in the Seventh Annual Decibel Magazine Tour, set to run through North America from February 15th through March 10th. Issues the band, "We're honored to be part of the 2018 Decibel Tour alongside Wolves In The Throne Room, Myrkur, and the legendary Enslaved. We look forward to playing in a number of new cities, particularly throughout Canada, as well as returning to a number of areas we know and love. We might even include a new song from our upcoming album — the only way to know is to be there!"
Preceding the tour, KHEMMIS will be returning to the studio in January to record their third LP, once again with Dave Otero at Flatline Audio. The album will be scheduled for late summer 2018 on 20 Buck Spin in North America and Nuclear Blast in Europe. In conjunction with the release, KHEMMIS will embark on additional widespread touring, including their first European tour. Watch for additional details to be issued early in the year.
Hunted is available worldwide on CD, LP, and digital formats through 20 Buck Spin right HERE.
In other news, Orange Amplifiers welcomed KHEMMIS guitarists Ben Hutcherson and Phil Pendergast and bassist Dan Beiers as ambassadors, with all three now representing the company with massive new backline upgrades. Drummer Zach Coleman is also now sponsored by C&C Drums and Paiste. The C&C kit is made from their Gladstone shells, a 7-ply maple shell, which provide a deep and resonant tone. Read band statements and see more on these sponsorship deals at KHEMMIS' Facebook page HERE.
KHEMMIS Tour Dates:
Decibel Magazine Tour w/ Enslaved, Wolves In The Throne Room, Myrkur:
2/15/2018 Theater Of Living Arts – Philadelphia, PA
2/16/2018 Irving Plaza – New York, NY
2/17/2018 Royale – Boston, MA
2/18/2018 Corona Theatre – Montreal, QC
2/20/2018 Phoenix Theatre – Toronto, ON
2/21/2018 Agora Ballroom – Cleveland, OH
2/23/2018 Metro – Chicago, IL
2/24/2018 Cabooze – Minneapolis, MN
2/25/2018 Granada Theater – Lawrence, KS
2/26/2018 Gothic Theatre – Englewood, CO
3/02/2018 MacEwan Ballroom – Calgary, AB
3/03/2018 The Starlite Ballroom – Edmonton, BC
3/05/2018 Rickshaw Theater – Vancouver, BC
3/06/2018 El Corazon – Seattle, WA
3/07/2018 Hawthorne Theater – Portland, OR
3/09/2018 Regency Ballroom – San Francisco, CA
3/10/2018 The Observatory – Santa Ana, CA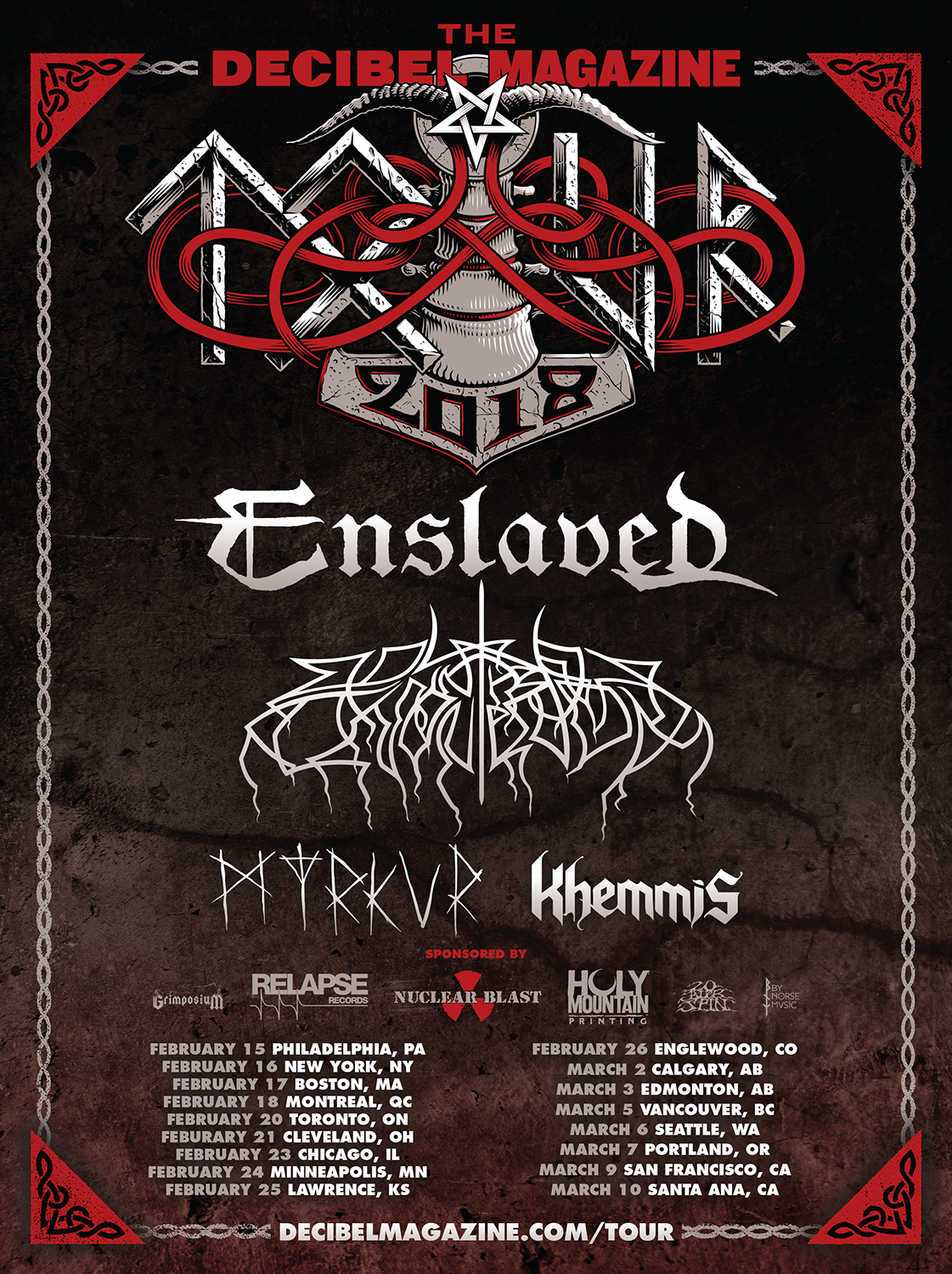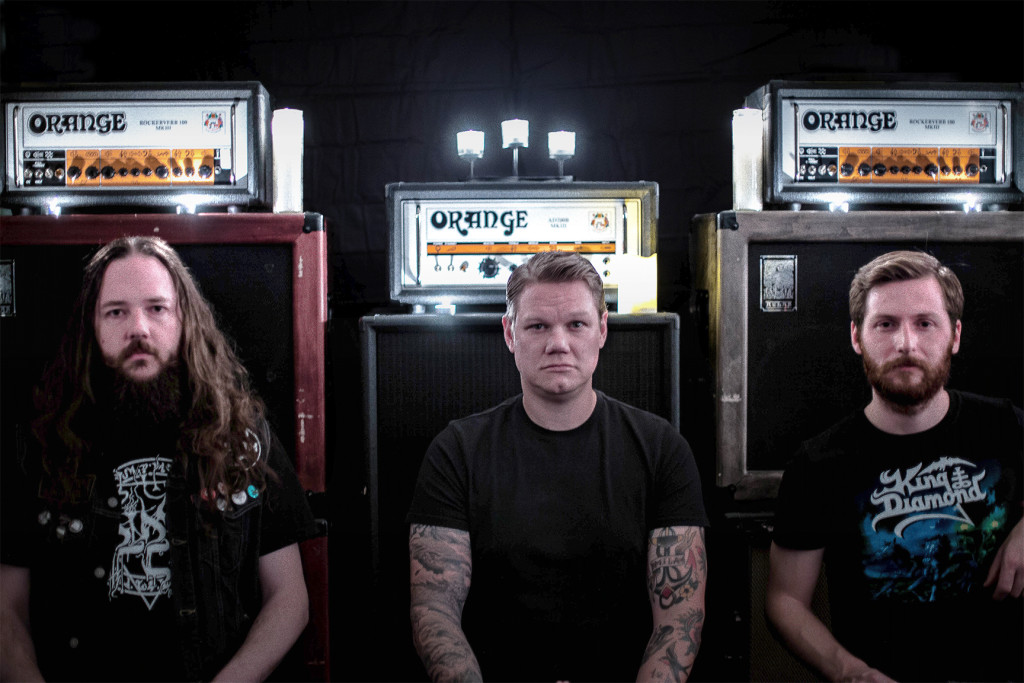 http://www.facebook.com/khemmisdoom
http://khemmis.bandcamp.com
http://twitter.com/khemmisdoom
http://www.20buckspin.com
http://www.facebook.com/20buckspin
http://twitter.com/20buckspinlabel