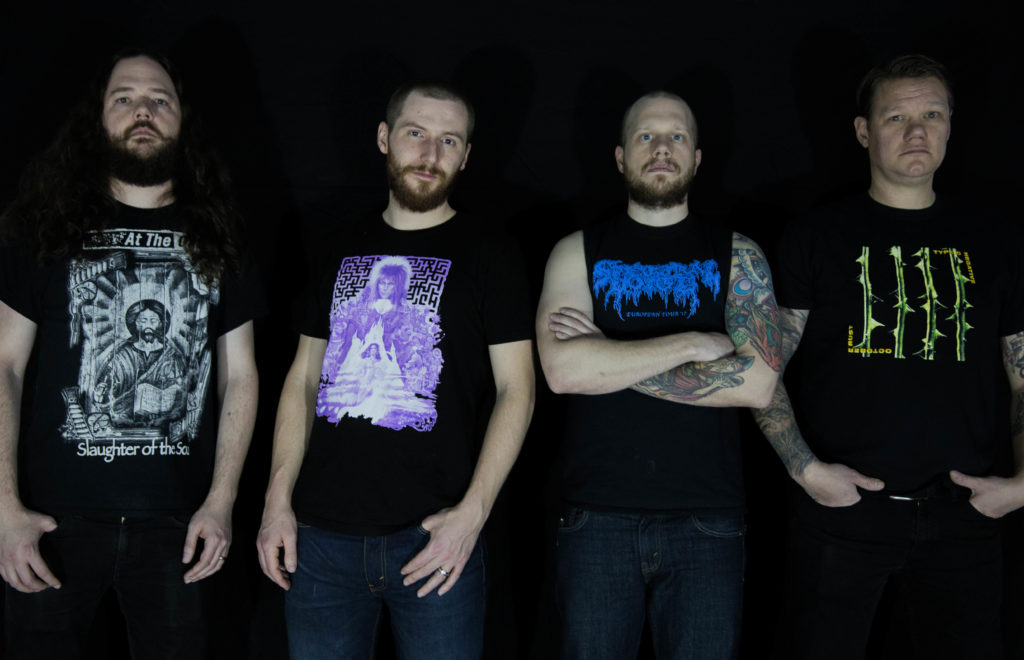 [photo by Alvino Salcedo]
Denver metal/doom conquerors KHEMMIS present their triumphant third LP, Desolation, the album out worldwide today through 20 Buck Spin in North America and via Nuclear Blast internationally.
While KHEMMIS is undeniably influenced by doom and classic metal, to tag them with those labels doesn't do justice to what's accomplished on Desolation; a perfect representation of modern heavy metal in 2018 that integrates the past in a way only possible in the present. Desolation is not just the best KHEMMIS record to date but a testament to the quality that heavy metal is still capable of. 20 Buck Spin's 100th release, Desolation is completed with cover artwork by Sam Turner (Black Breath, 3 Inches Of Blood, In The Company Of Serpents).
Stream KHEMMIS' triumphant Desolation via Bandcamp HERE, Spotify HERE, and iTunes HERE, and see the Italo Ganni-directed video for "Isolation" HERE.
Desolation is out now on CD, digital, and LP with a foil-stamped jacket and 8″ inch lyric booklet. Find North American order options through 20 Buck Spin's webshop HERE, Bandcamp HERE, and iTunes HERE. Internationally find the album through Nuclear Blast.
KHEMMIS continues to perform live in support of the album, with upcoming special one-off record release shows where the band will be performing Desolation in its entirety, in Los Angeles June 29th, Chicago July 1st, and their hometown of Denver July 7th. Late July sees KHEMMIS taking part in Migration Fest and Heavy Montreal, with more tour dates to be expected.
KHEMMIS:
6/29/2018 Echoplex – Los Angeles, CA *Desolation release show w/ Future Usses [info]
7/01/2018 Reggie's – Chicago, IL *Desolation release show w/ Starless, Varaha [info]
7/07/2018 Hi-Dive – Denver, CO *Desolation release show w/ In The Company Of Serpents, Palehorse/Palerider [info]
7/27/2018 Mr. Small's – Pittsburgh, PA @ Migration Fest w/ Zombi, Bongripper, Yellow Eyes, more [info]
7/29/2018 Parc Jean-Drapeau – Montreal, QC @ Heavy Montreal [info]
Anticipation was high for the release of Hunted in 2016, the sophomore album from Denver's KHEMMIS, and follow-up to acclaimed debut, Absolution. Rather than the all-too-common sophomore slump, KHEMMIS raised the stakes and blew everyone away with their rapidly progressing songwriting and production quality, culminating in Hunted being named Album Of The Year for 2016 by Decibel Magazine.
Now, in 2018, following the Decibel Magazine Tour with Enslaved, Wolves In The Throne Room, and Myrkur, the excitement for the third KHEMMIS album, Desolation, is palpable across the metal spectrum. Fortunately, when you hail from a place known as the Mile High City, lofty expectations come with the territory and the band has created what will come to be known as the definitive KHEMMIS classic.
From the stadium-sized opening notes of "Bloodletting" it is immediately evident that KHEMMIS is again putting distance between themselves and their earlier influences to inform a sound that is singularly their own. "Isolation" – which the band recently aired live on the Decibel Tour – is the album's lead single and most immediate track, with the classic metal melodies the band have become revered for shining throughout. On epic closer "From Ruin" and throughout the entirety of the album, the lead vocals and melodies of Phil Pendergast are the clearest, most powerful and best arranged that the band has achieved. Working for the third time with Dave Otero at Flatline Audio in Denver, the band and producer now have the familiarity and mutual experience to arrive at the perfect symbiosis of songwriting, arrangement and production value.
Desolation is an album that fans of Paradise Lost, Candlemass, Judas Priest, Thin Lizzy, Iron Maiden, Spirit Adrift, Pallbearer, Yob, Warning, Atlantean Kodex, High On Fire, Metallica, and Corrosion Of Conformity should not miss.
http://www.facebook.com/khemmisdoom
http://khemmis.bandcamp.com
http://twitter.com/khemmisdoom
http://www.20buckspin.com
http://www.facebook.com/20buckspin
http://twitter.com/20buckspinlabel