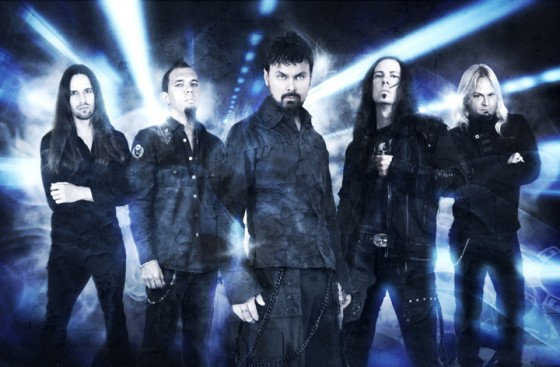 In the ongoing campaign for their newest release, Poetry for the Poisoned, we are extremely pleased to announce that KAMELOT have confirmed a full North American Tour to take place late this Summer!
The long-awaited trek, dubbed Pandemonium Over North America 2011, is in support of KAMELOT's epic, Billboard-charting album Poetry for the Poisoned (peaking at #74 on the US Billboard Top 200!), which was released in September. Along for the ride are Pirate-metallers Alestorm, as well as Blackguard and the The Agonist.
Due to continuing medical and personal issues, Roy Khan will not be able to continue touring in support of, Poetry for the Poisoned. To his fans he states: "Hello all. I am here in Norway still recovering from what seems to have been a severe burnout syndrome. I am getting better but still under medical care. My priorities at the moment are my health & family. My future endeavors in Kamelot and music in general are being evaluated, however at this time my focus is on getting back on my feet and spending time with family and friends. Thank you for your prayers and well wishes!"

With the news of Roy's continued absence, we are pleased to announce that metal icon Fabio Lione
(Rhapsody of Fire) will be joining the tour and handling the lead vocal duties.
Fabio Lione is eager to get on the road, stating, "I am excited and pleased to be part of the next Kamelot tour. I always loved the sound of the band, and I think this will be a great experience for me, the band, and for all the fans of great music and Kamelot. See you soon on tour, and let's rock!"
In addition to Fabio, throughout these shows there will also be special guest and vocal appearances
from top artists in the scene, making this is a special and rare tour, not to be missed!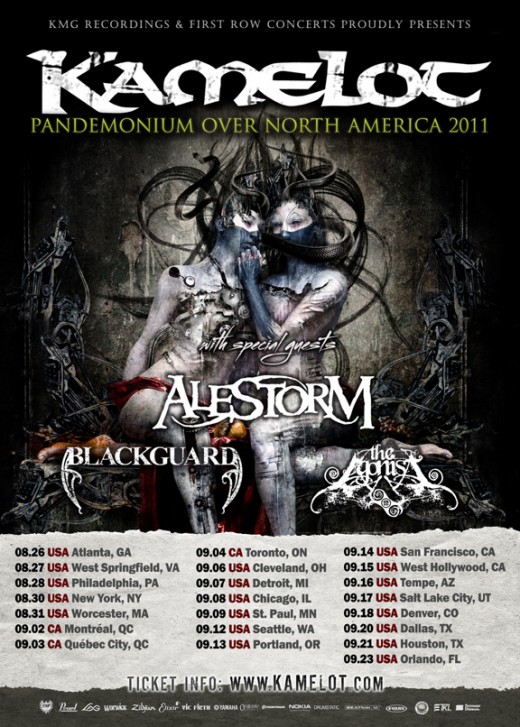 KAMELOT – Pandemonium Over North America Tour 2011:
w/ Alestorm, Blackguard, The Agonist
8/26/2011 The Masquerade – Atlanta, GA
8/27/2011 Jaxx – West Springfield, VA
8/28/2011 The Trocadero – Philadelphia, PA
8/30/2011 The Gramercy Theatre – New York, NY
8/31/2011 The Palladium – Worcester , MA
9/02/2011 Club Soda – Montreal, QC
9/03/2011 Imperial De Quebec – Quebec City, QC
9/04/2011 Mod Club – Toronto, ON
9/06/2011 Peabody's – Cleveland, OH
9/07/2011 Blondie's – Detroit, MI
9/08/2011 Bottom Lounge – Chicago, IL
9/09/2011 Station 4 – St. Paul, MN
9/12/2011 El Corazon – Seattle, WA
9/13/2011 Peter's Room – Portland, OR
9/14/2011 Slim's – San Francisco, CA
9/15/2011 House Of Blues – West Hollywood, CA
9/16/2011 Clubhouse – Tempe, AZ
9/17/2011 The Complex – Salt Lake City, UT
9/18/2011 Bluebird Theater – Denver, CO
9/20/2011 Trees – Dallas, TX
9/21/2011 Scout Bar – Houston, TX
9/23/2011 The Club At Firestone – Orlando, FL
In addition, KAMELOT's upcoming Pandemonium Over South America 2011 and Pandemonium Over Europe 2011 tours are approaching rapidly. See the band's full upcoming tour schedule here.
"…Kamelot stick to their strengths on Poetry For The Poisoned, their finest record in ages. 8/10" – Decibel
"It's not often that albums of this nature grab you from the very first listen, but Poetry For the Poisoned certainly did… 4.5/5" – Sea Of Tranquility

"With Poetry For The Poisoned, Kamelot have found the right blend of emotive and heady heaviness." – Brave Words & Bloody Knuckles

"…full of the band's trademark elements: soaring vocals, cascading melodies, tight musicianship, creative songwriting and melodic dynamics… a powerful mix of progressive elements, modern rock and, of course, power metal. 4/5" – About.com
"…Kamelot both merges and transcends genres for a truly progressive musical experience. 5/5" – Dangerdog.com

"…a record that will please fans of their traditional sound as well as newcomers who wish to be taken by the addictive poison that runs through the band's veins. 9/10" – Myglobalmind.com
Stay tuned for more updates as KAMELOT's North American tour draws near over the coming months.
http://www.kamelot.com
http://www.myspace.com/kamelot
http://www.poetryforthepoisoned.com
http://www.knifefightmedia.com