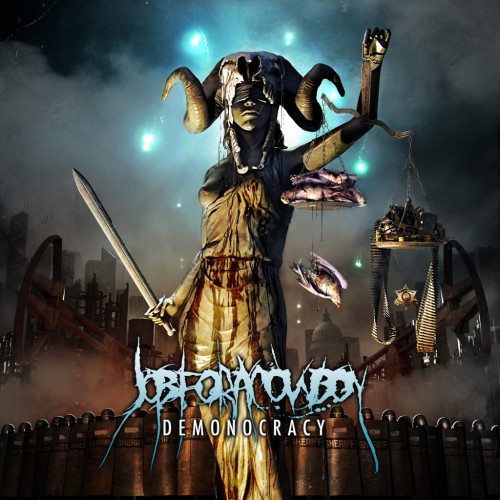 JOB FOR A COWBOY's long-anticipated new full-length Demonocracy is out TODAY through Metal Blade Records. Produced by Jason Suecof (Black Dahlia Murder, Whitechapel, Trivium) at Audiohammer Studios, the complex death metal opus, tackles a host of political and economic themes and has already reaped the praise of fans and critics nationally. In a 4/5 rating, Alternative Press calls Demonocracy "an ass-kicking, skull-cracking record," Hellbound commends the band for managing to "bend the ol' familiar death metal formula their way and come up with something that is both invigorating and original," while Stereokiller notes: "…a solid slab of some really heavy technical death metal. JOB FOR A COWBOY has separated themselves from former peers such as All Shall Perish and Whitechapel, and has now firmly fitted themselves with the likes of Suffocation and Dying Fetus." Metal Army America opines in an A+ review: "History was made with this album," while Craveonline agrees: "JOB FOR A COWBOY…produce ugly music for an ugly world. If art is a reflection of humanity, then JOB FOR A COWBOY are showing us a part of ourselves we don't want to see. The band's latest opus of ugly is Demonocracy and once again they come out of the gate firing on all pistons."
In celebration of the release, the band today posted the first of a series of in-studio video clips at THIS LOCATION.
JOB FOR A COWBOY are currently molesting ears across North America on the Metal Alliance Tour. Joined by The Faceless, Dying Fetus, 3 Inches Of Blood, Impending Doom, Wretched, and headliners, Devildriver the remaining dates are below.
Stay tuned for more JOB FOR A COWBOY news including the upcoming video premiere of "Imperium Wolves."
JOB FOR A COWBOY – Metal Alliance Tour 2012
w/ Devildriver,The Faceless, Dying Fetus, 3 Inches Of Blood, Impending Doom , Wretched [remaining dates]
4/10/2012 Sokol Auditorium – Omaha, NE
4/11/2012 7 Flags Event Center – Clive, IA
4/12/2012 Pop's – East St Louis, IL
4/13/2012 New Daisy Theatre – Memphis, TN
4/14/2012 Clear Channel Metropolis – Little Rock, AR
4/15/2012 Granada Theatre – Lawrence, KS
4/16/2012 Cain's Ballroom – Tulsa, OK
4/18/2012 Dos Amigos – Odessa, TX
4/19/2012 House of Blues – Dallas, TX
4/20/2012 Emo's East – Austin, TX
4/21/2012 House of Blues – Houston, TX
JOB FOR A COWBOY
6/30/2012 La Respuesta – San Juan, PR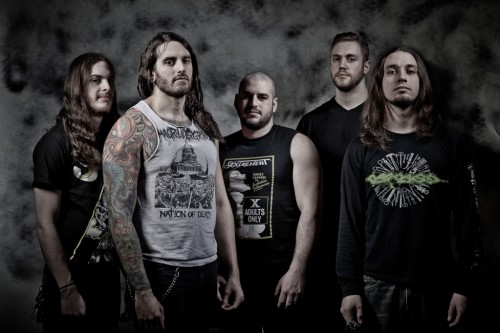 http://www.metalblade.com/jobforacowboy
https://www.facebook.com/jobforacowboy