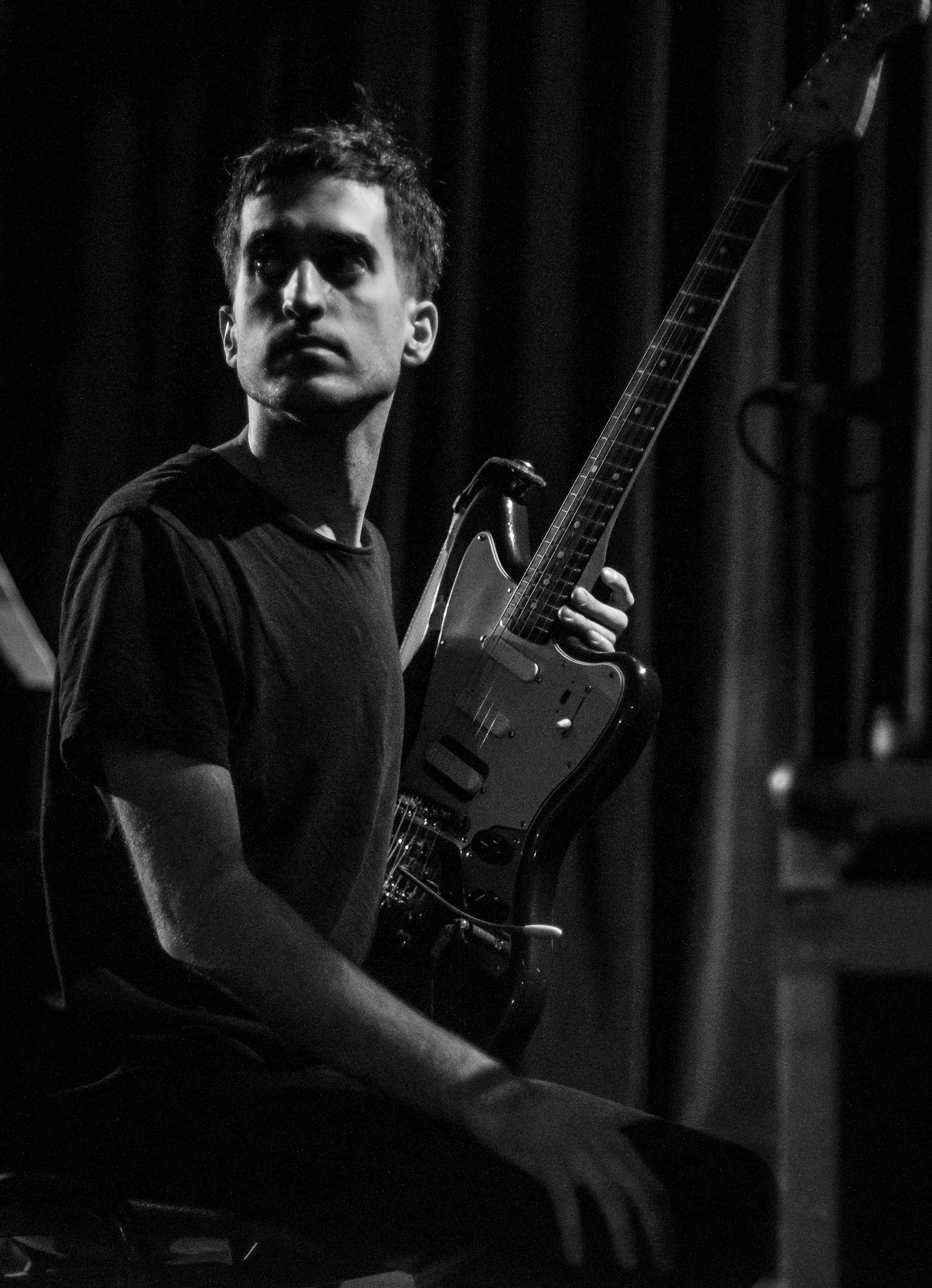 photo by by Alejandro Held
rrrrrrrrrr tKtK is the debut solo record from Argentinian guitarist JAVIER AREAL VÉLEZ. Its seven self-contained improvised pieces explore different sides of an often furious, angular, and obstinate performing style on prepared electric guitar. Nefarious Industries has confirmed the record for August release, issuing the cover art, track listing, a brief teaser, preorders, and more.
The musical approach of JAVIER AREAL VÉLEZ relies heavily on a primal technique that emphasizes timbre and rhythm and avoids traditional forms in favor of intensity and dynamic contrast. The physicality of his interactions with the guitar creates estranged and unstable sonic entities that evolve haphazardly, free of preexisting genres.
AREAL VÉLEZ blurs the edges of his instrument, playing from a standing position while moving around and using just a few objects or preparations (pieces of wood, metal, rocks) to attack and alter the guitar's sound. His sound goes through a pair of pedals to a large amplifier at max volume. This setup allows him to exploit the sonic spectrum to its limits, spontaneously recycling errors and unexpected sounds.
The seven songs on rrrrrrrrrr tKtK were performed entirely by JAVIER AREAL VÉLEZ solo on prepared electric guitar. All pieces are improvised; there are no overdubs. The record was recorded, mixed, and mastered by Carlos Quebrada in Buenos Aires in 2019 and 2020, and completed with artwork by AREAL VÉLEZ.
Watch a brief teaser for JAVIER AREAL VÉLEZ' rrrrrrrrrr tKtK and find preorders RIGHT HERE.
Nefarious Industries will release rrrrrrrrrr tKtK digitally and in a limited CD run including merch bundles on August 27th. Watch for audio and videos previews of rrrrrrrrrr tKtK and more to be posted over the weeks ahead.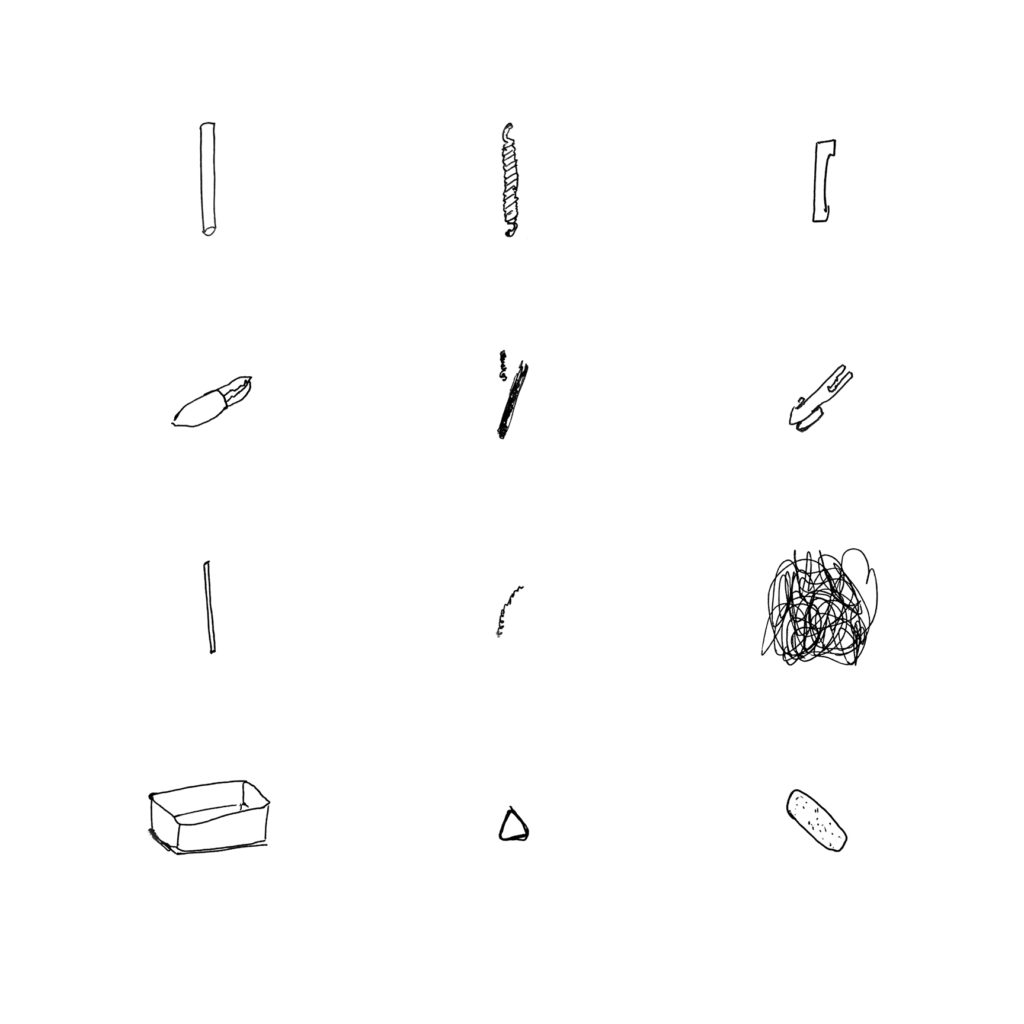 rrrrrrrrrr tKtK Track Listing:
1. oïoï
2. aAanr
3. poonG
4. jYsvuPvjj
5. ilpri
6. KrTvvTcccT
7. tlliaaeéeéeéauot
JAVIER AREAL VÉLEZ (Buenos Aires, 1985) is a composer, improviser, and curator who performs mostly on electric guitar, with or without objects stuffed among its strings. He's part of Calato, a loud (free and scored) noise improv outfit, and bizarre electronic experimental pop duo Kyse. Past commitments include post-punk trio Coso and weird songs band El Helicoptero.
As an improviser, AREAL VÉLEZ has collaborated with countless artists from different parts of the world such as Audrey Chen, Nicola Hein, Shayna Dunkelman, Axel Dörner, Brian Chase, Violeta García, Chris Pitsiokos, Jorge Espinal, Andrew Drury, Paal Nilssen-Love, and Jack Wright. Over the last decade, he has toured intensively across South and North America, Europe, and Japan. His music can be found on labels such as HatHut, Buh Records, Vestibular Recs, Lurker Bias, 1039 Recs, Stereo-Neg, Geweih Ritual Documents, Audition Records, El Silencio, TVL Recs, Jardinista!, Border Tapes, and PSH Ediziones.
JAVIER AREAL VÉLEZ coordinates the Sound Arts Center (CASo) of the Ministry of Culture of Argentina, and is the director of RUIDO, an ongoing music series which aims to connect the foremost experimental artists from all over the world with Buenos Aires' vital new music scene through a network of concerts, workshops, and masterclasses. Ruido has produced the first visits to the country of the likes of Xiu Xiu, Jeremy Gara, Los Pirañas, Julien Desprez, and Mark Fell, and hosted more than one hundred streaming concerts since 2020. Upcoming plans include several releases by Calato, as well as a European tour with cellist Violeta García, in addition to the release of his solo debut album, rrrrrrrrrr tKtK.
http://www.javierarealvelez.com.ar
https://javierarealvelez.bandcamp.com
http://soundcloud.com/javierarealvelez
http://instagram.com/javierarealvelez
http://facebook.com/javierarealvelez
http://nefariousindustries.com
http://www.facebook.com/nefariousIndustries
http://www.twitter.com/nefariousInd
https://nefariousindustries.bandcamp.com