Philly's bastards of metal JAVELINA have just been added to the New York City date of the ongoing US tour for the reunited Southern sludgemongers Buzzov*en, this Thursday, September 30th. The show — a Brooklyn Vegan event — initially scheduled as one of those brutally raunchy "booze cruise" boat shows in Manhattan harbor, was recently relocated to Public Assembly in Brooklyn. In addition to the mentioned Buzzov*en and JAVELINA, Black Tusk and Ramming Speed are also on the bill. And just so you all know, the initial ridiculous $35 ticket price has been lopped nearly in half, the show now running $15.
JAVELINA were about to announce a string of new tour dates – as these guys don't like to sit around on their asses for very long – but bassist Herb Jowitt recently endured an incredible back injury which halted the tour in the middle of booking it. This one-off Buzzov*en show is the only one the band will be undertaking for the time being. Stated Jowitt about the affair: "Yeah I know I said my back is fucked up, but when you get asked to play with one of your favorite bands, you say fuck it." Well put, brother.

Buzzov*en w/ Black Tusk, Javelina, Ramming Speed:
9/30/2010 Public Assembly – Brooklyn, NY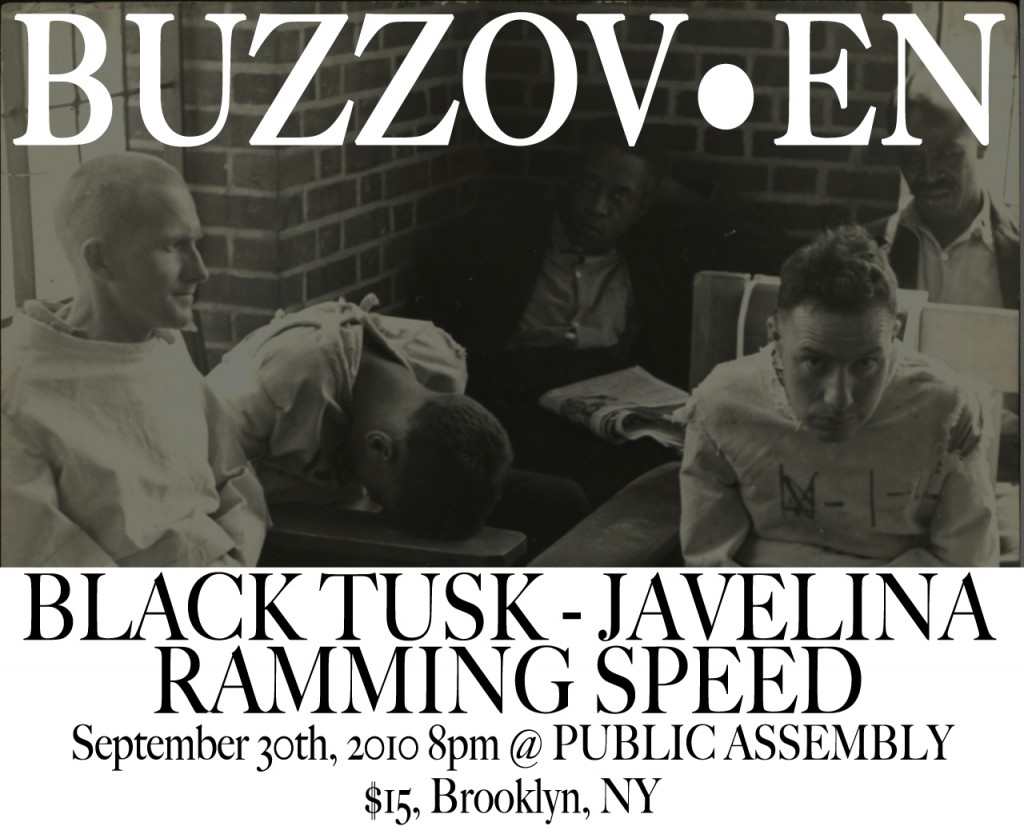 The thunderous, sludge-fueled rage of JAVELINA's latest full-length Beast Among Sheep was dubbed one of Decibel Magazine's "Top 40 Albums of 2009", that just one of the countless amazing responses on the album from the media and fans alike. The notoriously bearded band has been pummeling the public with their brew-tality since 2006, and don't plan on slowing down longer than it takes to heal up Herb's back. Stay tuned for more JAVELINA news, injuries, mishaps and profanity in the near future. The band has a lot going on these days, but all in the planning stages.
"…adroitly flips the script between frenetic bar brawling and epic power chord beatdowns – your brain won't know if you're supposed to groove and head-bang or duck and cover from all the flying shrapnel." 8/10 – Decibel Magazine
"The ghosts of drug-addled Black Sabbath and Venom smile up from the deepest pit of Hell." – Exclaim! Magazine

"I hate it." – Murderface, of Cartoon Network's Dethklok
http://www.myspace.com/javelinaphiladelphia
http://www.translationloss.com