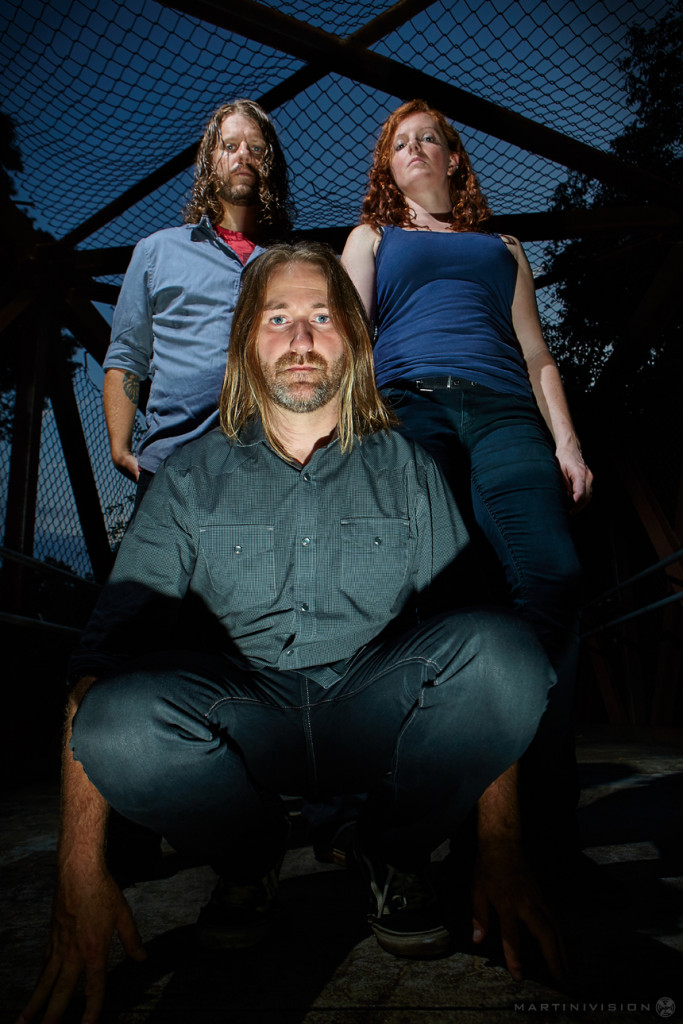 [photo by Allan Martin]
Greensboro, North Carolina-based IRATA has completed their latest recording, the band's second full-length, dubbing it Sweet Loris. The album is currently being pressed to vinyl and will see release through Kylesa-founded record label, Retro Futurist, in early October. Additionally, the band will support Kylesa alongside Inter Arma and Indian Handcrafts on an Eastern US tour in conjunction with the album's release.
Defying specific categorization, the IRATA sound dodges to the side or straight up smashes through genre barriers with a dexterous, infectious groove. Once an instrumental act, the lineup has shifted from a trio to a duo and back, and following several lineup shifts since their inception eight years ago, the band has finally solidified things with its most roaring setup yet. This is proven on their sophomore LP, Sweet Loris, with equal parts kicking and clawing with thunderous doom-inspired uproar as there are tranquil and melodious organic rock segues. With nearly forty minutes of material packed into seven new tracks, Sweet Loris was recorded by IRATA at The Jam Room, produced by Phillip Cope and engineered by Cope and Zac Thomas, and the record completed with artwork by Santos and graphic design by Phillip Yeary.
Retro Futurist will release Sweet Loris on CD and digital October 9th, with a vinyl pressing to follow later. The track listing and cover are for Sweet Loris have been released, with audio from the album, preorders and more to be leaked in the coming days.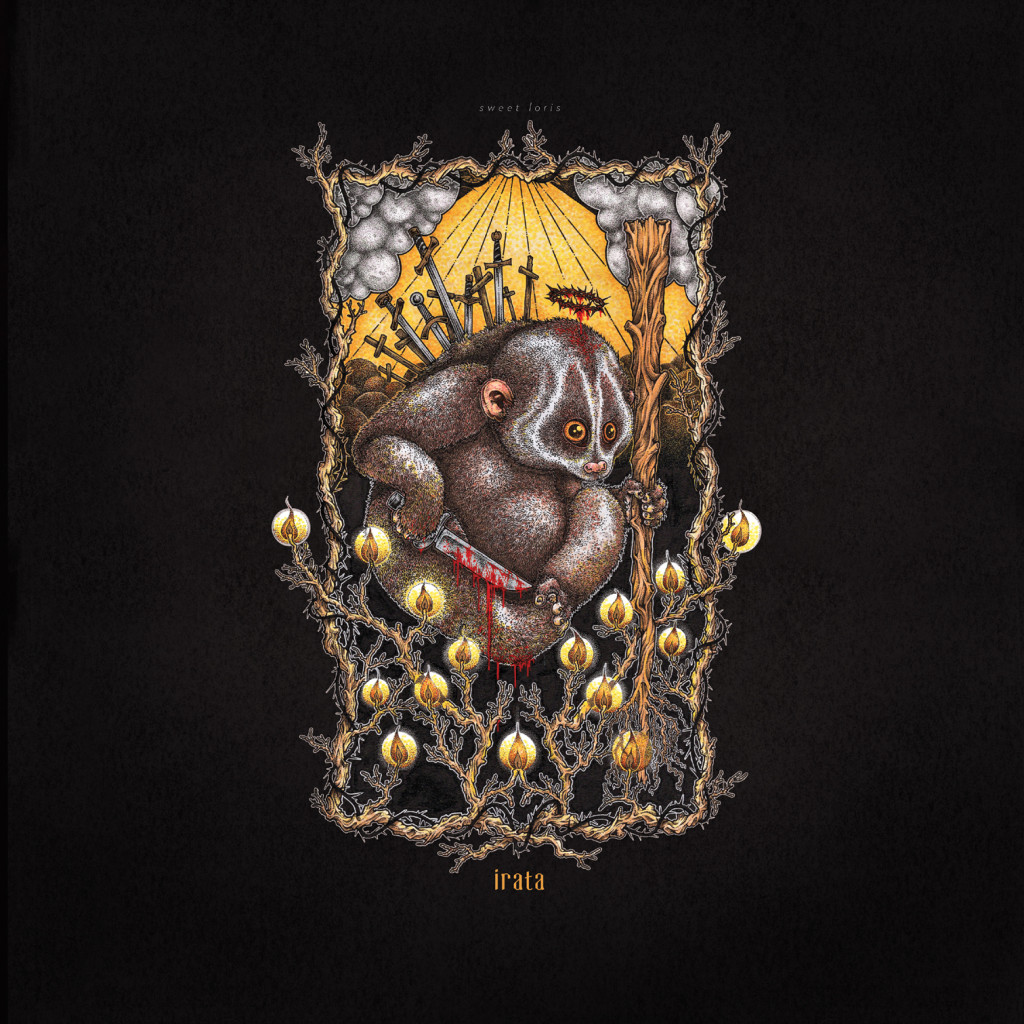 Sweet Loris Track Listing:
Lion Slayer
Sweet Loris
Daisy
Chorine
March By Tens
Skin
Teeth Of The Arctic Storm
Directly in conjunction with the release of Sweet Loris, IRATA will hit the road on their most rigorous tour in some time, the band to join Inter Arma and Indian Handcrafts supporting headliners Kylesa on a fourteen-city run. Set to embark out of Saint Petersburg on October 6th, the trek will run through Miami, Orlando, Savannah, Asheville, Columbus, Grand Rapids, Cleveland, Pittsburgh, Boston, Philadelphia, Richmond and Washington DC before coming to a halt with its final show in Atlanta on October 25th.
IRATA Tour Dates:
8/12/2015 The Garage – Winston Salem, NC w/ Cave of Swimmers, Plow, Pallor [info]
w/ Kylesa, Inter Arma, Indian Handcraft:
10/06/2015 State Theatre – Saint Petersburg, FL
10/07/2015 Grand Central – Miami, FL
10/08/2015 The Social – Orlando, FL
10/09/2015 Jinx – Savannah, GA
10/10/2015 New Mountain – Asheville, NC
10/13/2015 The Basement – Columbus, OH
10/14/2015 Pyramid Scheme – Grand Rapids, MI
10/16/2015 Grog Shop – Cleveland, OH
10/17/2015 Altar Bar – Pittsburgh, PA
10/19/2015 Brighton Music Hall – Boston, MA
10/20/2015 Underground Arts – Philadelphia, PA
10/23/2015 The Broadberry – Richmond, VA
10/24/2015 Rock & Roll Hotel – Washington, DC
10/25/2015 The Earl – Atlanta, GA
Formed in 2007, IRATA was at first an instrumental group with guitars, bass, percussion and saxophone, the combination resulting in an inundation of unforgettably soaring, effects-laden hooks. The trio recorded a self-titled full-length album which was released by North Carolina record label, Silber Media, as they played live locally, landing gigs with notable acts such as Jucifer and The Bronzed Chorus. After the departure of one member, drummer Jason Ward and bassist Jon Case forged ahead, adding vocals to their arsenal. Experimenting with different lineups, the two worked mainly as a duo, until the guitarist position was eventually filled by local metalhead, Cheryl Manner, whose brutally heavy riffs breathed a new sound into IRATA; the one they were looking for.
In late 2010, IRATA went into the studio to record. Philip Cope of Kylesa was carefully selected for his experience in the genre to produce what was to become the band's first EP, Vultures. Shortly after recording, however, Manner went on hiatus from the band. Another local guitarist was recruited to fill in at shows, and Vultures remained unreleased. In early 2012, Case and Ward began booking an East Coast tour. Unable to find an available guitarist, they reached out to Cheryl, who agreed to go and has since become a permanent member of the band. Vultures was finally released in November by Silber Media for the tour. Greensboro native Nick Brown approached the band about a new record label focusing on North Carolina bands called Crimson Eye Records. The recorded the track "Semjase" with Philip Cope at the Jam Room Studios in 2013 and released by Crimson Eye Records in June 2014 as a split with Solar Halos. Determined to keep pressing forward, IRATA returned to The Jam Room with Cope in 2015 to record a new full-length album. The record, entitled Sweet Loris, was introduced to the Retro Futurist record label, and a partnership was born.
IRATA:
Jonathon Case – bass, vocals
Cheryl Manner – guitar
Jason Ward – drums, vocals, synths
http://www.iratalive.com
http://www.reverbnation.com/irata
http://www.facebook.com/iratalive
http://www.twitter.com/iratalive
http://www.retrofuturistrecords.com
http://www.retrofuturist.bandcamp.com
http://www.facebook.com/retrofuturistrecords