photo by john jr.
Treble is hosting the exclusive premiere of "Fentanyl Theme," the new single from dub/funk/experimental outfit INTERESTING TIMES GANG – the solo project of Kowloon Walled City's Ian Miller. The track precedes the outfit's impending Beats, No Rhymes, No Life full-length set for mid-October release through Pax Aeternum.
Over the course of the past thirty years, Ian Miller has provided bass for bands in nearly every corner of the heavy music universe. As part of acts like Kowloon Walled City, Puig Destroyer, Strangelight, and many others, he's shown a rare degree of versatility that's underscored by his work as INTERESTING TIMES GANG. Originally an outlet for interests that lay outside of his work in heavier, more aggressive music – with a particular emphasis on long-distance collaboration – Miller has self-released several albums featuring songs that often dart back and forth between styles as if each was a well-crafted mixtape.
Beats, No Rhymes, No Life, his upcoming release on Pax Aeternum, epitomizes his approach. As accessible as it is experimental, as danceable as it is dystopian, the album synthesizes dub, funk, industrial, ambient, and hip-hop components into a diverse yet conceptually cohesive whole that calls to mind a more contemporary take on Consolidated, Meat Beat Manifesto, and Material. Beats, No Rhymes, No Life was fully performed, recorded, and mixed by Ian Miller with additional contributions from Graham Scala – his collaborator in dub techno duo Collapse Culture – as well as Tron Jovi of Milwaukee hip hop duo Guerilla Ghost. Here, Miller's ability to curate like-minded guests parallels his ability to combine disparate influences into a seamless whole. The album is completed with cover art by Kai Miller and photography by john jr.
Miller writes, "I'd been trying to work this Strawbs sample into a song for like five years, and I feel like I finally did it justice. There's pathos and drama and distortion — lots and lots of distortion."
The write-up accompanying Treble's premiere describes how the song, "juxtaposes brash bursts of psychedelia against trap beats and a grimy, scuzzy bassline, bridging progressive rock grandeur with the distorted menace of industrial menace a la Godflesh."
Tune in to Treble and stream INTERESTING TIMES GANG's ""Fentanyl Theme" now at THIS LOCATION.
Pax Aeternum will issue Beats, No Rhymes, No Life on October 15th. Find preorders where prior single "Postfontaine" is streaming HERE and watch for additional audio previews and more on the album to be issued over the weeks ahead.
For review copies of Beats, No Rhymes, No Life and interviews with Ian Miller on INTERESTING TIMES GANG contact dave@earsplitcompound.com.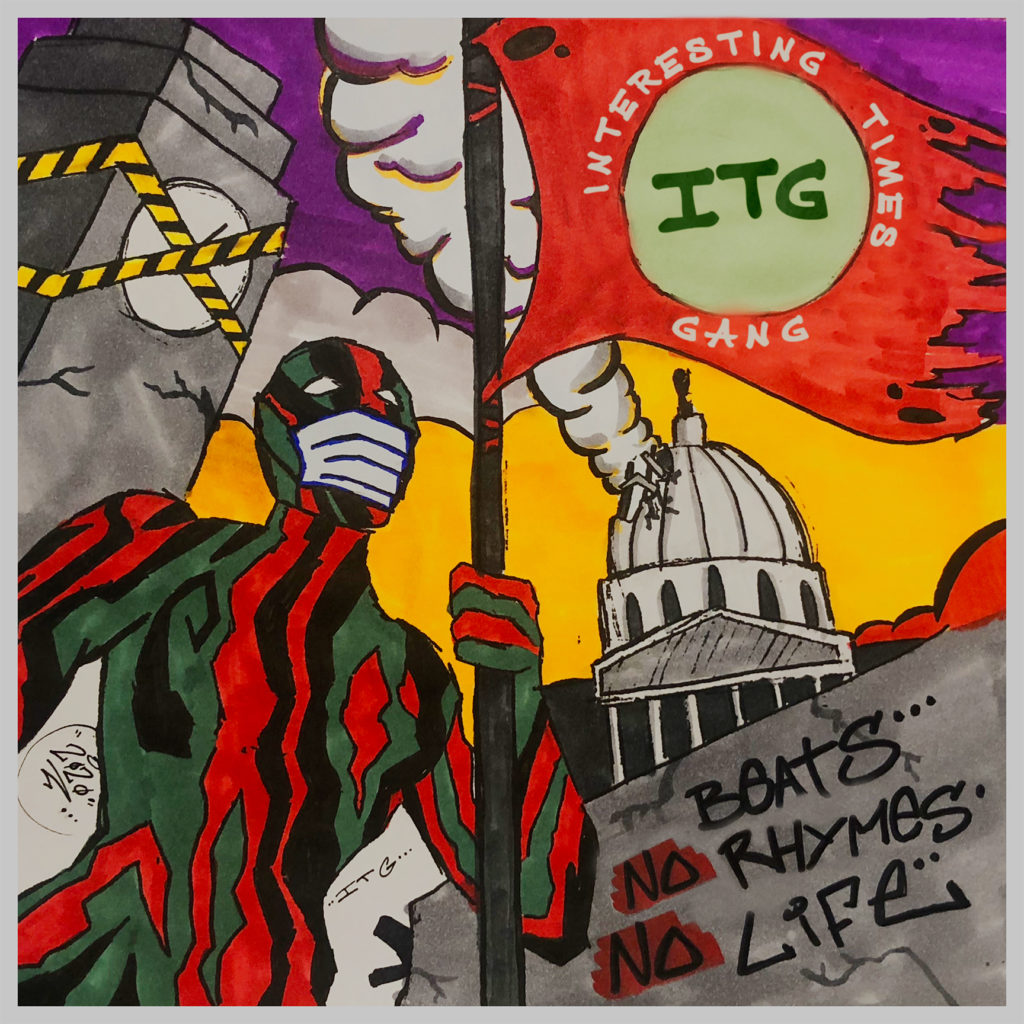 https://itgang.bandcamp.com
https://www.facebook.com/paxaeternumdigital
https://www.instagram.com/paxaeternum
https://twitter.com/pax_aeternum
https://paxaeternum.bandcamp.com