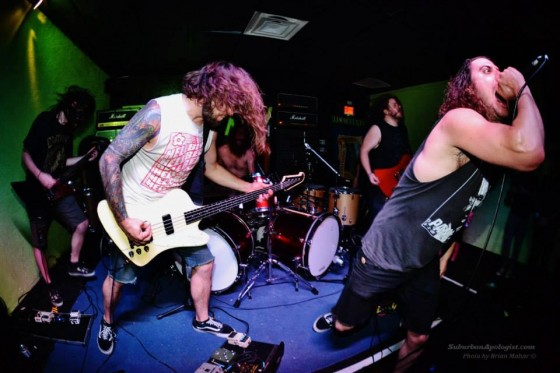 Fresh from the studio recording their as yet untitled new EP for Relapse, who also released their critically acclaimed Sky Burial LP earlier in the year, Richmond's INTER ARMA will embark on a sixteen city tour in just over a week.
The action begins next Thursday, September 5th when INTER ARMA provides direct support for Gorguts in Springfield, Virginia, followed by a two-week co-headlining run with Woe. Along the way INTER ARMA will branch off from the Woe trek for performances at Hopscotch Festival alongside Sleep, Evoken and more, as well as Boomslang Festival with Pallbearer, Thou, Grails and Locrian.
Stay tuned for more info on the pending EP, further tour updates and more on INTER ARMA throughout the duration of the year.
INTER ARMA September Tour Dates:
9/05/2013 Empire – Springfield, VA w/ Gorguts
9/06/2013 Strange Matter – Richmond, VA @ Fall Line Festival w/ Thou, Woe, Earthling
9/07/2013 Lincoln Theater – Raleigh, NC @ Hopscotch Festival w/ Sleep, Evoken [info]
9/08/2013 Brookland Tavern – Columbia, SC w/ Woe
9/09/2013 The Masquerade/2013 Purgatory – Atlanta, GA w/ Woe
9/10/2013 Caledonia – Athens, GA w/ Woe
9/11/2013 Static Age Records – Asheville, NC w/ Woe
9/12/2013 Stone Fox – Nashville, TN w/ Woe
9/13/2013 Pilot Light – Knoxville, TN w/ Woe
9/14/2013 TBA – West Virginia w/ Woe
9/15/2013 The Brass Rail – Fort Wayne, IN w/ Woe
9/16/2013 Frank's Power Plant – Milwaukee, WI w/ Woe
9/17/2013 Empty Bottle – Chicago, IL w/ Woe
9/18/2013 Ace Of Cups – Columbus, OH w/ Woe
9/19/2013 Oberlin College – Oberlin, OH w/ Woe
9/20/2013 Boomslang Festival – Lexington, KY w/ Pallbearer, Thou, Grails, Locrian [info]
https://www.facebook.com/INTERARMA
http://interarma.bigcartel.com
http://www.relapse.com
http://relapserecords.bandcamp.com
http://www.facebook.com/RelapseRecords