In another brand new tour update, Richmond, Virginia's tour-incessant tonal decimation crew, INTER ARMA, announces the confirmation of their maiden European trek, now set to take place just after their already looming US tour with Russian Circles and KEN Mode, which is less than two weeks from embarking.
At the beginning of February, INTER ARMA will hit the American highways once again to supply their organic, blackened, doom-ridden metal to more than two-dozen cities across the eastern two-thirds of the country, touring alongside Russian Circles and KEN Mode with a pair of headlining shows on either side of the run.
Just a month later, INTER ARMA will find themselves touring on the opposite side of the Atlantic Ocean for the first time, and while they've yet to make their live debut on European soil, their appearance will be much anticipated following rave reviews for their 2013-released Sky Burial, which Terrorizer magazine awarded 5/5. INTER ARMA will kick off the tour on April 4th in Antwerp, alongside labelmates Indian, and will meet up with fellow labelmates Windhand to play Doom Over Leipzig Festival, before continuing onward across the continent. All three of the bands will also congregate at this year's installment of the massive Roadburn Festival alongside a rash of other Relapse artists including True Widow, -(16)-, ASG, Locrian and Lord Dying.
INTER ARMA guitarist, Trey Dalton supplied, "We've heard nothing but pretty incredible things about how awesome it can be touring in Europe, and needless to say we're very ready to experience that for ourselves. We're most definitely looking forward to playing at Roadburn as we're basically pals with half the bands playing, not to mention that we'll be with some of our best friends in Windhand for the majority of the tour. That being said, I think we're pretty excited about all of the shows. Most of us haven't done a lot of international traveling at all so this is a pretty righteous opportunity."
While still touring in support of the critically-lauded Sky Burial LP, the name of INTER ARMA's recently recorded EP will has been unveiled as well. The expansive, solitary track, "The Cavern," encompasses a sprawling forty minutes of material. The recording process, including guest appearances from members of USX, Windhand, Yautja, and more, is nearly complete, as is a majority of the mixing, all completed amidst the dispatching of a seemingly insurmountable number of beers throughout the duration. A final release date and further details on The Cavern EP will be released upon its completion.
INTER ARMA US Tour Dates:
2/02/2014 The Blue Nile – Harrisonburg, VA w/ No Tomorrow, Earthling
2/03/2014 Double Happiness – Columbus, OH
2/04/2014 Gabe's Oasis – Iowa City, IA w/ Russian Circles, KEN Mode
2/05/2014 The Firebird – St Louis, MO w/ Russian Circles, KEN Mode
2/06/2014 Vino's Pizza Pub Brewery – Little Rock, AR w/ KEN Mode
2/07/2014 Red 7 – Austin, TX w/ Russian Circles, KEN Mode
2/08/2014 Club Dada – Dallas, TX w/ Russian Circles, KEN Mode
2/09/2014 Fitzgerald's Upstairs – Houston, TX w/ Russian Circles, KEN Mode
2/10/2014 The Parish @ House of Blues – New Orleans, LA w/ Russian Circles, KEN Mode
2/11/2014 Rehab – Tallahassee, FL w/ Russian Circles, KEN Mode
2/12/2014 Will's Pub – Orlando, FL w/ Russian Circles, KEN Mode
2/13/2014 The Orpheum – Tampa, FL w/ Russian Circles, KEN Mode
2/14/2014 WorkPlay Theatre – Birmingham, AL w/ Russian Circles, KEN Mode
2/15/2014 The Earl – Atlanta, GA w/ Russian Circles, KEN Mode
2/17/2014 Cat's Cradle – Carrboro, NC w/ Russian Circles, KEN Mode
2/18/2014 The Rock and Roll Hotel – Washington, DC w/ Russian Circles, KEN Mode
2/19/2014 Underground Arts – Philadelphia, PA w/ Russian Circles, KEN Mode
2/20/2014 Bowery Ballroom – New York, NY w/ Russian Circles, KEN Mode
2/21/2014 The Middle East (Downstairs) – Cambridge, MA w/ Russian Circles, KEN Mode
2/22/2014 Saint Vitus Bar – Brooklyn, NY w/ Russian Circles, KEN Mode
2/23/2014 Altar Bar – Pittsburgh, PA w/ Russian Circles, KEN Mode
2/24/2014 Grog Shop – Cleveland Heights, OH w/ Russian Circles, KEN Mode
2/25/2014 Blind Pig – Ann Arbor, MI w/ Russian Circles, KEN Mode
2/26/2014 Bottom Lounge – Chicago, IL
2/27/2014 Triple Rock Social Club – Minneapolis, MN w/ Russian Circles, KEN Mode
2/28/2014 The Waiting Room – Omaha, NE w/ Russian Circles, KEN Mode
3/01/2014 Gothic Theatre – Englewood, CO w/ Russian Circles, KEN Mode
3/02/2014 The Urban Lounge – Salt Lake City, UT
3/03/2014 Neurolux – Boise, ID
INTER ARMA European Tour Dates:
4/04/2014 Kavka – Antwerp, Belgium w/ Indian
4/05/2014 Iduna – Drachten, Netherlands w/ Indian
4/06/2014 Luftschlossfabrik – Flensburg, Germany w/ Indian
4/09/2014 KB18 – Copenhagen, Denmark w/ -16-, Grime
4/10/2014 Doom Over Leipzig – Leipzig, Germany w/ Windhand, Indian
4/11/2014 AJZ – Bielefeld, Germany w/ Windhand, Indian
4/12/2014 Roadburn Festival – Tilburg, Netherlands w/ Windhand, True Widow, -(16)-, Indian, ASG, Locrian and Lord Dying
4/13/2014 Scruffy Murphys – Birmingham, UK w/ Windhand
4/14/2014 Bannermans – Edinburgh, UK w/ Windhand
4/15/2014 Roadhouse – Manchester, UK w/ Windhand
4/16/2014 O2 Academy 2 Islington – London, UK w/ Windhand
4/18/2014 Doomed Gatherings @ Glazart – Paris, France w/ Windhand
4/19/2014 Lo-Fi – Milan, Italy w/ Windhand
4/20/2014 Arena – Vienna, Austria w/ Windhand
4/21/2014 Kapu – Linz, Austria w/ Windhand
4/22/2014 Hirscheneck – Basel, Switzerland w/ Windhand
4/23/2014 Usine – Genevia, Switzerland w/ Windhand
4/24/2014 Gebäude 9 – Cologne, Germany w/ Windhand
4/26/2014 Willemeen – Arnhem, Netherlands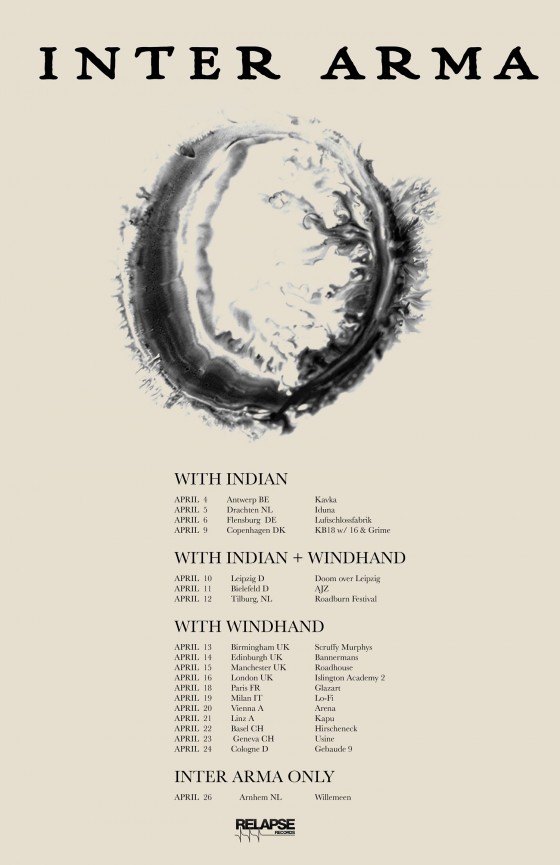 https://www.facebook.com/INTERARMA
http://interarma.bigcartel.com
http://www.relapse.com
http://relapserecords.bandcamp.com
http://www.facebook.com/RelapseRecords