"Think of Earth thrumming the unholy shit out of a handful of deconstructed Sabbath notions, Raymond Carver whittling down his sentences until they gleam or, heck, Dr Seuss taking a bet that he couldn't write a book using only 50 words. INSECT ARK, it seems, come from the same school of thought, constructing a series of self-imposed blockades, hurdles. and logistical traps that would make most artists run screaming into the night." — Noisey
Marrow Hymns, the anticipated new full-length from New York City/Portland-based instrumental duo INSECT ARK will see official unveiling tomorrow via Profound Lore Records. In advance of its release, today Noisey offers up a full stream of the captivating offering noting, "the duo of Dana Schechter and Ashley Spungin turn adversity into triumph, forging a bleak, blasted brand of instrumental ambience that has found an equally happy home with UK-based micro label Lancashire & Somerset (home to the ever-excellent Enablers) as experimental lodestone Utech or the blown-out, art-fucked realm of Sleeping Giant Glossolalia."
Hear Marrow Hymns alongside an in-depth interview with Schechter courtesy of Noisey at THIS LOCATION.
An alluring fusion of horror-film soundtracks, psychedelic doom, and atmospheric noise, Marrow Hymns is now available for preorder on CD, LP, and digital formats. For physical orders, point your browser HERE. European customers can preorder the LP HERE. The vinyl edition is limited to 600 units on four different color variants. The digital edition can be preordered via Bandcamp HERE and iTunes HERE.
Comprised of Dana Schechter (M. Gira's Angels Of Light, Wrekmeister Harmonies, Zeal & Ardor, Gnaw) and Ashley Spungin (Taurus, Purple Rhinestone Eagle, Negative Queen), INSECT ARK's intensely visual music weaves interludes of fragile beauty with crushing passages of swirling doom, spinning like a backwards fever dream.
Marrow Hymns is a wordless song, a hypnotic voice that screams and whispers from a place deep in the furrows, from the bones, from the blood. Defying easy categorization, INSECT ARK's uncommon sound is in part the amalgamation of these two women's passions: Schechter's sinister bass lines and unconventional use of lap steel guitar (and her complete omission of electric guitar), and Spungin's lucid, exacting drumming and synth work with her own hand-built analog noise pedals (Ormus Electronics).
INSECT ARK will bring their psalms to the stage in the coming weeks. Performances will include a special record release show in Brooklyn, New York on April 15th supporting electronic no wave artist Martin Rev (Suicide) and Wolf Eyes as well as a European trek in April/May. Stay tuned for details.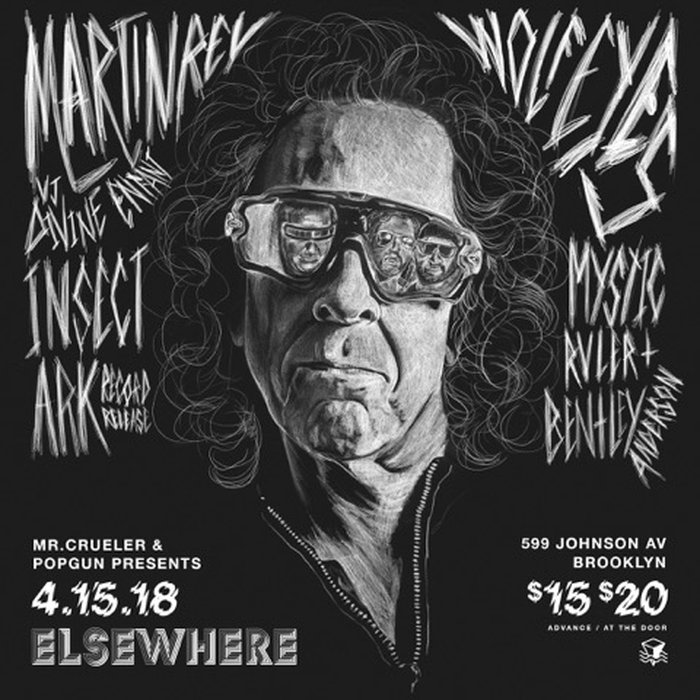 INSECT ARK:
4/15/2018 Elsewhere – Brooklyn, NY Record Release Show w/ Martin Rev & Wolf Eyes, Mystic Ruler, Bentley Anderson, Divine Enfant [info]
Marrow Hymns was recorded and mixed with engineer Ethan Donaldson at Mozart Street Studios in Brooklyn, New York over the course of eighteen months. With the two halves of INSECT ARK residing on opposite coasts, the album was largely skeletal in form upon commencement of recording. Overdubs and further writing/arrangements were done after Spungin's return to Portland in the isolation of Schechter's home studio. The sense of distance and vast emptiness remained intact in the songs, built out over many long nights. Marrow Hymns' song themes of displacement, loss, and isolation are personal journals of that time period, as both members found themselves simultaneously experiencing existential crises. However, the album also tells a story of strength and determination, made from the marrow of these two women, a song for all things that struggle to survive.
"…it's the living, breathing dread throughout that separates this from the growing crowd of imaginary film trackers." — Decibel
"The record finds Schechter and Spungin taking cues from horror-movie soundtracks, leaden psych-rock, ambient noise, EBM, and above all, its creators' existential crises, all blown up for maximum atmospheric impact. Consider the crushing, eerie, 'Sea Harps,' … a facsimile for what to expect from the upcoming effort: two women's combined agonies trapped amber-like, examined through prisms both fantastical and frightful." — Revolver
"…an album at once powerful and memorable. INSECT ARK touches the listener more profoundly than other metal bands, precisely because instead of hacking and smashing their way into our bones, they instead drift into their center." — Slug
"…a strong example of how creativity and passion can transcend the genre labels that some of us have become somewhat too attached to, and how our inability to stick everything in a neat box need not be a problem." — Ghost Cult
"Marrow Hymns embodies a slow stream of atmosphere more than a series of distinct songs, resulting in a mostly uniform whole of elegant minimalism that gradually shifts and transforms into varying shapes, like clouds adrift in the sky." — Exclaim
"The music swims in psychedelic doom and atmospheric noise while also diving deeply into '60s horror soundtracks for extra layers of mood and power. This is music that engages your mind and body while also creating moods that let your thoughts wander freely. I'm not sure how they do it, but they do it beautifully." — Sea Of Tranquility
"A slow burner that you just can't help but be drawn towards – even if you can't sense the dread and hopelessness rising up to engulf you." — Dead Rhetoric
"If you feel like you've entered a dark void while tackling Marrow Hymns, you're not alone. The amount of time I've indulged in INSECT ARK's new record at night, while staring at dark blank walls or the sky are only multiplying, and each trip brings new discoveries. Words are nice, sure, but when you transcend the need to have to speak or sing, you've entered a ghostly existence, where INSECT ARK wait to greet you." — Meat Mead Metal
"…an ode to minimalist composition, fiercely avant-garde while immediately accessible, always deeply atmospheric and dripping with character. The songs embark on meandering journeys, unconcerned with formal structure, steady meter or predictable chord changes, yet each decision made by the duo feels right in its context." — Antihero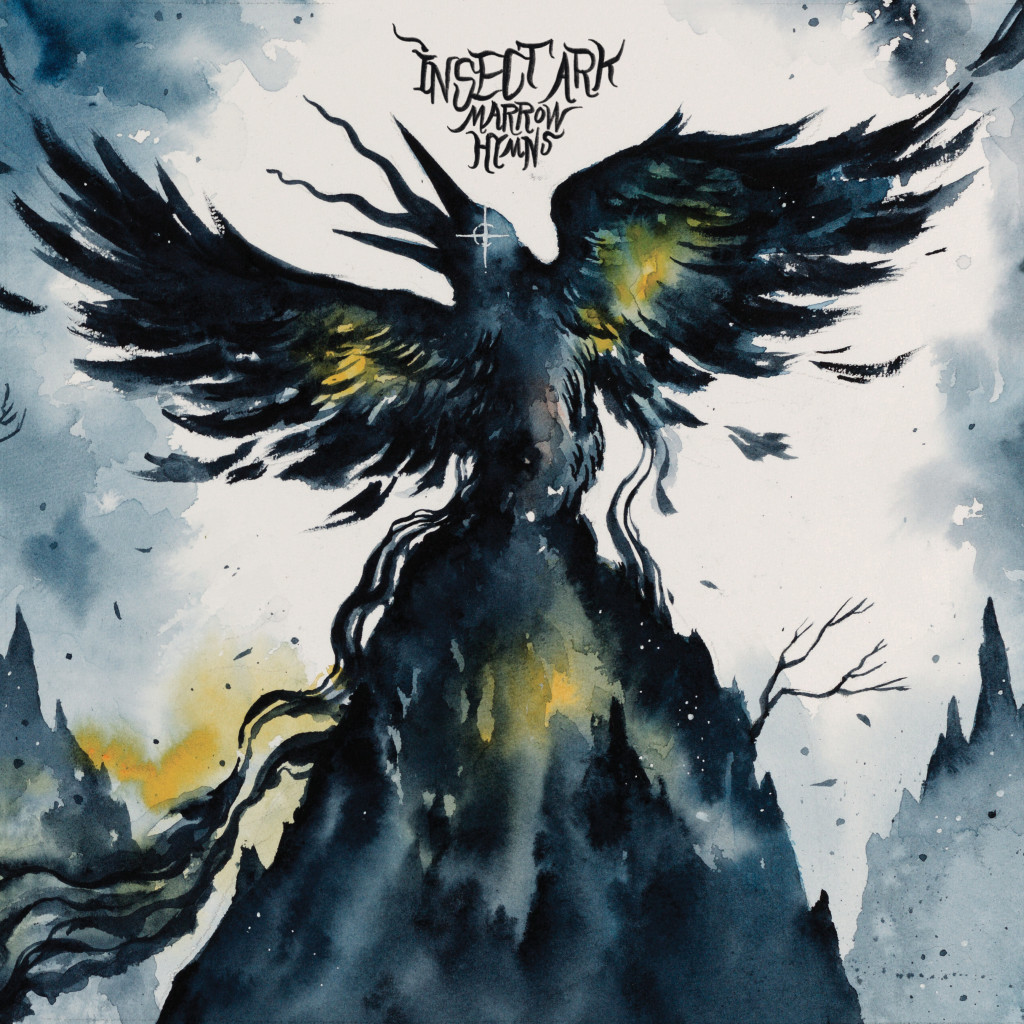 http://www.insectark.com
http://www.facebook.com/InsectArk
http://www.insectark.bandcamp.com
http://www.profoundlorerecords.com
http://www.facebook.com/profoundlorerecords
http://www.profoundlorerecords.bandcamp.com