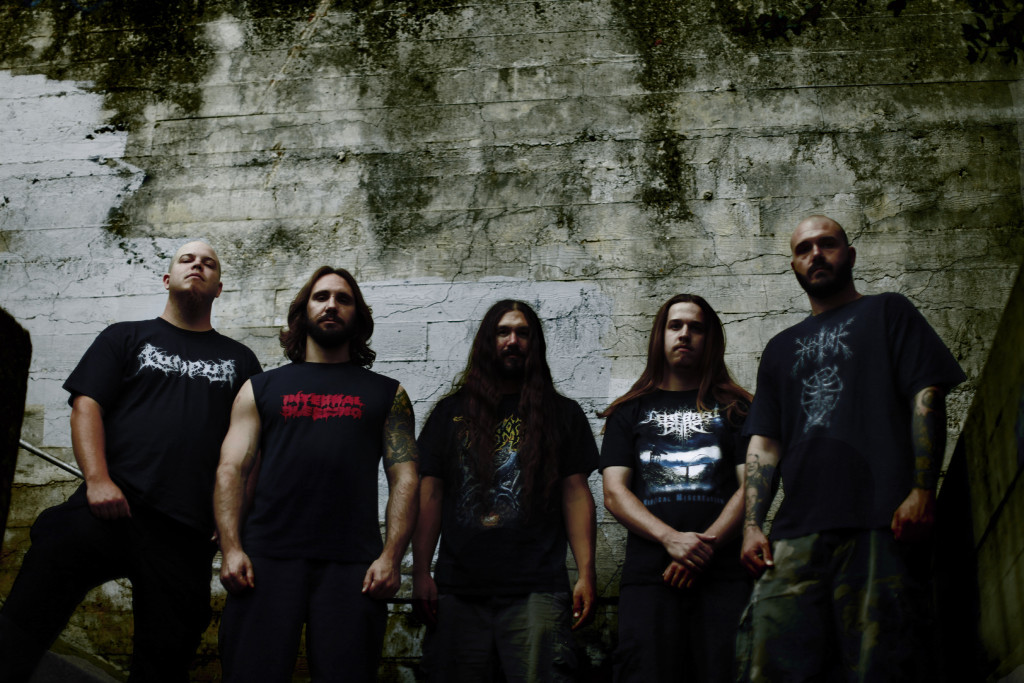 Today marks the official release of Ephemeral, the latest long player from Ventura, California-based technical death metal faction, INHERIT DISEASE. The follow-up to 2010's seminal Visceral Transcendence was tracked at Seahorse Sound Studios by Samur Khouja (Condemned, Arkaik, Flesh Consumed) and mixed and mastered by Sasha Borovykh (Epicardiectomy, Cerebral Effusion) at Tsun Tsun Productions.
In a recent blog write up, Decibel notes, "with the basement-dwelling, low heaviness of the most offensive of brutal death metal, yet enough labyrinthine riff complexity to get your GPS lost, the band's upcoming third full-length Ephemeral appeals to the inner caveman and physicist within us all." Wonder Box Metal praises an, "unstoppable juggernaut of groove and blasting, easily absorbed by anyone who has a taste for bands like Deeds Of Flesh, Suffocation, Cannibal Corpse, Severe Torture, Dying Fetus, Defeated Sanity etc.," further hailing, "a solid fix of heavy brutality and death-dealing," while Dead Rhetoric adds, "Those who like their metal akin to Suffocation or other NYDM-styled bands should find plenty that INHERIT DISEASE has to offer. Plenty of nods to Effigy Of The Forgotten without being overtly derivative alongside a copious helping of modern brutality should lead the band right to the forefront of this writer's taste buds."
Hear Ephemeral courtesy of New Noise Magazine, RIGHT HERE.
Ephemeral is available now at THIS LOCATION.
Forged in 2002, INHERIT DISEASE have spent the last thirteen years perfecting their style of straight forward, yet original, innovative brutal death metal. Various lineup changes over the years have attributed to the band's artistic growth, though the band solidified their cast adding second guitarist Tom Wilson in 2012 to promote more diverse song writing structures and to enhance the intensity of their live shows.
http://www.facebook.com/InheritDisease/info?tab=page_info
http://www.uniqueleader.com
http://www.facebook.com/UniqueLeaderRecords