Boise, Idaho's INFERNAL COIL presents their debut full-length, Within A World Forgotten, set to be unleashed through Profound Lore Records on September 14th. The label has issued the album's first single, "Crusher Of The Seed," as well as physical and digital preorders. INFERNAL COIL has also been confirmed to support Sumac and Dälek on a run of East Coast North American dates at the end of summer.
INFERNAL COIL's 2014 demo Burning Prayer of Infinite Hatred gave listeners a glimpse into the fury and dissonance the band delves into through a barrage of blast beats, roaring guitars and guttural vocals. And as witnessed with their follow-up EP, Bodies Set In Ashen Death, it saw the band explore more complex, enchanting boundaries that would serve as a harbinger to what would eventually culminate to horrifying intensity into what would become Within A World Forgotten. The musical dichotomy speaks to INFERNAL COIL's conceptual themes of the natural world's paradoxes, contrasting the beauty and chaos of nature, as well as humankind's seemingly inevitable self-destruction.
Brutal, unrelenting, transcendental ashen death metal, INFERNAL COIL's Within A World Forgotten is an artistic expression mired in vast dark atmosphere through the many layers of sound, ambience, and noise that cast an enveloping shadow throughout the thirty-six minutes that encompass this overbearing work. The album was produced by Billy Anderson (Bell Witch, Leviathan, Red House Painters, Amenra) and features artwork by Adam Burke.
Stream INFERNAL COIL's "Crusher Of The Seed" at THIS LOCATION.
Profound Lore will issue Within A World Forgotten on CD, LP, and digital formats on September 14th. Find CD and digital preorders HERE, North American CD and LP preorders HERE, European CD and LP preorders HERE, and iTunes preorders HERE.
Within A World Forgotten Track Listing:
1. Wounds Never Close
2. Continuum Cruciatus
3. Crusher Of The Seed
4. 49 Suns
5. Reflection Of Waldeinsamkeit
6. Bodies Set In Ashen Death
7. In Silent Vengeance
With the band having just completed a massive US tour alongside Primitive Man and Celeste, INFERNAL COIL will be heading out on the road again just prior to the release of Within A World Forgotten. The newly-confirmed tour will see the band out with Sumac and Dälek from September 2nd through 16th.
INFERNAL COIL w/ Sumac, Dälek:
9/02/2018 Rock Island Brewing – Rock Island, IL
9/03/2018 El Club – Detroit, MI
9/04/2018 The Garrison – Toronto, ON
9/05/2018 Bar Le Ritz – Montreal, QC
9/06/2018 Great Scott – Boston, MA
9/07/2018 Saint Vitus Bar – Brooklyn, NY
9/09/2018 PhilaMOCA – Philadelphia, PA
9/11/2018 Rock and Roll Hotel – Washington, DC
9/12/2018 Strange Matter – Richmond, VA
9/14/2018 The Pinhook – Durham, NC
9/15/2018 The Earl – Atlanta, GA
9/16/2018 The End – Nashville, TN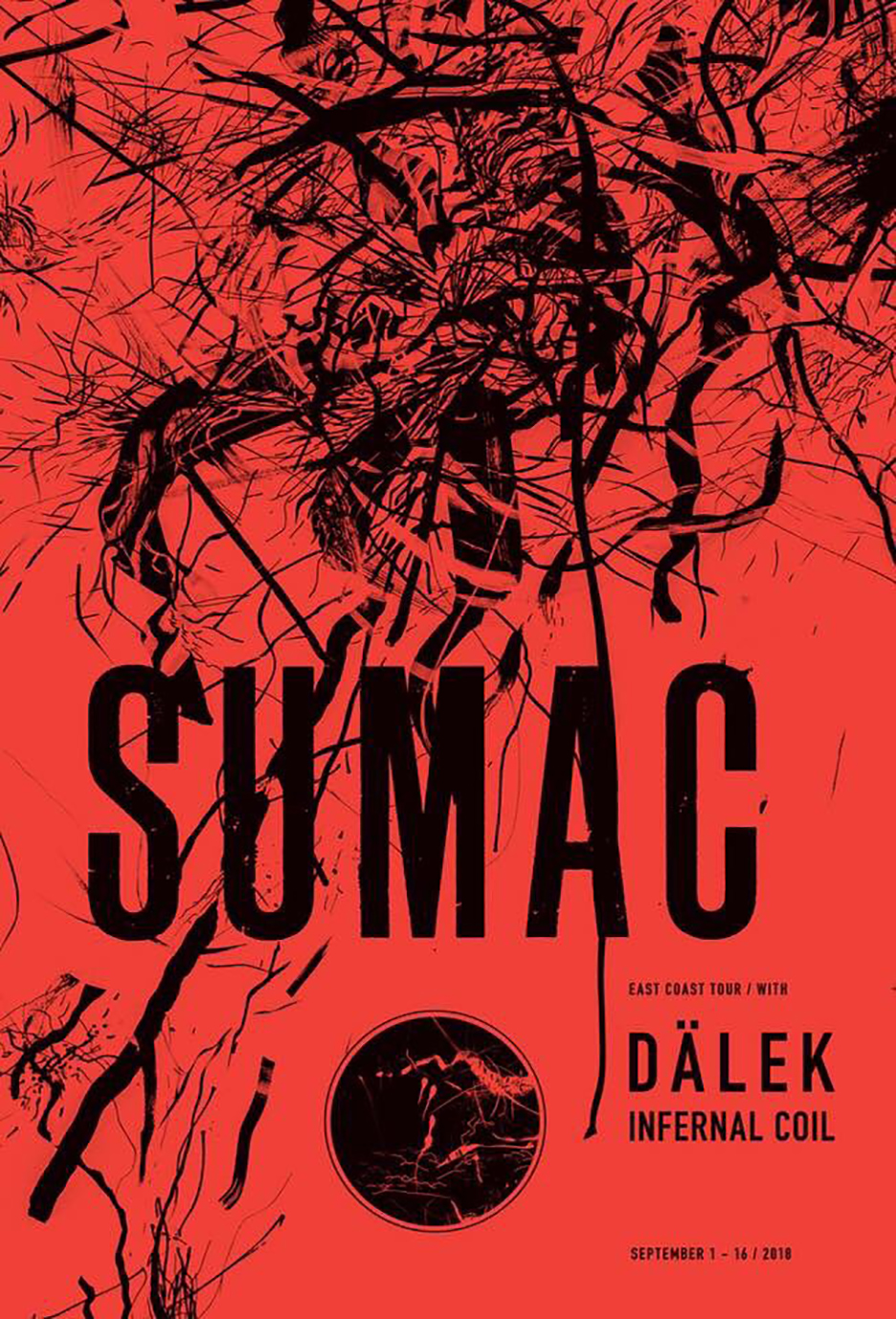 https://www.facebook.com/infernalcoil
http://instagram.com/infernalcoil
http://infernalcoil.bigcartel.com
https://infernalcoil.bandcamp.com
http://www.profoundlorerecords.com
http://www.facebook.com/profoundlorerecords
http://www.profoundlorerecords.bandcamp.com