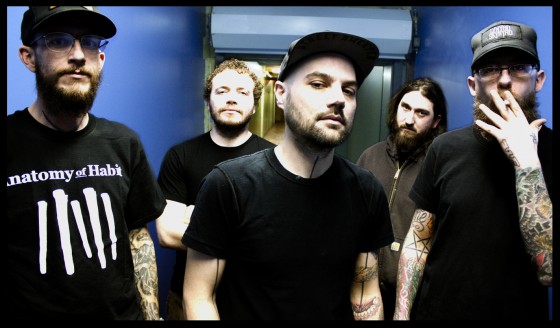 Chicago's favorite blackened doom nihilists, INDIAN, return with their long-awaited fifth full-length entitled From All Purity. Recorded at Electrical Audio and Soma Studios in Chicago with engineer/co-producer Sanford Parker (Minsk, Nachtmystium, Yob, Samothrace), From All Purity will see its official release via Relapse Records on CD/LP/digital in North America on January 21st, 2014, Germany/Benelux/Finland on January 17th, and in the UK/World on January 20th.
A trailer of new sonic venom is available for your sampling pleasures at THIS LOCATION.
From All Purity Track Listing:
1. Rape
2. The Impetus Bleeds
3. Directional
4. Rhetoric Of No
5. Clarify
6. Disambiguation
On From All Purity, INDIAN take their infamously hateful aggression to new levels of despair. Now augmented with an even keener sense of harsh noise, all the trademark elements of INDIAN's sound have been refined to reach new lows of powerful and punishing anguish. This is truly the antithesis of easy listening.
Forged in 2003, the band's debut EP, God Slave, was a self-released mission statement, welcoming the band into the world like young, kicking, screaming giants. INDIAN's first three full-lengths – The Unquiet Sky, Slights And Abuse, and The Sycophant, respectively – were all issued through Portland, Oregon-based metal imprint Seventh Rule Recordings. Each of these releases found the band gaining momentum and attracting followers, as well as performing shows with scene heavyweights such as Wolves in the Throne Room, Locrian, and Agalloch.
After signing to Relapse Records in 2010, INDIAN began to diligently craft their fourth full-length, knowing all eyes were on them. Not only did the band live up to fans' lofty expectations, they also achieved a massive critical breakthrough. Guiltless was released in 2011 to rave reviews. The Chicagoist described the album as, "a musical journey into the mouth of teeth-rattling metal madness," while Metal Hammer simply called it, "pretty much an essential album." Fans were also impressed, gathering to soak up the band's feverish rays of doom on tour across the country. INDIAN performed shows with High on Fire, Batillus, and Yob, translating their recorded sounds into a murky, devilish live spectacle. Such performances confirmed INDIAN as one of the most exciting metal acts making music today, recalling an era in which the genre felt truly new, bursting with energy and untapped potential. Or, as Revolver puts it, "nothing has sounded more genuinely evil and distressing in a long time."
Preorder your copy of From All Purity via Relapse HERE.
http://www.facebook.com/IndianDoom
http://www.indiandoom.com
http://www.relapse.com