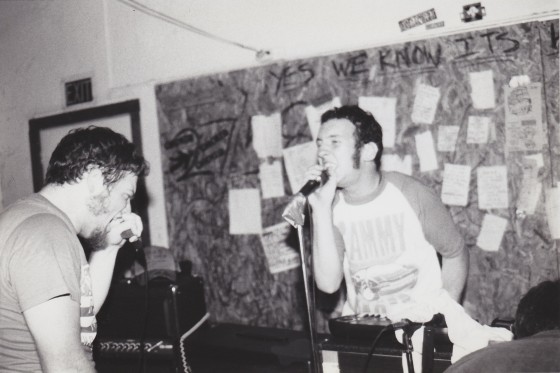 This week, independent label, Foreign Sounds, has resurrected The Newest Youth Rebellion, the punishing, sole LP from defunct South Carolina powerviolence/scream/hardcore assassins, INDEX FOR POTENTIAL SUICIDE. The band's brief but potent romp through the pre-Y2K underground yielded one 7″, a split 7″ and this one LP over the year and a half of their existence, making The Newest Youth Rebellion the act's swansong release, its over-the-top extremism remaining as violently standout a decade-and-a-half after its release as it was at the time.
Founding INDEX FOR POTENTIAL SUICIDE member Christopher Ashley has just re-released The Newest Youth Rebellion in a limited deluxe vinyl edition via his own DIY label, Foreign Sounds. Boasting new/updated artwork by Ashley, entertaining new liner notes on the band's lineage, a remake of the original poster and a digital download card, the 2013 version is out now in a strict run of 400 copies.
To help re-commemorate the faceblasting chaotic rampage that is encapsulated in the sixteen tracks of The Newest Youth Rebellion, Cvlt Nation today unabashedly unloads this beast in its entirety. Saturate yourself in the turmoil HERE.
Order the repress of The Newest Youth Rebellion while you can HERE.
One of the most chaotic acts to hail from South Carolina, ever, was Charleston-based INDEX FOR POTENTIAL SUICIDE's static-soaked riffage embodying hardcore, powerviolence, screamo and experimental/noise elements all at once could feasibly be compared to Pageninetynine, In/Humanity, Acme, Discordance Axis, The Locust, Man Is The Bastard, Throbbing Gristle and Rorschach, sometimes in the same minute-long track. Amidst incessant regional gigs and several tours, the band quickly amassed an impressive arsenal of recordings in their brief stint as a unit, including one 7″ EP, a split 7″ with Usurp Synapse, and the The Newest Youth Rebellion LP. Brutal and uncompromising, and ahead of its time, the album was recorded at the legendary Jam Room Studio by Jay Matheson and mastered by Neil Burke (Men's Recovery Project, Sinking Body, Born Against), and was issued on CD by OHEV in late 1999, just weeks before the band's demise. Crushing fucking heads with sixteen disturbing works in just over twenty-six minutes, and featuring contributions from Jay Matheson, Neil Burke and Eric Wood (Bastard Noise/Man is the Bastard), the album drew fans and journalists of all things chaotic and extreme like moths to a fire, succumbed by the numbing insanity of the band's breakneck arts. TNYR saw a posthumous vinyl release in early 2001 on Insolito Records, and has since been out-of-print. Until now.
http://www.foreignsounds.com
https://www.facebook.com/foreignsoundsrecords