Death metal pioneers INCANTATION will host a special Gimme Metal guest DJ special this Wednesday, September 30th at 5:00pm EST / 2:00pm PST. The band's own John McEntee will be typing along in the chat with listeners.
Don't miss it! Visit http://www.gimmemetal.com.
INCANTATION's latest full-length, Sect Of Vile Divinities, was issued on August 21st via Relapse Records. For over thirty years, INCANTATION has consistently remained one of the underground's most influential and respected artists in the genre. True to form, Sect Of Vile Divinities sees the legendary band adhering to the ways of the old-school, unleashing twisted, mangled, and utterly disgusting death metal once again. A pitch-black mix of unrelenting death metal and imposing funeral doom, each track on Sect Of Vile Divinities is a dirge dedicated to different ancient evils across various cultures. At a point where the world's most vile converge, tracks such as "Propitiation" see the band's driving riffs and pummeling drums crush the very foundations of religious zealotry, while standouts such as "Entrails Of The Hag Queen" and "Fury's Manifesto" champion no-frills death metal in its purest form. Three decades of death metal still the funeral procession carries on. With Sect Of Vile Divinities, INCANTATION hails a return to form for the genre, and release one of 2020's most blasphemous and unforgiving titles.
Stream Sect Of Vile Divinities in full HERE. View INCANTATION's videos for "Entrails Of The Hag Queen" HERE, "Fury's Manifesto" HERE, and "Propitiation" HERE.
Sect Of Vile Divinities is available on CD, LP, and digital formats. Physical orders are available at Relapse.com HERE. Find digital downloads and streaming services HERE.
"… none write riffs as evil as McEntee; that dude still has Baphomet at his fingertips. Every track on the new record is a case in point. From the maniacal, blunt charges of 'Ritual Impurity (Seven Of The Sky Is One)' to the funeral death doom declarations of 'Propitiation' and 'Unborn Ambrisia' … INCANTATION's relevance remains absolute." – Decibel
"McEntee and co. have truly outdone themselves here, not just continuing the run of good form they've had over the last decade but raising the bar to a whole new level. With oldschool death metal in a period of wonderful revival in the global scene, it's important to remember that some of the legends that came before can still hang – and INCANTATION hang with the best of them." – Distorted Sound
"Sect Of Vile Divinities brings a diverse cross-section of violence, catchiness, gloom, and cacophony… INCANTATION has an edge over their brethren, in that their music has not only stood the test of time but helped define an exciting new frontier for death metal." – Metal Injection
"…a razor-sharp exercise in what death metal should be all about. Morbid rather than moribund, sludgy rather than sluggish, it's the work of expert craftsmen whose fanatical devotion to death means they are never anything less than dark, dirty and brutal. Once again, INCANTATION are fucking brilliant." – Kerrang
"…yet another killer record from a band that is back on top of the game." – Last Rites
"INCANTATION's most doomy album to date. The band offers many heavy crushing riffs where the songs spread out like a smoldering haze with the riffs and the guttural growls unfurling upon frenzied tempos of the grinding drums." – Grimm Gent
"INCANTATION once again architects an unholy atmosphere studded with riffs of venomous strikes and torturous grueling…" – Metal Wani
"Still on top of their game, INCANTATION brings forth another consistently high-quality effort in Sect Of Vile Divinities. There's simply no substitute for the dark, primal, and bleak sound that INCANTATION provides." – Dead Rhetoric
"…a ludicrously strong and enjoyable death metal album from one of the masters of the genre." – Wonderbox Metal
"INCANTATION crafts and refine tormented unrealities and leave listeners in awe of their depictions of epic monstrosities from a range of cultures around the world. There is a looming sense of terror, of torment on Sect Of Vile Divinities that reminds us, time and time again, this is the skull melting magic of underground death metal at its finest." – Two Guys Metal Reviews
"True to form, this is an album that lives by crushing heaviness alone…" – Sonic Perspectives
"INCANTATION have proven that they are still as vital and devastating as they were when they formed." – Sleeping Village Reviews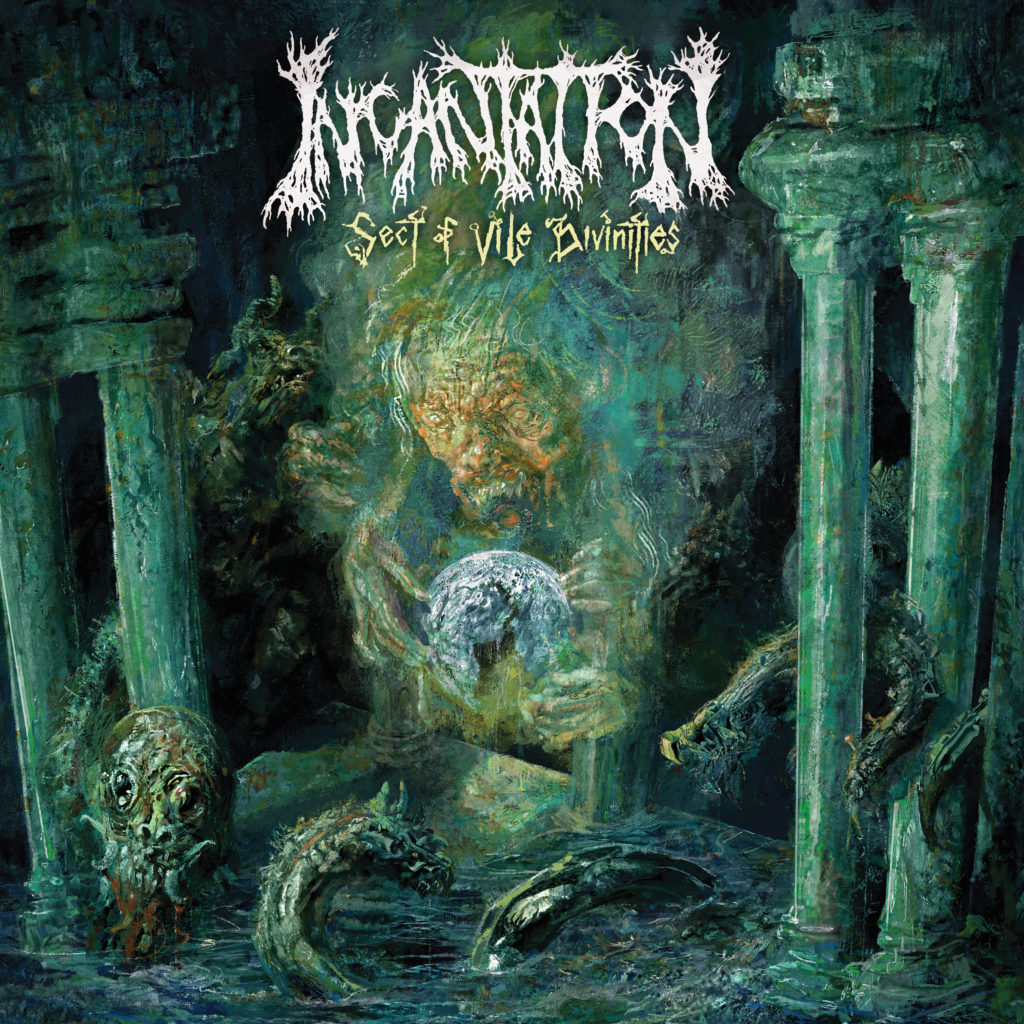 http://www.facebook.com/IncantationOfficial
http://twitter.com/incantation666
http://www.instagram.com/incantation_official
http://incantation666.bandcamp.com
http://www.relapse.com
http://www.facebook.com/RelapseRecords
http://www.twitter.com/RelapseRecords
http://www.instagram.com/relapserecords