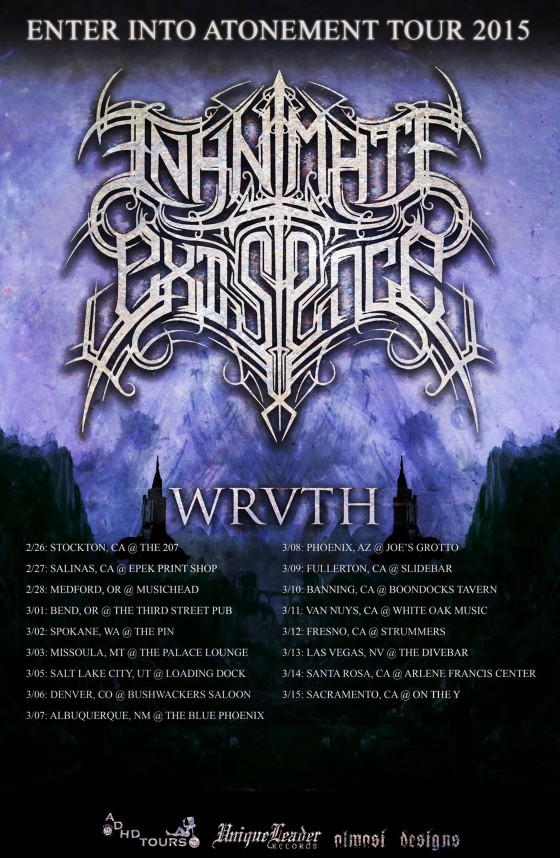 California technical death metal faction, INANIMATE EXISTENCE, will bring their methodical audio alchemy to the stage next month on an eighteen-date live excursion.
Brought to you by ADHD Entertainment and ADHD Tours, The Enter Into Atonement Tour 2015 is slated to inaugurate on February 26th in Stockton, California and will trounce venues throughout California as well as Oregon, Washington, Montana, Utah, Colorado, New Mexico and Nevada, with the tour drawing to completion on March 15th in Sacramento. Support will be provided by labelmates and fellow technical death architects, Wrvth (Wrath Of Vesuvius) and follows INANIMATE EXISTENCE's year-end stomp supporting Cannabis Corpse.
INANIMATE EXISTENCE w/ Wrvth:
2/26/2015 The 207 – Stockton, CA
2/27/2015 EPEK Print Shop – Salinas, CA
2/28/2015 Musichead – Medford, OR
3/01/2015 The Third Street Pub – Bend, OR
3/02/2015 The Pin – Spokane, WA
3/03/2015 The Palace Lounge – Missoula, MT
3/04/2015 Machinery Row – Great Falls, MT
3/05/2015 Loading Dock – Salt Lake City, UT
3/06/2015 Bushwackers Saloon – Denver, CO
3/07/2015 The Blu Phoenix – Albuquerque, NM
3/08/2015 Joe's Grotto – Phoenix, AZ
3/09/2015 Slidebar – Fullerton, CA
3/10/2015 Boondocks Tavern – Banning, CA
3/11/2015 White Oak Music – Van Nuys, CA
3/12/2015 Strummer's – Fresno, CA FREE Show!
3/13/2015 The Divebar – Las Vegas, NV
3/14/2015 Arlene Francis Center – Santa Rosa, CA
3/15/2015 On The Y – Sacramento, CA
INANIMATE EXISTENCE continues to tour in support of their A Never-Ending Cycle Of Atonement full-length, released this past Summer via Unique Leader Records. Tracked by Max Zigman (Son Of Aurelius, Smaragos) at Parade Outrageous in Santa Cruz and produced by Zack Ohren (Light This City, All Shall Perish, First Blood, Cattle Decapitation, Warbringer et al) at Sharkbite Studios in Oakland, A Never-Ending Cycle Of Atonement finds INANIMATE EXISTENCE elevating their signature, outlandish compositions to an entirely new level of profundity. A conceptual offering centered on Tibetan folk, each movement marvels at its own innovative density as intricate guitar structures coil seamlessly around complex rhythms and venomous vocal assaults as female vocal accents, clarinet, bass flute, harp, bongos and other nuances add to the record's already confounding depth. No Clean Singing crowns, A Never-Ending Cycle Of Atonement, "…a fascinating effort, a true journey for your ears and mind that's well worth experiencing again and again," Last Rites notes, "INANIMATE EXISTENCE may very well take the crown as the one tech album worth listening to in a calendar year. It's tighter than my old man's wallet… and interesting enough to stand away from a field already crowded beyond breathing capacity," while MetalSucks concurs, "A Never-Ending Cycle… fulfills the face-fuckery I forecast in January, with percussive endurance that grinds like jackhammers." Adds Sputnik Music in a near perfect score, "A Never-Ending Cycle Of Atonement is meta in the sense that it recognizes the never-ending cyclical nature of genre stereotypes – bands that regurgitate and rehash the same material without the slightest incentive of breaking new ground – and INANIMATE EXISTENCE offer penance for their contemporaries; a public display of atonement in a brutal 45-minute package."
INANIMATE EXISTENCE's A Never-Ending Cycle Of Atonement is out now via Unique Leader Records. Order your copy today at THIS LOCATION.
http://www.facebook.com/TheInanimateExistence
http://www.uniqueleader.com
http://www.facebook.com/UniqueLeaderRecords
http://www.twitter.com/UniqueLeaderRec
http://www.youtube.com/uniqueleaderrecords