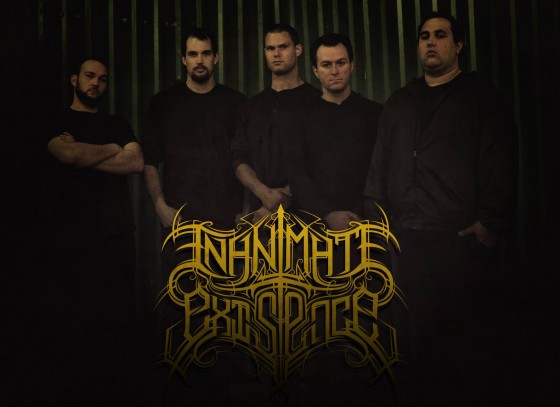 California technical death metal squad, INANIMATE EXISTENCE, are pleased to premiere the brand new video for "The Rune Of Destruction" from their recently released A Never-Ending Cycle Of Atonement full-length.
Tracked by Max Zigman (Son Of Aurelius, Smaragos) at Parade Outrageous in Santa Cruz and produced by Zack Ohren (Light This City, All Shall Perish, First Blood, Cattle Decapitation, Warbringer et al) at Sharkbite Studios in Oakland, A Never-Ending Cycle Of Atonement finds INANIMATE EXISTENCE elevating their signature, outlandish compositions to an entirely new level of profundity. A conceptual offering centered on Tibetan folk, each movement marvels at its own innovative density as intricate guitar structures coil seamlessly around complex rhythms and venomous vocal assaults as female vocal accents, clarinet, bass flute, harp, bongos and other nuances add to the record's already confounding depth.
View "The Rune Of Destruction," now playing at Metal Injection, at THIS LOCATION.
In related news, INANIMATE EXISTENCE recently joined forces with Rock the Nation booking agency with future live intrusions to be announced in the coming weeks. Stay tuned.
INANIMATE EXISTENCE's A Never-Ending Cycle Of Atonement is out now via Unique Leader Records. Order your copy today at THIS LOCATION.
"…a fascinating effort, a true journey for your ears and mind that's well worth experiencing again and again." – No Clean Singing
"INANIMATE EXISTENCE may very well take the crown as the one tech album worth listening to in a calendar year. It's tighter than my old man's wallet… and interesting enough to stand away from a field already crowded beyond breathing capacity." – Last Rites
"A Never-Ending Cycle… fulfills the face-fuckery I forecast in January, with percussive endurance that grinds like jackhammers." — MetalSucks
"…a blistering, perfectly paced journey into the denizens of death metal. This record encompasses progressive metal, technical death metal, hard rock and even NWOBHM… it will not only please you; it will seduce you." – Heavy Blog Is Heavy
"Your death metal parlor tricks include woodwind instruments like the flute and clarinet (Steve Marshall), bongos, acoustic ditties, haunting female vocals (Kaitlyn Kehl), and a decidedly unique atmosphere that immediately earns this record extra brownie points… [it's] impossible to dismiss A Never-Ending Cycle Of Atonement, with its all-around effort, creativity, and faultless instrumentation." – Metal Observer
"…a mind-blowing display of technicality, songwriting and brutality." – Nefarious Realm
http://www.facebook.com/TheInanimateExistence
http://www.uniqueleader.com
http://www.facebook.com/UniqueLeaderRecords
http://www.twitter.com/UniqueLeaderRec
http://www.youtube.com/uniqueleaderrecords