With Abyssal Gods, the imminent new full-length from New York City investigation black metal legion, IMPERIAL TRIUMPHANT, now just days from contaminating the planet, today Cvlt Nation offers up a stream of the record in its twisted entirety.
Captured at Solitude Studios in Pennsylvania and Amy Mills Studios (Couch Slut, Epistasis) in New York and mixed and mastered by Colin Marston (Gorguts, Krallice, Nader Sadek, Atheist, Origin etc.) at Menegroth, The Thousand Caves, also in New York, Abyssal Gods channels its ire through ten harrowing hymns of meticulously-composed black-torn mayhem bedecked in angular riff invasions, bestial vocal tirades, dissonant atmospheres and an overall air of dread, disease and looming disaster. The record includes guest choral chants from Bloody Panda's Yoshiko Ohara as well as male choral vocals by RK Halvørson in the track 'Krokodi' (sung completely in Russian).
Following teasers from Decibel Magazine and No Clean Singing, today Cvlt Nation delivers Abyssal Gods in full, gushing of its sonic brilliance, "My brain is being pulled in a 1,000 demonic directions by the power of the new IMPERIAL TRIUMPHANT…This band's music is an abstract portal into an ugly sonic reality, where Sun Ra is a black metal overlord and IMPERIAL TRIUMPHANT are his tools of destruction. If you try to put this band's music in a box you deserve a slap for that, because the only creative rule they respect is chaos!"
IMPERIAL TRIUMPHANT will bring their infernal persuasion to the stage alongside Canadian black metal heathens, Thantifaxath, on a near-two-week run of live assaults this Spring. The march will begin at Saint Vitus Bar in Brooklyn, New York and raze ten cities, the tour coming to close at Baltimore at the Maryland Deathfest with additional live debauchery to be announced in the weeks to come.
IMPERIAL TRIUMPHANT w/ Thantifaxath:
5/10/2015 Saint Vitus Bar – Brooklyn, NY
5/11/2015 Rockin Buffalo Saloon – Buffalo, NY
5/13/2015 Quarters – Milwaukee, WI
5/14/2015 5th Quarter Lounge – Indianapolis, IN
5/16/2015 TBA – Pittsburgh, PA
5/15/2015 Live Wire Lounge – Chicago, IL
5/17/2015 Carabar – Columbus, OH
5/19/2015 TBA – Knoxville, TN
5/20/2015 The Earl – Atlanta, GA
5/21/2015 The Brass Mug – Tampa, FL
5/24/2015 Maryland Death Fest – Baltimore, MD
IMPERIAL TRIUMPHANT has been orchestrating vanguard black metal since 2005. Citing an eclectic palette of influences that includes everything from Deathspell Omega to Polish post-serialism composer Krzysztof Penderecki, the band features members of investigational death metal contortionists, Pyrrhon as well as instrumental rock collective Secret Chiefs 3 and New York death metal legion Malignancy
Abyssal Gods will be released in North America on March 10th, 2015 via Aural Music/Code666. Preorder your copy today at THIS LOCATION.
"Certainly IMPERIAL TRIUMPHANT share a stratosphere with the Gorguts, Artificial Brains, Pyrrhons and Deathspell Omegas of this universe, but this is a different breed of genius. There's a sickness, a mentally 'unwell' aspect to Abyssal Gods that you simply cannot find anywhere else." – The Sludgelord
"It's furious and fascinating, always twisting and turning itself into a brand new beast. IMPERIAL TRIUMPHANT have succeeded in injecting a sense of unseen danger into their work, and you're going to be on the edge of your seat as you're moved by the drama and kept alert in case you need to run for your life." — Meat Mead Metal
"…it really is hard to articulate just how goddamned unsettling Abyssal Gods is. That these guys specialize in metal ripped straight from the maw of hell was already abundantly clear on Abominamentvm (2012) and the Goliath EP (2013), but it's on Abyssal Gods that they well and truly spread their creative wings by barreling headlong into some of the most discordant and structurally complex black metal this side of Deathspell Omega." – The Metal Observer
"A lot of the album's character comes from the atmospheric little twists that are strewn liberally throughout it. The spooky choral interludes of 'Celestial War Rape,' for example, or the sarcastic church bells of 'Vatican Lust.' This is all topped, however, by the obtuse closer 'Metropolis,' a slab of what sounds like bona fide free improv, as if someone like Cecil Taylor had just walked into the room… It is the freakish collision of all these various elements that makes Abyssal Gods a lot of fun to listen to. – Metal Reviews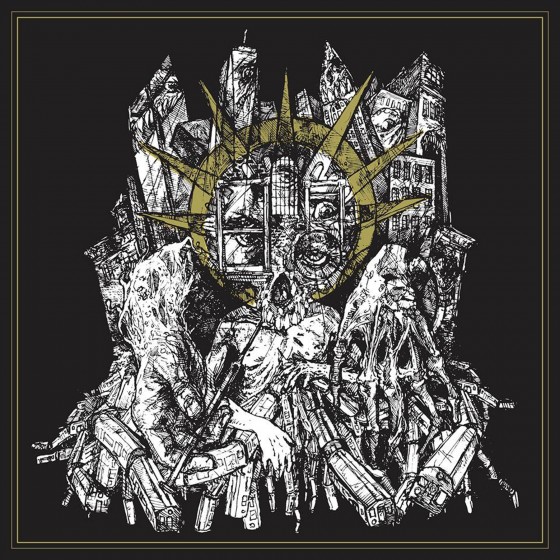 http://www.facebook.com/imperialtriumphant
http://www.auralmusic.com