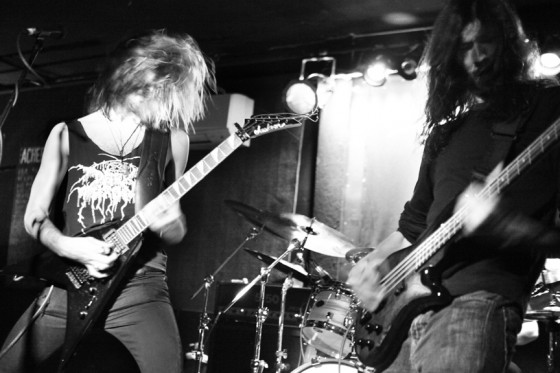 New York-born experimental black metal strategists, IMPERIAL TRIUMPHANT, recently leveled the stage of The Acheron in Brooklyn during a rare live ritual which found the band's dark, unsettling compositions condemning the souls of all those in attendance.
Witness the investigational grimness of "Hierpophant/Manifesto" from the band's previously released Abominamentvm full-length, currently hosted by Decibel Magazine, at THIS LOCATION.
IMPERIAL TRIUMPHANT recently spewed forth the fruit of their unholy tidings in the form of the two-track Goliath EP. Forged in February of 2013 at Menegroth the Thousand Caves, and engineered, mixed and mastered by Colin Marston (Gorguts, Krallice, Nader Sadek, Atheist, Origin etc.), Goliath centers itself around the biblical accounts of Sodom and Gomorrah — two cities of depravity left in ruins under the manifestation of God's wrath – and serves as the soundtrack to widespread suffering. Bedecked in perverted Deathspell Omegian riff sequences, twisted pace shifts, feral vocal cascades and a general air of imminent peril a la Blut Aus Nord, Goliath is a brief but maniacally engrossing listen.
Formed in 2005, IMPERIAL TRIUMPHANT consists of New York City futurists transcending the confines of modern black metal and includes members of investigational death metal contortionists, Pyrrhon as well as instrumental rock collective Secret Chiefs 3 and New York death metal legion Malignancy. Goliath serves as the iniquitous follow-up to last year's Abominamentvm full-length which About.com championed for its "mad, confusing cacophony of bizarre riffs, weird time changes, and wonderfully prominent yet strange bass lines."
IMPERIAL TRIUMPHANT will return to The Acheron stage next month with additional live demonstrations to be announce shortly. In the meantime, soil your ears to the sounds of Goliath at THIS LOCATION.
IMPERIAL TRIUMPHANT:
12/20/2013 The Acheron – Brooklyn, NY w/ Alekhine's Gun, Vatnett Viskar, So Hideous
"…this band is on some next level shit when it comes to the dark arts! Just like the life we will one day leave, IMPERIAL TRIUMPHANT songs take you on a journey that you just might not survive." – Cvlt Nation
"The total experience of taking in Goliath plays out like part horror score and then part real horror, a sickening scintillation of the surreal and the sadistic that together conjure an evocative glimpse into hell, where the laughing void of destruction howls in the wind of our fears. IMPERIAL TRIUMPHANT harness a cold vibe of eerie misanthropy on Goliath that is both harrowing and powerful. The otherworldliness that they so effectively channel on Goliath is a macabre wonder and a testament to the band's intriguing and still evolving style." – American Aftermath
"Everything about this EP screams giant! From the album title, to the subject matter, finishing up with the eye-catching album art based on an illustration by Emile Bayard (best known for his depiction of Cosette from Victor Hugo's Les Misérables) later converted to a woodcut by Louis Rousselet with the annotation – execution by elephant – I have to add is not a pretty way to die. Goliath is a remarkably complete and well thought out package from an exciting, emerging band. If you don't already have this EP, repent and with the appropriate amount of remorse, make right." — AngryMetalGuy
"Dark, utterly unsettling and yet strangely energizing, these are anthems of reckless abandonment and the urge to just fuck everything up… IMPERIAL TRIUMPHANT have mastered the art of eerie Black Metal and Goliath is arguably the shiniest jewel in their abominable crown. 10/10″ – Metal Observer
"…they deal exclusively in bewildering time signatures as riffs, rhythms and sections seem to fall over themselves, collapse, rise, fall, explode and move forward before you've gained your feet. The two songs here… are built like a jigsaw puzzle with the pieces forced into the wrong places, but the skill of IMPERIAL TRIUMPHANT's writing ensures that sections rub and scrape against each other with a delectable discordance, begging for repeat listens as you try and crack the code." — Tighttothenail.com
http://www.facebook.com/imperialtriumphant
http://imperialtriumphant.bandcamp.com