Following last month's mammothly successful Western Migration live takeover, today Windy City-based blackened death grind unit, IMMORTAL BIRD, confirms the official details of their anticipated Empress/Abscess LP.
Set for release next month, the follow-up to 2013's Akrasia EP was captured by Pete Grossmann (Weekend Nachos, Harm's Way, Dead In The Dirt) at Bricktop Recording in Chicago, Illinois earlier this year and mixed and mastered by Colin Marston (Gorguts, Krallice, Nader Sadek, Atheist, Origin etc.) at Menegroth, The Thousand Caves in Queens, New York. Empress/Abscess includes a guest appearance by John Hoffman of Weekend Nachos and finds former drummer/vocalist, Amitay, swapping in her drum stool for a full-time position at the mic with longtime live drummer, Garry Naples (Novembers Doom) taking her place at the kit.
IMMORTAL BIRD was forged by drummer/vocalist/lyricist Rae Amitay and brought to fruition by cowriter and guitarist Evan Berry and bassist John Picillo. Their debut EP, Akrasia, mixed by Kurt Ballou and mastered by Brad Boatright, was released in December of 2013 to widespread critical acclaim. Decibel Magazine called the offering, "dark and twisting," while The Chicago Reader commended the band's "…sick and greasy black metal that does an admirable job inventing the sound of a mind tearing itself apart." Elsewhere the sentiment echoed with Ghost Cult crowning Akrasia, "Distinctly disturbing and beautifully harsh," This Is Not A Scene heralding, "…nineteen minutes of metal greatness," and Last Rites noting, "these songs don't really make their point; they insist on it."
Following several tours that took the band across the United States and into Canada, IMMORTAL BIRD entered the studio to record their debut full-length, Empress/Abscess. Picking up where Akrasia left off, Empress/Abscess delves once again into a cesspool of misery, fury, and anguish with stunning cover art by Kikyz1313 (Akrasia). The album will be released as a collaborative effort, with Broken Limbs Recordings taking charge with vinyl and cassettes, while IMMORTAL BIRD will be self-releasing the CD/digital version under the moniker Manatee Rampage Recordings.
In related IMMORTAL BIRD news, the band recently confirmed appearances at Shadow Woods Metal Fest (Midnight, Occulation, Iron Man etc.), Southwest Terror Fest (Sleep, Brothers Of The Sonic Cloth, Dropdead, Bongripper etc.) and Death To False Metal (Whiplash, Krieg, Secrets Of The Sky, Valkyrie, Imperial Triumphant, Nightbitch, Secret Cutter etc.) with future onstage demolitions in their plotting stages.
Empress/Abscess will see release on July 14th, 2015. Teaser tracks to be unveiled in the coming days.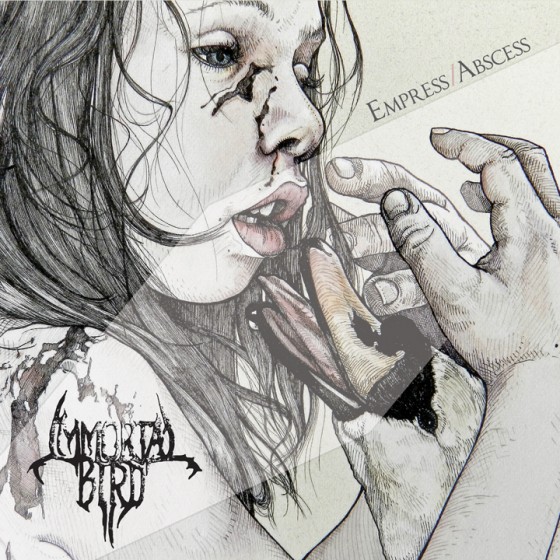 http://facebook.com/immortalbirdband
http://www.facebook.com/brokenlimbs