Next week, Chicago blackened death grind unit, IMMORTAL BIRD, will wage widespread panic with the sonic devastation of their forthcoming Empress/Abscess full-length. A vexing sound excursion through the very bowels of human existence, the record picks up where 2013's critically-adored Akrasia EP left off, delving ever further into an audio cesspool of desolation, wrath, and overall suffering.
Already reaping the praises from critics globally, Screaming Guitars notes, "On their newest offering IMMORTAL BIRD take everything intoxicating about their debut – nasty, nasty vocals, an ethereal aesthetic deftly intertwined with machine-like, grinding precision, and pure musicality – and expound on them tenfold while taking their sound on new and imaginative flights." Dead Rhetoric writes in a near perfect 9/10 rating, "With only five tracks making up a thirty-minute runtime, IMMORTAL BIRD are still working under the 'less is more' mantra that worked so well for them with Akrasia. Like said album, it's impossible to reach the end and not start over again from the beginning. Thoroughly engrossing from start to finish, Empress/Abscess is an impressive display of genre-mashing that others simply dream of attaining," while the UK's Intravenous Magazine elaborates, "IMMORTAL BIRD peddle a ferocious blend of black metal, thrash metal, death metal and crusty grindcore that can only really be summed up with the word… extreme. Scathing guitars, blistering blast beats and demonic vocals power through …Empress/Abscess, leaving scorched ears and speakers in their wake. With nods to the likes of elements of early Satyricon, Nile, Suffocation, and Venom within their technically proficient execution, songs such as the opener 'Neoplastic,' as well as 'Saprophyte,' and 'The Sycophant' exude a relentless brutality that still keeps things nice and tight with some great memorable riffs thrown into the mix." Adds Headbang Or GTFO in a 8.5/10 score, "If you wanted something along the lines of Vattnet Viskar's new release but with the unorthodox and energy stylings of Ulcerate…then this is for you."
In advance of its official detonation, NPR Music delivers the primal deviance of second movement "Saprophyte," issuing of the track, "'Saprophyte' heaves with desperate terror; then, three minutes in, it suddenly throws a glorious, blast-beaten wrench in the works, with a black-metal riff out of Immortal. In the midst of it all, drummer-turned-vocalist Rae Amitay's oil-gargling serpent scream – reminiscent of Jeff Walker's vocals on Carcass' Heartwork – seethes, 'She is an abscess / Masquerading as an empress / A sparrow passing for an ibis.' It's absolutely electric in its execution, providing a strong insight into what IMMORTAL BIRD can become."
And don't forget to witness opening psalm, "Neoplastic," featuring a guest appearance by John Hoffman of Weekend Nachos, playing at Decibel at THIS LOCATION.
In related IMMORTAL BIRD missives, the band will return to the stage this August on a short run of live demolitions with included appearances at Louisville Deathfest (Arsis, Disgorge, Malignancy) and Death To False Metal (Whiplash, Krieg, Valkyrie, Imperial Triumphant, Nightbitch, Secret Cutter etc.) with additional onstage debauchery to come at Shadow Woods Metal Fest (Midnight, Occulation, Iron Man etc.) and Southwest Terror Fest (Sleep, Brothers Of The Sonic Cloth, Dropdead, Bongripper etc.) in the Fall. See all confirmed IB dates below.
IMMORTAL BIRD:
8/07/2015 2040 – Chicago, IL
8/08/2015 Louisville Deathfest – Louisville, KY
8/10/2015 The Doom Room – Lafayette, IN
8/11/2015 Blind Bob's – Dayton, OH
8/12/2015 Now That's Class – Cleveland, OH
8/13/2015 Saint Vitus Bar – Brooklyn, NY
8/14/2015 Sidebar – Baltimore, MD
8/15/2015 Death To False Metal Festival – Hamden, CT
8/16/2015 The Shop – Pittsburgh, PA
9/25 – 27/2015 Shadow Woods Metal Fest – White Hall, MD
10/16/2015 Southwest Terror Fest – Tucson, AZ
Empress/Abscess was recordedby Pete Grossmann (Weekend Nachos, Harms Way, Dead In The Dirt) at Bricktop Recording in Chicago, Illinois, mixed and mastered by Colin Marston (Gorguts, Krallice, Nader Sadek, Atheist, Origin etc.) at Menegroth, The Thousand Caves in Queens, New York and finds former drummer/vocalist, Rae Amitay, swapping in her drum stool for a full-time position at the mic with longtime live drummer, Garry Naples (Novembers Doom) taking her place at the kit.
Empress/Abscess will be released on July 14th, 2015 as a collaborative effort, with Broken Limbs Recordings taking charge with vinyl and cassettes, while IMMORTAL BIRD will be self-releasing the CD/digital version under the moniker Manatee Rampage Recordings.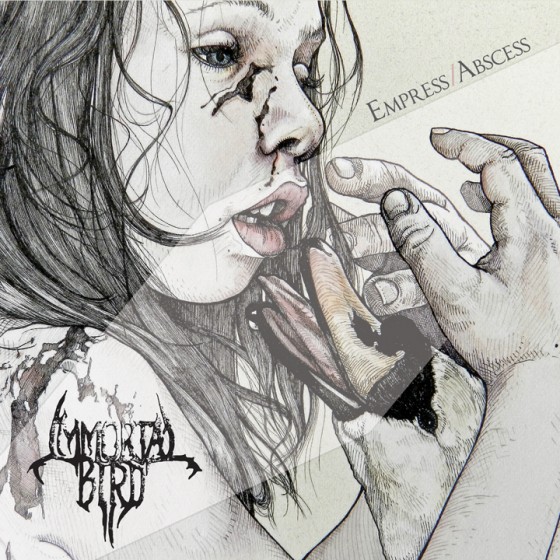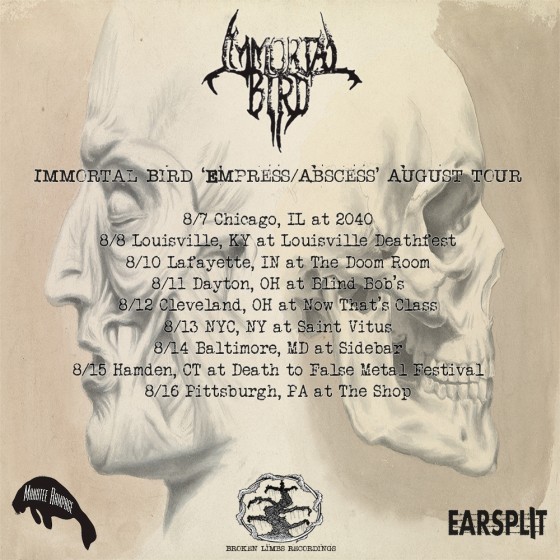 http://facebook.com/immortalbirdband
http://www.facebook.com/brokenlimbs