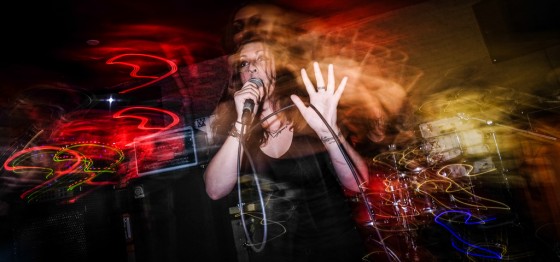 On this day, Friday, February 28th, 2014, Chicagoan blackened death thrash behemoths, IMMORTAL BIRD, with bring their scathing psalms of sickness to the stage on a ten-city jaunt of live incursions. Set to inaugurate this evening in Columbus, the feisty pheasants will spread their auditory disease through Virginia, Pennsylvania, Ohio, New York, Massachusetts and Connecticut before coming to a close on their home turf on March 10th. .
Relays vocalist/drummer Rae Amitay: "Three months after releasing our Akrasia EP, we're chomping at the bit to play these shows and perform the album in its entirety! We'll be debuting some new material as well. Come see us fuck shit up — respectfully, of course — if we're coming through your town! Hide your kids. Hide your wife. Unless they're into blackened gross crusty deathish metal. Then we'd like to hang out."
IMMORTAL BIRD: Akrasia In The East Tour 2014:
2/28/2014 Ace Of Cups – Columbus, OH
3/01/2014 Roger's Bar – Virginia Beach, VA w/ Occultist
3/02/2014 Strange Matter – Richmond, VA w/ Occultist
3/03/2014 The Depot – York, PA w/ Diamond Plate, East Of The Wall
3/05/2014 The Acheron – Brooklyn, NY w/ Mortals
3/06/2014 Ralph's – Worcester, MA w/ Obsidian Tongue
3/07/2014 Cherry St. Station – Wallingford, CT
3/08/2014 The Smiling Moose – Pittsburgh, PA
3/09/2014 Now That's Class – Cleveland, OH
3/10/2014 Cobra Lounge – Chicago, IL
IMMORTAL BIRD will be touring in support of their destructive Akrasia EP, released late last year via .Closed Casket Recordings. Recorded at Lo-Tech Laboratories by unsung Windy City audio mystic Jeff Ziolo, mixed by Kurt Ballou (Converge, Isis, High On Fire, Skeletonwitch) at Godcity Studio, and mastered by Brad Boatright (Sleep, From Ashes Rise, Nails, All Pigs Must Die) at Audiosiege, Akrasia flaunts four flagrant hymnals of elegantly consuming grimness and psychosomatic anguish led by the sadistic vocal tirades of Rae Amitay (Thrawsunblat). Dubbed "dark and twisting," by Decibel and commended for its "inward-looking cosmopolitan ugliness that sometimes evokes a less-patient version of early Castevet," by Invisible Oranges, the brief but punishing underground gem continues to reap widespread fuck-yeahs and general panic from metal critics in-the-know.
IMMORTAL BIRD was spawned by Amitay who yearned to step out from behind the confines of her drum kit, write some riffs and shriek. She recruited longtime friend/guitarist Evan Berry (Wilderun, Replacire) and bassist John Picillo. With Amitay opting to handle the mic onstage while tackling drums and vocals on their albums, Garry Naples (Novembers Doom, Kastasyde, Without Waves) was drafted to take on all live drum duties.
"…sick and greasy black metal that does an admirable job inventing the sound of a mind tearing itself apart." – The Chicago Reader
"Distinctly disturbing and beautifully harsh. 9/10″ – Ghost Cult
"…nineteen minutes of metal greatness. 10/10" – This Is Not A Scene
"…these songs don't really make their point; they insist on it. 8/10" – Last Rites
"Picture the earliest output of bands like Dissection and the more recent offerings of bands like Belphegor or Vreid and that at least puts you in the ballpark…IMMORTAL BIRD is more than just a female vocalist or a female drummer. It's three people who've come together, clearly with a lot of piss and vinegar in their collective systems, now creating the perfect outlet for release." – Metal Insider
"The majority of Akrasia is filled with spite, venom and a penchant for speed, but it is the mellower moments that help to add depth to an already impressive outing," – The Lair Of Filth
Akrasia is out NOW via Closed Casket Recordings. Order your copy today for a cool $4.50 at THIS LOCATION.