Chicago's IMMORTAL BIRD will bring their sonic plague back to the stage on their first run of 2016 live takeovers. Slated to commence on April 8th in Columbus, Ohio, the latest tour will find the band trampling their way through thirteen cities, the trek to conclude on April 20th in Lafayette, Indiana. IMMORTAL BIRD will be joined by their comrades/ New York City experimental death tacticians, Pyrrhon. Further IMMORTAL BIRD onstage invasions to be announced in the coming weeks.
IMMORTAL BIRD w/ Pyrrhon:
4/08/2016 The Summit – Columbus, OH * IMMORTAL BIRD only
4/09/2016 The Smiling Moose – Pittsburgh, PA
4/10/2016 The Pourhouse – Raleigh, NC
4/11/2016 TBA – Knoxville, TN
4/12/2016 The Drunken Unicorn – Atlanta, GA
4/13/2016 Shantytown Pub – Jacksonville, FL
4/14/2016 Will's Pub – Orlando, FL
4/15/2016 Churchill's – Miami, FL
4/16/2016 Fubar – St. Petersburg, FL
4/17/2016 Siberia – New Orleans, LA
4/18/2016 Hi-Tone – Memphis, TN
4/19/2016 Highlands Taproom – Louisville, KY
4/20/2016 The Doom Room – Lafayette, IN * IMMORTAL BIRD only
IMMORTAL BIRD will be touring in support of their critically-lauded Empress/Abscess full-length, released last year via a collaborative effort with Broken Limbs Recordings (vinyl/cassette) and the band's own Manatee Rampage Recordings (CD/digital). Tracked by Pete Grossmann (Weekend Nachos, Harms Way, Dead In The Dirt) at Bricktop Recording in Chicago, Illinois and mixed and mastered by Colin Marston (Gorguts, Krallice, Nader Sadek, Atheist, Origin etc.) at Menegroth, The Thousand Caves in Queens, New York, Empress/Abscess is a vexing sound excursion through the very bowels of human existence and continues to traumatize the ears of critics globally. In a recent review, Blurt Online commends a record that's, "fiercely aggressive yet surprisingly accessible," further elaborating, "the Chicago quartet rips a new earhole to anyone within range… Singer Rae Amitay remains a force of nature, in much the same way as a hurricane that's laying waste to some hapless coastline." Bearded Gentlemen warns, "there is some serious venom in this music," while Invisible Oranges celebrates "…a densely layered meditation on anger and abuse, and an equally challenging collage of extreme music sub-genres." Adds Dead Rhetoric, "thoroughly engrossing from start to finish, Empress/Abscess is an impressive display of genre-mashing that others simply dream of attaining…"
Empress/Abscess is available now on vinyl and cassette HERE and on CD and digitally HERE.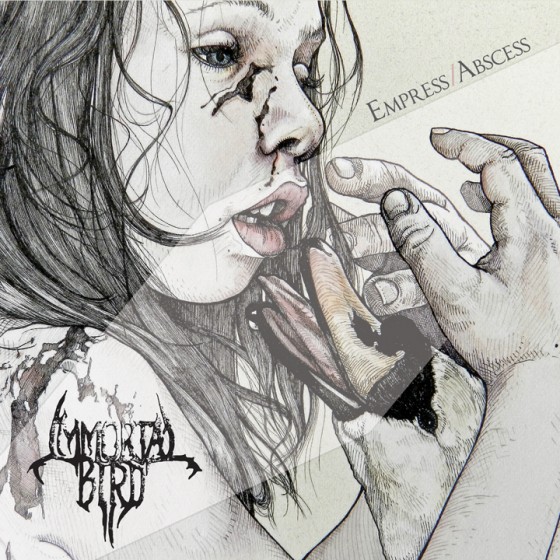 For IMMORTAL BIRD coverage contact liz@earsplitcompound.com.
http://www.facebook.com/immortalbirdband
http://www.facebook.com/brokenlimbs