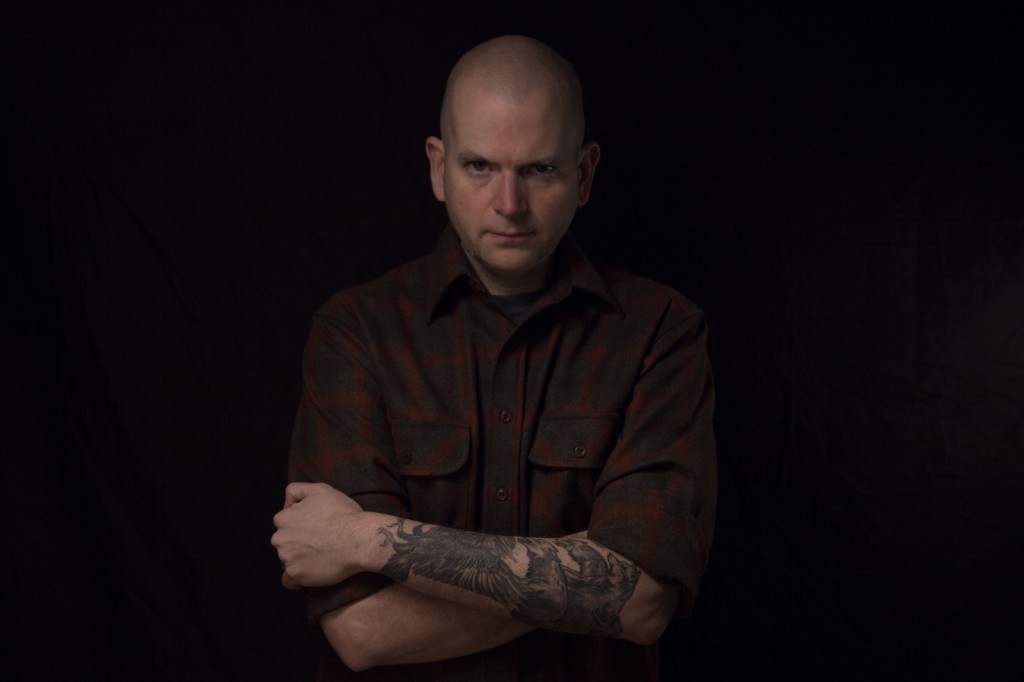 "If I can even approach the territory of personal heroes like Brian Eno, Arvo Part, Godspeed You! Black Emperor and Hair and Skin Trading Company, then I can float happily away into space." – Josh Graham
Colony, the debut full-length from IIVII, is out today on Consouling Sounds. An intergalactic solo project spearheaded by visual artist, multi-instrumentalist and composer, Josh Graham, with IIVII, Graham expands upon his sonic body of work traversing new electronic territory that focuses on the subtle orchestration and manipulation of dense comic-styled atmospheres, rather than the bombastic approach found in his primary band, A Storm Of Light.
In an advance investigation, Noisey relays of the comic journey, "with his new project… Graham delves deep into uncharted territory to explore dark synth soundscapes and ambient," likening the recording to a, "score for a trip into the great black beyond." Two Guys Metal Reviews gushes, "This is the kind of music that provides a sort of background track to life, guiding you through triumphs and failures as you seek to move forward whilst suffocating in a storm of cranes. IIVII pull apart every iota of what it means to be a depressed being and force you to look at it in a strangely beautiful and very poignant way… ambient mastery for a new generation and it will ring for years to come." Wonderbox Metal notes, "This is expertly judged, with each track really giving the impression of a far-flung, lonely colony, adrift in the endless night. It's the perfect soundtrack for its science fiction-theme. Perfect for lonely, dark nights." Adds About.com, "The soundscapes come across moody and beautiful, embodying the desolation, isolation and wonder of space. Song titles reflect these themes such as 'Shaping Itself From Dust,' 'Colliding Horizons' and 'On The Shores Of Markarian 335.' These soundtracks to the exploration of the unknown caress the unfathomable depths of space and time through sound with a haunting, alien dread countering an unshakable sense of reverence."
Colony is currently streaming in full courtesy of Fact Magazine who issues of the release, "It's not unheard of for metal and ambience to mix, but rather than something like Burzum's Filosofem, Graham feels closer to Fenriz's Darkthrone-side project, Neptune Towers, by pushing off from metal's earthy roots and into deep space. Colony is a record that embraces science fiction tones, often feeling like the soundtrack to some unfilmed epic through all its textured drift and bubbling synths."
Elaborates Graham, "Earlier this year, we were cooped up in a seemingly endless New York Winter. So much snow. I needed an escape. What started as a textural experiment into vast synth layers, turned into a personal journey into the meditative aspects of sound. For me, the music winds in and out of soothing and tension-building soundscapes, while still progressing as songs rather than drones. If I can even approach the territory of personal heroes like Brian Eno, Arvo Part, Godspeed You! Black Emperor, Hair And Skin Trading Co, then I can float happily away into space."
IIVII live shows will fuse guitar, analogue and digital keyboards, cassette loops, and more. Select performances also welcome multi-instrumentalist Will Lindsay to the mix. Lindsay is a longtime collaborator in A Storm of Light, and his resume includes Indian, Wolves In The Throne Room, Bloodyminded, Lord Mantis, Anatomy Of Habit and more.
Colony is out TODAY on Consouling Sounds digitally, on CD and on vinyl. Order your copy at THIS LOCATION.
http://www.resonantiivii.com
http://www.consouling.be
http://www.facebook.com/ConsoulingSounds