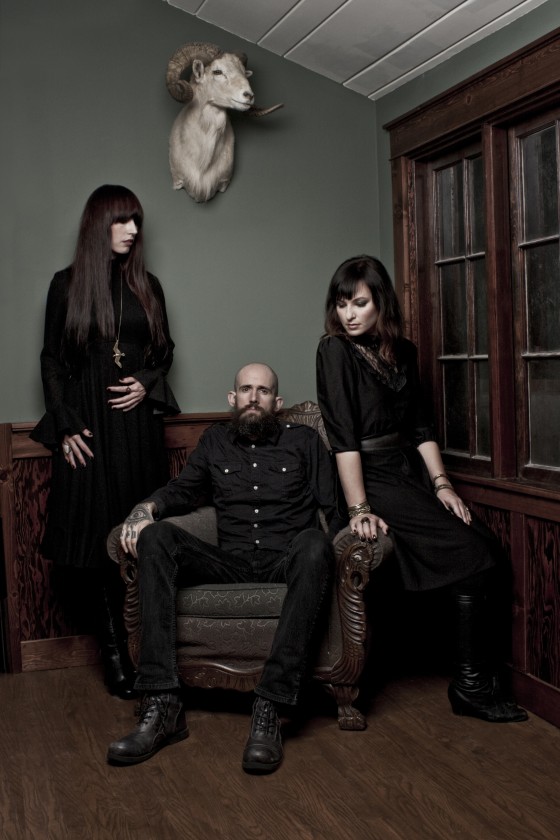 As Old World New Wave, the long-awaited new full-length from Los Angeles' otherworldly doom weavers, IDES OF GEMINI, draws near, today the band offers up a haunting new trailer to whet the appetites of fans hungry for their forthcoming platter of ethereal nightmares.
Directed and produced by singer/bassist Sera Timms and shot by Timms with drummer Kelly Johnston-Gibson, the stunning, near-five-minute clip is at once despondent and beautiful, capturing both sonically and visually the true essence of the album with chest-caving urgency.
Get lost in the lurid sounds of Old World New Wave below.
IDES OF GEMINI features Timms (also of Los Angeles dark-psych alchemists Black Mare), Johnston-Gibson and guitarist Jason Bennett. Listed among Alternative Press' Most Anticipated Albums Of The Rest Of 2014 as well as The Obelisk's Records Not To Miss Before The New Year Hits, the follow-up to the band's 2012 Constantinople debut, Old World New Wave was recorded at Valley Recording in Burbank, California, engineered and mixed by Chris Rakestraw (Danzig), mastered by Grammy award winning producer Matt Hyde (Slayer) and boasts the striking hand-drawn cover art of Johnston-Gibson.
Old World New Wave will be released on CD and digitally via Neurot Recordings and on vinyl via SIGE Records on September 16th, 2014.
"…darkly beautiful…" – Pitchfork
"Processional doom, [with] ethereal female harmonies and high-strung riffs [that] incite head-bowing, not – banging." – Spin
"…a proverbial treasure chest in terms of atmosphere, ideas and contrasting musical textures…original and breathtaking." – About.Com
http://idesofgemini.blogspot.com
http://www.facebook.com/IdesofgeminI
http://idesofgemini.bandcamp.com
http://www.neurotrecordings.com
http://www.facebook.com/neurotrecordings