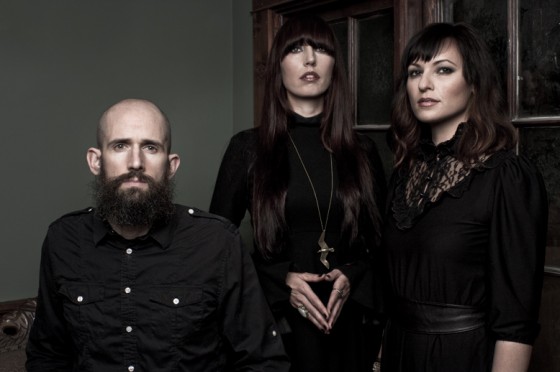 Los Angeles-based trio, IDES OF GEMINI, conjure the sounds of ethereal nightmares, where life, death and bereavement become one and the same – at once terrifying and enchanting; threatening yet indulging…
Featuring guitarist Jason Bennett, drummer Kelly Johnston-Gibson and singer/bassist Sera Timms, also of West Coast dark-psych conjurors Black Mare, IDES OF GEMINI will unveil the consuming sounds of their long-awaited Old World New Wave full-length this Tuesday via Neurot Recordings. In celebration of its imminent release, today Cvlt Nation offers up seventh track, "Fememorde," for public consumption.
Notes Bennett of the hymn, "'Fememorde' is the first song that was written for Old World New Wave, and appears on the 'new wave' side of the album. In that sense, it was the impetus for the entire OWNW concept. It's a completely different kind of song for us — probably because all the guitar parts were composed in my head rather than on an actual guitar. That hadn't happened before and hasn't happened since. So I'll chalk this one up to something like destiny."
Bask in the echo of "Fememorde," now playing at Cvlt Nation at THIS LOCATION.
And if you missed it, confront "The Adversary," still streaming at Revolver Magazine at THIS LOCATION as well as "The Chalice & The Blade," now playing at Noisey HERE.
Old World New Wave, the follow-up to the band's critically-adored Constantinople debut, was recorded at Valley Recording in Burbank, California, engineered and mixed by Chris Rakestraw (Danzig), mastered by Grammy award winning producer Matt Hyde (Slayer) and boasts the striking hand-drawn cover art of Johnston-Gibson.
In related IDES OF GEMINI news, the band will take to the stage this Fall on a pair of live performances, the first serving as the trio's official record release gala in Los Angeles, the second playing Intronaut's tenth anniversary show. Additional IDES ceremonies will to be announced in the coming weeks.
IDES OF GEMINI Live:
9/19/2014 The Complex – Los Angeles, CA Record Release Show w/ Ancestors, Glaare, Maja D'Aoust (as The Oracle) [info]
12/18/2014 The Roxy – Los Angeles, CA [info]
Old World New Wave will be released on CD and digitally via Neurot Recordings and on vinyl via SIGE Records on September 16th, 2014. For CD orders, point your browser HERE and for T-shirt bundles, point your browser to THIS LOCATION.
"[IDES OF GEMINI are] about to put out a new album called Old World New Wave and there's enough droney doom on it to make you feel like you're stuck in David Lynch's dreams." – Noisey
http://www.idesofgemini.blogspot.com
http://www.facebook.com/IdesofgeminI
http://www.idesofgemini.bandcamp.com
http://www.neurotrecordings.com
http://www.facebook.com/neurotrecordings