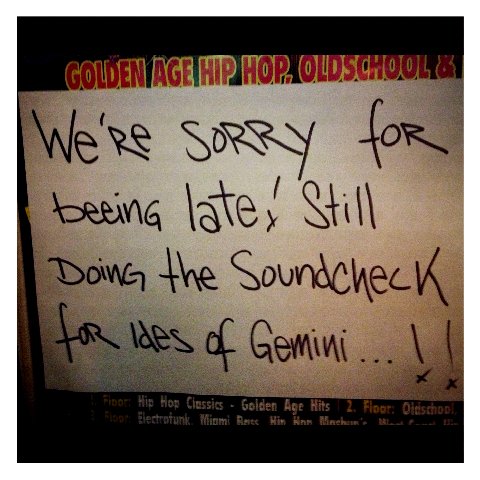 West Coast transcendentalists, IDES OF GEMINI, recently returned from a near month-long run of European dates in support of their monumental Constantinople full-length released via Neurot Recordings earlier this year.
Relays guitarist/backing vocalist J. Bennett of the journey: "After a month of playing the various clubs, halls, pubs, squats and glorified toilets of Europe, we're back. I think it's safe to say that IDES OF GEMINI will never be the same. And neither will Europe, for that matter. We did something to the place, and it did something to us. There was an exchange of energy and fluids. Not with all of Europe, obviously. Just the countries we visited: Germany, Austria, Switzerland, Belgium, the Netherlands, France, England and the Czech Republic. Am I forgetting someplace? I hope not. I mean, how could I? The audiences were fantastic. The bands we played with were ace. The food and drink were spectacular. Even the border police were sort of cordial while they rifled through our personal belongings. We'd like to thank everyone who came to see us play and everyone who made the tour possible, especially those who put their faith in IDES OF GEMINI to deliver a night of music that was hopefully worth paying to see. We can't wait to do it again."
In related news, check out an exclusive interview with Bennett courtesy of Scion AV below.
Constantinople was released stateside via Neurot Recordings late this past Spring and continues to reap praise domestically and abroad. The offering was commended by Outburn in an 8/10 review for its "depressing dynamics topped by ethereal wonderment," and called"…a dirg-y doom crawl of an album…" by Decibel. Pitchfork dubbed it, "darkly beautiful," while MetalSucks added, "Their accretion of small musical gestures inverts metal's normal use of space. They imply terror without ever exposing it. Each song is an accumulation of outlines, a sort of sonic daguerreotype."
http://idesofgemini.blogspot.com
http://www.facebook.com/IdesofgeminI
http://idesofgemini.bandcamp.com
http://www.neurotrecordings.com
http://www.facebook.com/neurotrecordings