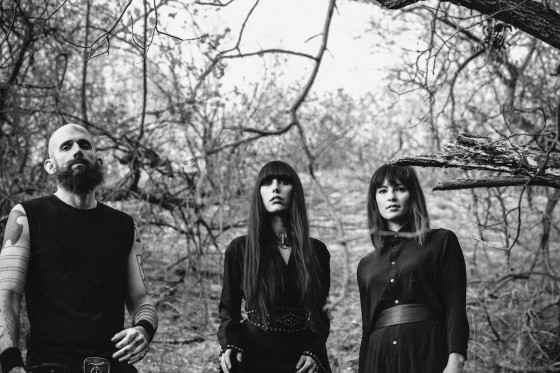 Old World New Wave is the latest long player from West Coast shadowy sound conjurors, IDES OF GEMINI. Released in September via Neurot Recordings, the follow-up to the band's critically-lauded Constantinople debut was recorded at Valley Recording in Burbank, California, engineered and mixed by Chris Rakestraw (Danzig), mastered by Grammy award winning producer Matt Hyde (Slayer) and offers up nine tracks of dark, mesmerizing soundscrapes.
In celebration of its release, today Vice's music gateway, Noisey, reveals the occult conjurings of their erotic Daciana Birladeanu-directed "Seer Of Circassia" video. Elaborates singer/bassist Sera Timms, "The concept of the album traces the symbolic-psychological breakdown of a character over ten days ['Seer Of Circassia' takes place on day four]. We're working within the structures of psycho-spiritual alchemical transformation, utilizing Carl Jung's school of analytical psychology. Essentially we have a story of the psychological conflict of opposing forces — yin-yang, male/female/dark light, etc. — each driven by desire. The masculine archetype in this story desires control and structure, while the feminine archetype desires recognition and equality as it has been repressed in the 'Old World.' Our protagonist is the Emperor, based creatively on the last Emperor of Constantinople, who represents the ego, masculine, solar consciousness along with control, structure, domination, force and power."
View the gorgeously shot "Seer Of Circassia" video along with an in-depth interview with guitarist J. Bennett at THIS LOCATION.
And if you missed it, check out a detailed Old World New Wave track-by-track breakdown at Revolver Magazine HERE.
IDES OF GEMINI is Timms, also of West Coast dark-psych conjurors Black Mare, alongside Bennett and drummer Kelly Johnston-Gibson. The band will bring their sonic séance to the stage next month playing Intronaut's tenth anniversary show with additional IDES ceremonies to be announced in the coming weeks.
IDES OF GEMINI Live:
12/18/2014 The Roxy – Los Angeles, CA [info]
Old World New Wave is out NOW on CD and digitally via Neurot Recordings and on vinyl via SIGE Records. For CD orders, point your browser HERE and for T-shirt bundles, point your browser to THIS LOCATION.
"[IDES OF GEMINI] put out a new album called Old World New Wave and there's enough droney doom on it to make you feel like you're stuck in David Lynch's dreams." – Noisey
"…an enjoyable dream-doom filled sonic journey from start to finish." – Bearded Gentlemen Music
"IDES OF GEMINI has a knack for atmosphere, for creating a world of sound and inviting the listener in. Their music has the feel of a classic horror film: all psychology, no fake blood or cheap startles. If there's a goth revival afoot in metal culture — and, given last year's releases by In Solitude, Beastmilk and others, there's certainly an argument to be made for that — then IDES OF GEMINI is among its most evocative front-runners." – Invisible Oranges
http://www.idesofgemini.blogspot.com
http://www.facebook.com/IdesofgeminI
http://www.idesofgemini.bandcamp.com
http://www.neurotrecordings.com
http://www.facebook.com/neurotrecordings