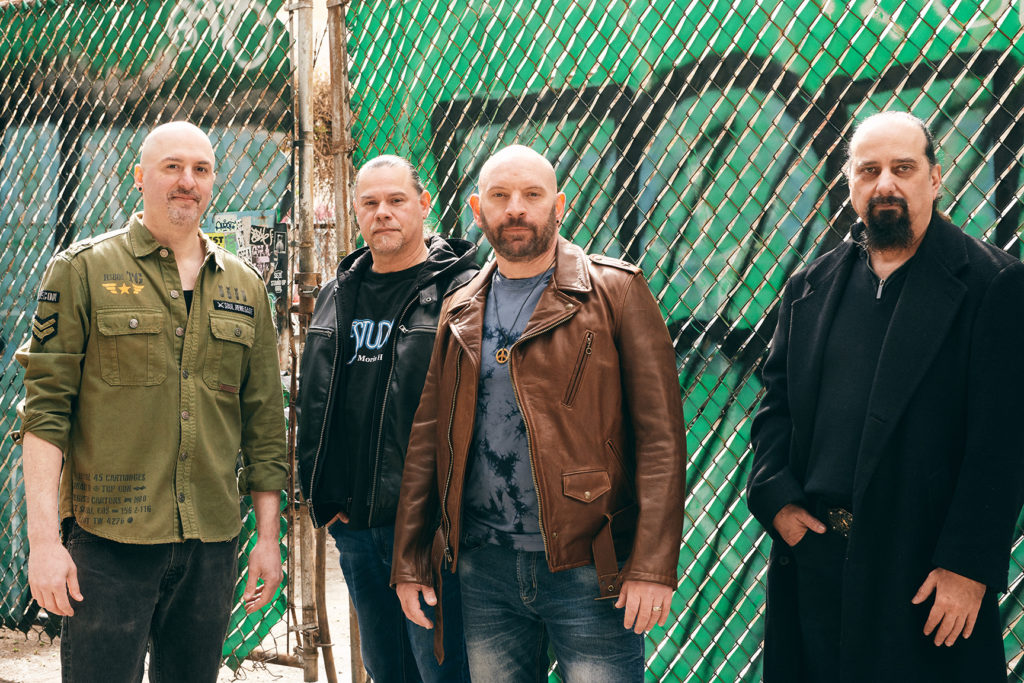 photos by Roy Somech
As New York City progressive rock/metal quartet ICE AGE prepares to release their epic third album, Waves Of Loss And Power, through Sensory Records next week, the band offers another preview of the record, today issuing a visualizer for the song "Together Now."
ICE AGE's first in twenty-two years, Waves Of Loss And Power boasts a unit firing on all cylinders that cannot be ignored. The album showcases vocalist/keyboardist Josh Pincus, guitarist Jimmy Pappas, drummer Hal Aponte, and bassist Doug Odell wearing their varied influences confidently on their collective sleeve. The band conjures the spirits of Kansas and Genesis ("Riverflow"), fleeting shades of Queensrÿche, Rush, and Fates Warning ("The Needle's Eye," "Together Now"), and flexes their "hit song" muscle with the infectious hooks of "All My Years" and "Float Away." In true prog tradition, ICE AGE continues the epic sagas begun on the first two albums with abiding narrative nods to the musical motifs and thematic tapestries of "Perpetual Child" (from The Great Divide) and "To Say Goodbye" (last visited on Liberation). In all respects, Waves Of Loss And Power is a seminal masterwork of catchy, thoughtful, and bonafide progressive songwriting.
Engineering for Waves Of Loss And Power was principally handled by Jimmy Pappas with mixing and mastering exquisitely dialed-in by auditory guru Rich Mouser (Spock's Beard, Transatlantic, Dream Theater). The cover art concept and booklet design were brought to life by Bjorn GooBes of Killustrations, with a fresh new band logo by Thomas Ewerhard.
"Together Now" encapsulates the maturity and next-level dynamics of ICE AGE. This song went through a painstaking gestation period to arrive at what you hear on the new album. It's a progressive epic full of heaviness, drama, soaring vocals, melodic soloing, and a precision drumming masterclass, all riding a cresting wave of lyrical optimistic power.
Stream ICE AGE's "Together Now" visualizer now at THIS LOCATION.
If you missed it, watch the band's captivating "The Needle's Eye" video HERE.
Waves Of Loss And Power will be released on CD and digital on Laser's Edge division Sensory Records next Friday, March 10th. Find preorders for the CD at the label webshop HERE and the digital at Bandcamp – the standard version HERE and the 24-bit hi-res version HERE.
ICE AGE will also return to the stage this year in support of the new album. The band has already been confirmed to perform at the 2023 edition of ProgPower USA. The massive festival runs from September 6th through 9th and will see the band sharing the stage with the likes of Kamelot, Caligula's Horse, Myrath, Delain, Green Carnation, Doro, Cynic, Swallow The Sun, and many more. Watch for additional regional dates to post surrounding the release of Waves Of Loss And Power.
ICE AGE Live:
9/06/2023 ProgPower USA @ Center Stage – Atlanta, GA [info]
http://www.ice-age.com
https://www.facebook.com/IceAgeProgBand
https://www.instagram.com/iceageisaband
https://twitter.com/iceageisaband
http://www.lasersedgegroup.com
https://lasersedge.bandcamp.com
http://www.facebook.com/TheLasersEdge
http://www.twitter.com/thelasersedge