The Obelisk is currently streaming, Second Skin, the new studio offering from legendary Canadian artist/producer IAN BLURTON and his FUTURE NOW project. The premiere comes on the eve of the record's official release via Seeing Red Records/Pajama Party.
If you're a fan of any kind of '70s heavy rock – Southern boogie, NWOBHM, MC5/Stooges Detroit punk, Junk Shop glam or straight-up classic rock – chances are, IAN BLURTON'S FUTURE NOW has something for you. If you're the kind of person who might geek out on the vintage gear used to record that music, we'll double down on that wager.
A mainstay in the Canadian scene since the 1980s, IAN BLURTON may have come along after hard rock's heyday, but he has parlayed his love of the era's musical sensibilities into a career as both a musician (Change of Heart, C'mon, Public Animal) and a producer (Cursed, Tricky Woo, Weakerthans, Cauldron). For the follow-up to his acclaimed solo debut, 2019's Signals Through The Flames, he is pulling out all the stops, sourcing the best of the best for all elements. Formed to tour in support of Signals… FUTURE NOW features some of the top talents heard on that record: drummer Glenn Milchem (Blue Rodeo) and bassist Anna Ruddick (City And Colour). To complement the powerhouse rhythm section and recreate live the Wishbone Ash/Judas Priest–inspired harmonies that define Second Skin, Aaron Goldstein has been recruited for second guitar.
Comments BLURTON of Second Skin, "While not a concept album per se, it does have reoccurring musical and lyrical ideas. Lyrically it's mostly about moving forward from things you don't want to live with, hence the theme of rebirth, the idea of rejecting what you don't believe in and also saving things worth saving from destruction and the idea of progress. Cover artist Jeremy Bruneel has taken a number of these lyrical themes and painted them into the cover so they are represented visually as well.
"Once we had been accepted as Artist In Residence at The NMC in Calgary we knew that we would have a proper Mellotron at our disposal so I began writing with that in mind. That brought forward the idea of making a more proggy record than the last and having 3 or 4 longer songs. One of the themes of the record is community and that became real-life when we put out a call for amps as we were recording in Calgary/flying there. Local Calgary bands and musicians (Woodhawk, Ramblin' Ambassadors, etc,) offered up gear and we are forever indebted to their kindness. This same sense of community also made us realize that this record wouldn't have happened the same way without  the contributions of the artists, musicians, engineers, mixers, etc. each who believed in it and added their  own touches until the project became a whole."
Writes The Obelisk in part, "In a world and a time of antiheroes, IAN BLURTON is a hero. Where so much of the art that surrounds us on a day-to-day, be it commercial creative work on television, movies, videogames, music videos, and so on, or the literature and fine arts we as humans engage with, authenticity is regularly judged by the darkness of a work, the 'grittiness' factor that makes things that are difficult, challenging or traumatizing feel truer to life than those that aren't. I'm not saying this is right or wrong, and I'm not calling for a change or a reversion back to some false ideal of a time when it was different. No. All I'm saying is that IAN BLURTON, based in Toronto and on the cusp of releasing the second album with IAN BLURTON'S FUTURE NOW, is a hero. This is because, where so many others are not, BLURTON is willing to take the risk of creating something fresh that diverts from the expectations of its own era. Something that is neither fluff to be tossed off when done, nor saccharine in its sweeter aspects, nor void of substance or message because it isn't violent or dark or depressing…. Like the best of pop, Second Skin is able to turn a three-minute song into an epic and make a seven-minute track feel like a breeze. It does this immediately upon pressing play, with the careening 'Like A Ghost' (3:13) and the subsequent, damn-near-power-metal-except-it-isn't title-track (7:12) establishing quickly the spaces in which BLURTON, Goldstein, Ruddick and Milchem will work…"
Read more and stream Second Skin at The Obelisk HERE.
View the band's previously released video for  "The Power Of No" at THIS LOCATION and "Like A Ghost" at THIS LOCATION.
Second Skin will be released digitally and on Black vinyl via BLURTON's own Pajama Party label in Canada HERE and on A Side/B Side (Color Merge) and Color-in-Color Splatter vinyl via Seeing Red Records HERE.
Toronto fans can catch a Second Skin record release show August 13th with additional performance to be announced in the weeks to come.
IAN BLURTON'S FUTURE NOW:
8/13/2022 The Horseshoe Tavern – Toronto, ON * Record Release Show w/ Sam Coffey & The Iron Lungs, Sick Things
In tandem with the Signals Through The Flames tour, BLURTON was accepted as an artist in residence at Studio Bell, home of the National Music Centre, in Calgary. The residency presented an opportunity to pack up the band – hot from a string of live shows – and head west to track a follow up album with the country's most enviable collection of musical equipment.
Second Skin was recorded using the famed Rolling Stones Mobile (studio home to The Rolling Stones' Sticky Fingers and Exile On Main Street, Led Zeppelin's III and IV, and Deep Purple's Machine Head) as well as the aforementioned National Music Centre. With the institution's selection of rare guitars formerly owned by Randy Bachman, amps from Neil Young, and an array of vintage gear borrowed from Calgary friends, FUTURE NOW had the ingredients for a dream session. Throw in an early '80s Mellotron, and the band had all it needed to cook up a crushing collection of sludgy riff-driven rockers and prog epics, all with clean vocals, thunderous bass/double-kick, and the kind of guitar solos you wish you could play. Second Skin was mixed by Daryl Smith at Chemical West, mastered by Brad Boatright at Audiosiege, and features artwork by Jeremy Bruneel. The record will undoubtedly make for a fine Summer soundtrack.
"…psychedelic stoner rock and it stands out from the pack with an overhaul of bright melodies, both in his vocal hooks and in his endless riffs. It's not every day that stoner rock is this damn catchy." — BrooklynVegan
"This is a catchy and riff-driven ride, but also a little progressive and epic once in a while. There's even some twin-guitars here and there. Heavy guitar rock like it was done in the early days of hard rock." – Hard Rock Info
"BLURTON's technical guitar prowess truly shines. Featuring Blue Rodeo's Glenn Milchem on drums, Espanola's Aaron Goldstein on second guitar, and touring/session bassist Anna Ruddick, these three musicians working alongside BLURTON have successfully delivered the most consistent hard rock record to date in BLURTON's lengthy discography." – Chorus Verse Chorus
"They've got a gothic groove and alternative swing and riffs that don't quit!" – Cvlt Nation
"Fist-pumping blazers 'The Power of No,' 'Like A Ghost,' and the perfectly titled 'Denim On Denim' simply bristle with amplified excitement, the sound of a veteran rocker still able to tap into the fire. Blurton seems to dig rawk 'n' roll in all its forms, filtering them through his own vision and making Second Skin into a hard rock record that doesn't need denim jackets and banging heads to appreciate." – The Big Take Over
IAN BLURTON'S FUTURE NOW:
Ian Blurton – vocals/guitar/keyboards
Glenn Milchem – drums/vocals
Anna Ruddick – bass/vocals
Aaron Goldstein – guitar
Guests:
Sean Beresford – guitar on "Too High The Sky"
Robin Hatch – piano "Trails To The Gate"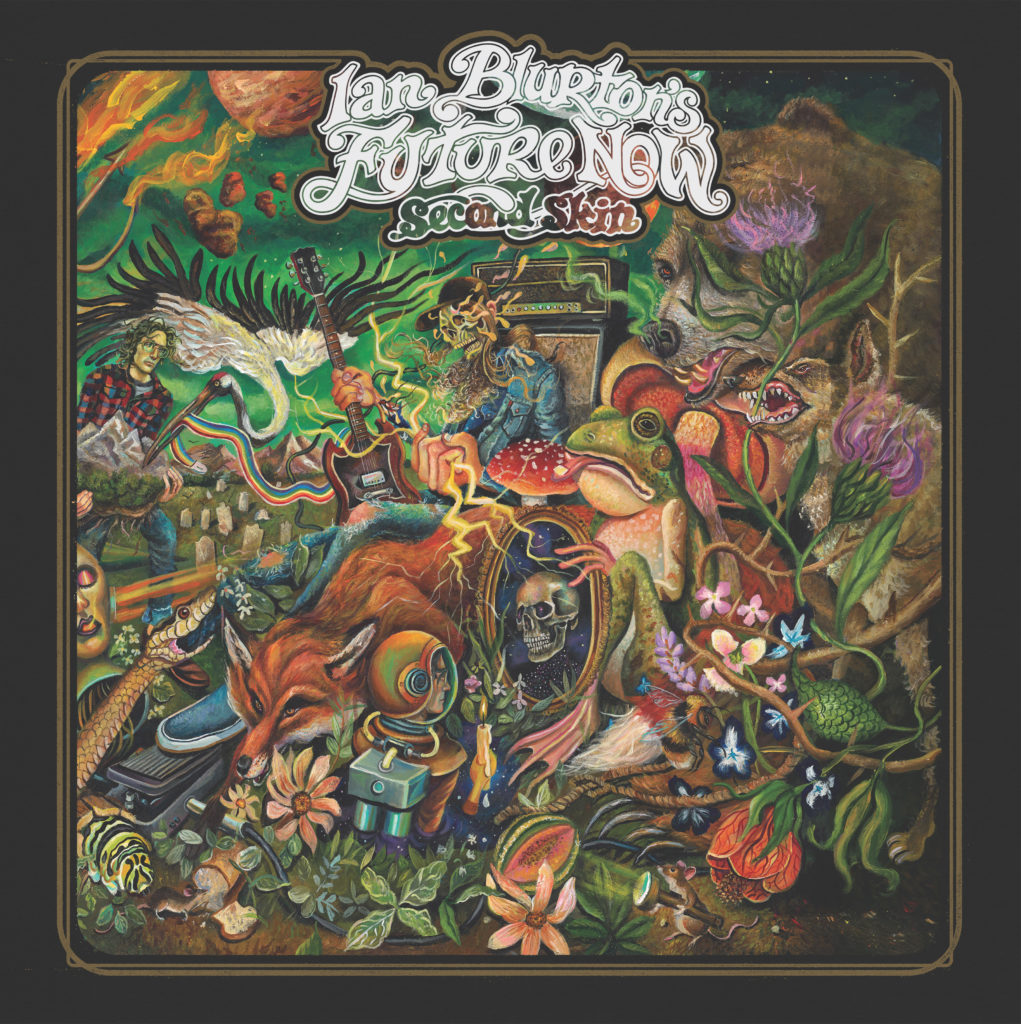 http://www.facebook.com/ianblurton.futurenow
http://twitter.com/ianblurton
http://www.instagram.com/ianblurton
http://www.seeingredrecords.com
http://www.seeingredrecords.bandcamp.com
http://www.instagram.com/seeing_red_records
http://www.facebook.com/seeingredrecords