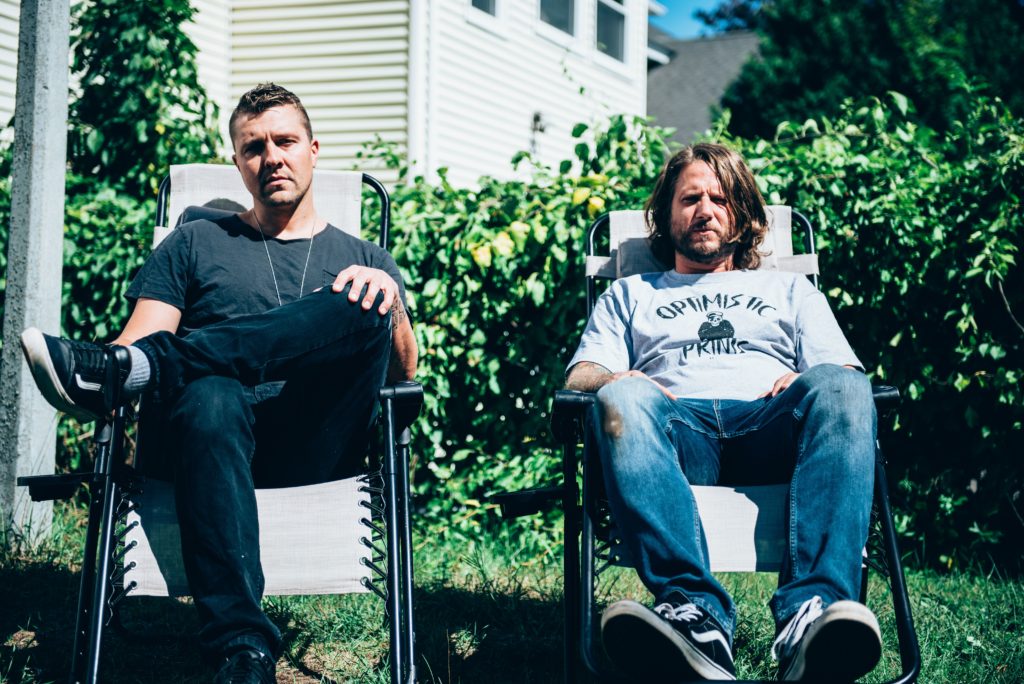 photo by Mike Verlizzo
Innerstrength Records announces Freedom From The Default, the debut full-length album from Boston, Massachusetts-based post-metalcore band HYEENA. While the album is being arranged for release in the Spring months, an advance single has been issued, as MetalSucks premieres an official video for the lead single, "Bring On The Storm."
HYEENA was formed in 2019 by Keith Holuk and Austin Bryant. Holuk was formerly the vocalist for Ligeia and sang on the Ferret Music-released Bad News and Your Ghost Is A Gift albums. Following Ligeia, he joined Ireland based band Hero In Error and spent time touring and recording with them. Bryant is a Boston-based percussionist, performer, and educator who has studied with such performers as Fred Buda, Jeffrey Fischer, Dave Dicenso, Bob Gullotti, and James Murphy. The duo is now joined by live bassist Mike Verlizzo.
Striving to go in a different direction than previous endeavors, the band aimed to create a post-metalcore sound with wild vocals, melodic singing, and energetic lyrics. They drew from their influences such as the Deftones, Gojira, and Of Mice And Men when they set about writing material, adding the occasional metalcore breakdown for good measure.
HYEENA went on to catch the ear of Frankie Palmeri, vocalist for Emmure. Together they released their debut EP, Glory, on his then newly formed Redzone Records in 2020. Unfortunately, it was just in time for Covid and the band's plan to tour and support the EP were put on hold. Instead, the band spent the next two years honing their sound and writing new material.
Having revamped their style since the release of Glory, HYEENA is now prepared to burst forth with their debut LP, Freedom From The Default. With eleven new tracks, the album was produced, mixed, and mastered by Keith Holuk, with the drums recorded by Austin Bryant.
The first single preceding Freedom From The Default is "Bring On The Storm." Holuk states of the song, "'Bring On The Storm' is a song that was initially more intricate, but it was simplified to get more to the heart of the vibe. Lyrically, it's attempting to lay out some of the concepts of how to rewire to the mindset of positive thinking. I definitely didn't write very positive lyrics back in the day with Ligeia which worked with that therapeutic direction, and I obviously needed that outlet back then. I think that it was very helpful to me and the people who connected with that type of expression. In retrospect, I feel as if it may have contributed to adding more troubles in my life that were unnecessary so it's something that I wanted to change for the better, for me and for the listeners. Maybe it's a style that doesn't usually go with metal core, but I didn't want to toxify people's minds with negativity that could attract more problems just for the sake of venting. I wanted the lyrics for HYEENA to be more helpful and hopefully more fun!"
The official video for "Bring On The Storm" was filmed by Mike Verlizzo and edited by Anthony Altamura, and makes its public debut today through MetalSucks, who writes with its premiere, "You've likely not heard of the Boston-based post-hardcore outfit HYEENA just yet, but after hearing their first single 'Bring On The Storm,' you may want to make sure they're on your radar moving forward."
Tune in to MetalSucks to watch HYEENA's "Bring On The Storm" video first RIGHT HERE.
"Bring On The Storm" is also now streaming on all digital services.
Stand by for additional announcements on HYEENA as Innerstrength Records finalizes Freedom From The Default for release on digital, vinyl, and CD platforms this Spring, and the band announces widespread touring in support of the record.
https://www.instagram.com/hyeenaband
https://www.facebook.com/Hyeenaband
https://www.innerstrengthmusic.com
https://innerstrengthrecords.bandcamp.com
https://twitter.com/innerstrengthhc
https://www.facebook.com/innerstrengthrecords
https://www.instagram.com/innerstrengthrecords