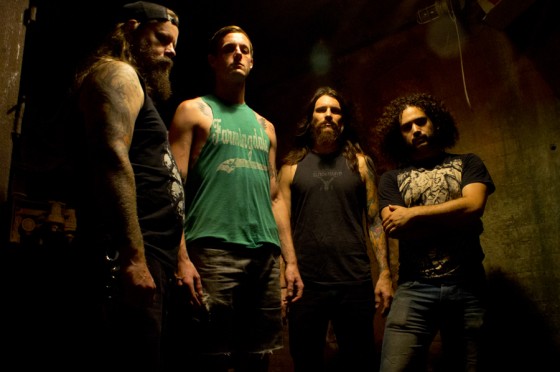 New York road burners HULL, currently in the midst of their autumn tour in support of the mammoth Beyond The Lightless Sky full-length, today announce a special FREE in-store performance at Good Records in Dallas on October 23, 2012. Show starts at 7:00pm. All ages. For more info, point your browser HERE.
Additionally, the folks at Cvlt Nation are hosting a series of video tour diaries from the band throughout their course of chaos. Check out episode one at THIS LOCATION.
Last week, HULL unveiled the long-awaited official video for "Beyond The Lightless Sky," through premier metal clip one-stop, Metal Injection. Peep its cinematic awesomeness at THIS LOCATION.
HULL – Fall Tour 2012 [remaining dates]:
10/12/2012 Plan B – Portland, OR w/ Stoneburner, Satya Sena
10/14/2012 Eli's Mile High Club – Oakland, CA w/ Amarok, Bruxers, Scolex
10/15/2012 The Blue Lagoon – Santa Cruz, CA w/ Deathmonk, Teraton
10/16/2012 Silverlake Lounge – Los Angeles, CA w/ Destroy Judas, Behold! The Monolith, The Fucking Wrath
10/17/2012 Billy-O's – Ventura, CA w/ The Fucking Wrath
10/18/2012 The Shakedown – San Diego, CA w/ Dead Ghosts
10/19/2012 The Blue Café Underground – Long Beach, CA w/ SPILTH*!%, Sons of Tonatiuh, Pigeonwing
10/20/2012 The Rock (Southwest Terror Fest) – Tucson, AZ w/ Bereft, Sons of Tonatiuh, Pigeonwing, more [info]
10/21/2012 The Sanbusco Center – Santa Fe, NM
10/22/2012 Depo District Oyster Bar – Lubbock, TX
10/23/2012 Good Records In-Store – Dallas, TX
10/24/2012 The Spider House – Austin, TX w/ Rust, Lions of Tsavo
10/25/2012 The Abbey – Houston, TX
10/26/2012 The Big Top – New Orleans, LA w/ Cape Of The Matador, Logarda
10/27/2012 Fest 11 – Gainesville, FL
10/28/2012 The 5 Spot – Atlanta, GA w/ Order of the Owl, Sons of Tonatiuh, Mortals
10/29/2012 Hideaway – Johnson City, TN w/ Mortals
10/30/2012 The Get Down – Asheville, NC w/ Mortals
10/31/2012 South County Brewery – Fawn Grove, PA w/ Musket Hawk
11/01/2012 The Sex Dungeon – Lindenwold, PA w/ Hivelord
"[Beyond The Lightless Sky] veers between motorcycle-revving D-beat, bog-trawling doom, sinister black metal, Neurosis drum-offs and hypnotic passages that gnash like a venom-dripping cousin to the final Isis album." – The Village Voice (NYC)
"…a determined and significant release, and one thoroughly deserving of a lot more visibility in the realms of heaving, epic metal." – Pop Matters
"…immense and nimble, ponderous and powerful…" – Exclaim!
"…crushingly heavy in a cerebral sense…" – The Obelisk
"There is a fantastic amount of riffs you're going to want to repeatedly hear on this record. Couple that with some guitar solos that come out of nowhere and fit like gloves with the album's songwriting and its layered vocal approach, and you've got a hell of a ride." – SLUG
"HULL twisted heads off at South by Southwest sampling the band's moody, doomy, sometimes boisterous post-rock debut, 2009's Sole Lord, best defined by its three titles: 'Endless Obsidian Abyss,' 'Wrath of the Sands,' and 'Born From Flesh and Stone.' Everything's doubly so for the Brooklyn fivepiece the second time around – longer (11-minute opener 'Earth From Water'), heavier (the title track), subtler ('Just a Trace of Early Dawn') – coming together on 10-minute centerpiece 'Fire Vein,' sandblasted desert folk." – The Austin Chronicle
"The band describe their sound as a collision of thrash, doom, classic rock and formal orchestral works', this New York five piece have put together a very special collection on this album and it is something that grows on you with each listen as you find something new hidden away in the carefully constructed noise. With more experimental metal currently being lauded by the press, there is a definitely a chance for a band like HULL to break through, and on this form, they are highly deserving of that chance." – Alternative Matter
http://www.hullorhighwater.com
http://www.facebook.com/hullsounds
http://www.hull.bandcamp.com